Nutter: Papal security maps on internet are false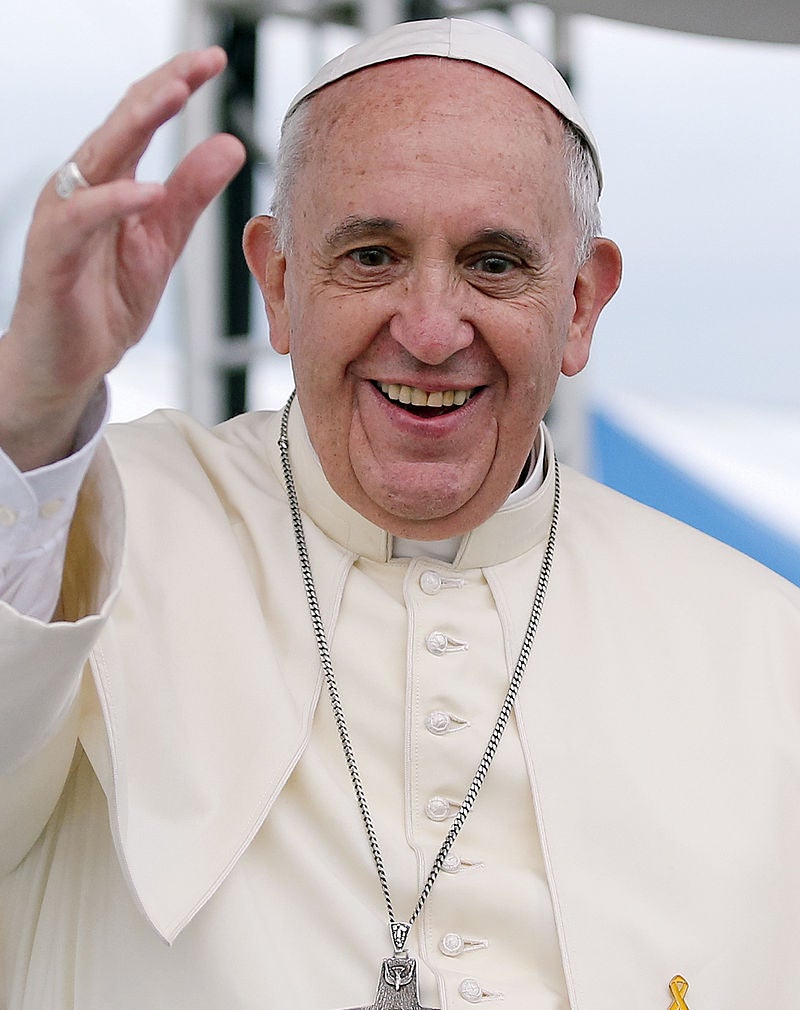 Mayor Michael Nutter held a press conference today denying the validity of maps circulating on social media that purported to show security zone plans for the Papal visit September 26th and 27th. "No official security perimeter has been announced or fully determined," said Nutter.
"We've stated previously that as soon as plans have been finalized and approved by all of the parties organizing this event… we will jointly, officially, publically share those official plans."
Nutter added that more announcements related to the Papal visit would begin starting next week.
World Meeting of the Families Executive Director Donna Farrell added: "The logistics will work."
"Every day, we challenge our team to think of everyone that is impact by the logistics," said Farrell.
But, as PlanPhilly reported last week, not every transportation entity has been included in the logistical discussions. The Greyhound Bus Terminal at 10th and Filbert will be closed, but other companies that use that terminal, such as Peter Pan, were unaware of that fact until PlanPhilly informed them.
The challenge of centralized planning is precisely this: It's almost impossible to comprehensively plan and account for every moving part in a huge system. The concern is that some pieces will fall through the cracks.
When asked about intercity buses being left out of logistical planning, Nutter said: "We're aware of that situation."
Nutter added that while a full public disclosure of security plans would take time, the administration was reaching out to impacted businesses – "hotels, restaurants" – to help them plan. "Just because we can't make a public announcement doesn't mean we're not in communication with them," said Nutter. The Mayor did not mention inter city bus companies, though.
Also left unknown at this point is how wheelchairs and other mobility challenges will be handled during the Papal visit. For individuals relying on wheelchairs to get around, questions of whether they will need to seek out assistance or bring non-disabled friends or family with them remain unanswered, even as the planning window for them shrinks.
TILTING AT RUMOR MILLS
Nutter blamed the media for any dampened enthusiasm or concerns over how residents and visitors alike will move around during the Papal visit, saying: "I think that that only happens as a result of media reports of inaccurate or fearful information that has no basis in fact or reality."
"I understand given the nature of the world today that at times little people who have little pieces of information will try to put out they have or what they think they have in an effort to make themselves larger," said Nutter.
Nutter also said there were some inaccuracies in the statements made by a Philadelphia Parking Authority official that PlanPhilly reported last week. PlanPhilly also reported the next day on the comments by a security consultant before the Delaware Valley Regional Planning Commission.
The leaks led PhillyMag to opine: "The fact that details are leaking out in such a haphazard way — little by little from consultants and the Philadelphia Parking Authority, as opposed to in a streamlined fashion by the World Meeting of Families and City Hall — doesn't exactly inspire public confidence in the city's ability to pull off the ginormous event."
The fear of the unknown two months out from the World Meeting left some wondering if it was a deliberate effort by the Secret Service to scare away some of the crowds. Sandy Hingston brought up the specter of Frank Rizzo's own communication strategy in advance of the 1976 Bicentennial, making ridiculous statements about "radical leftists" hell-bent on violence. Fearing mobs, no one showed, and it's been a source of city shame ever since.
There is a silver lining to the concerns over leaks and nervousness over the Papal planning process. Next time some crazy conspiracy theorist suggests 9/11 was an inside job or the moon landing was fake, you can point to Philadelphia and the Papal visit as proof that you can't get hundreds of people to keep a secret, even one as mundane as whether Spring Garden will be open to traffic or not.
As Ben Franklin said: "Three may keep a secret if two of them are dead."
WHYY is your source for fact-based, in-depth journalism and information. As a nonprofit organization, we rely on financial support from readers like you. Please give today.