Nine key findings from the State of University City District report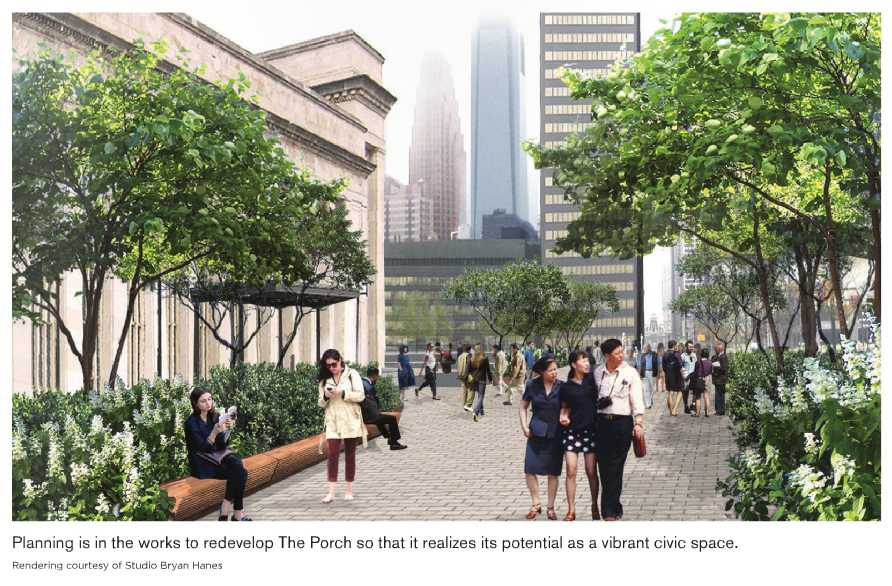 Following the planning and development news, it's hard not to get the sense that University City is the locus of some of the most interesting changes happening in Philadelphia, and this year's State of University City District report helpfully pulls most of the major happenings together in one document.
Here are nine findings we found interesting: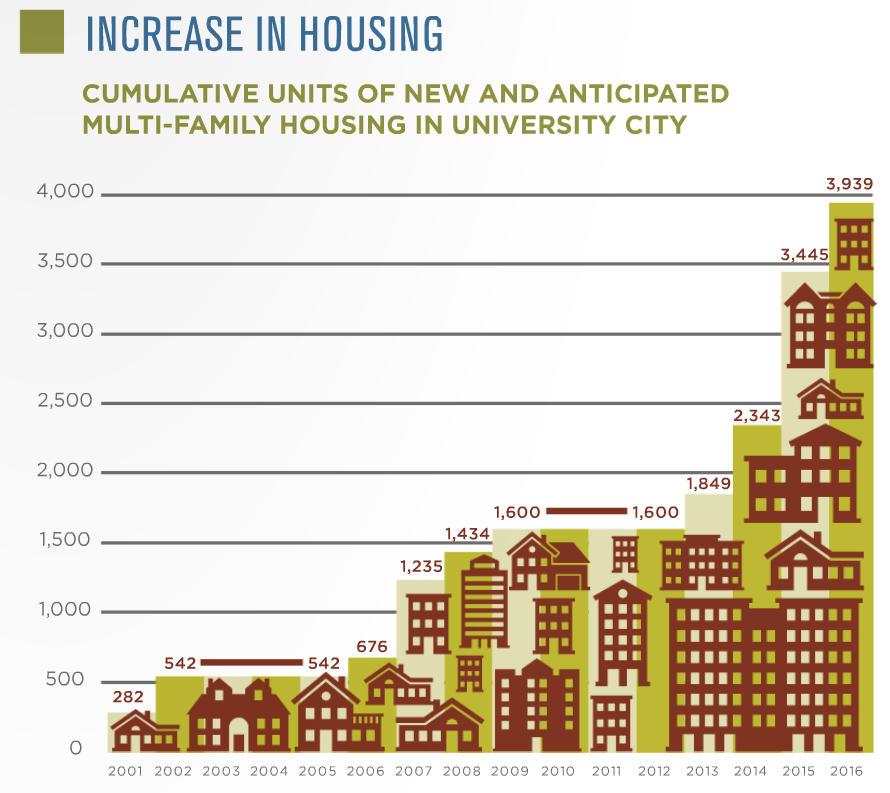 1. Multi-family housing is about to take off.
The dollar value of all the planned and completed private development projects in the University City district is over one and a half billion, and multi-family mixed-use housing is a big part of that picture. Through 2014, there will be 2,343 units, and then there will be a sizable spike in supply over the next couple years as new buildings come on the market, getting up to 3,943 units through 2016 – an almost 60% increase.
One note of caution: this counts new and anticipated projects, one of which is 4224 Baltimore Ave which, as PlanPhilly readers know, is not a sure bet. Still, if most of these buildings materialize, UCD is looking at a potentially transformational volume of construction and population growth.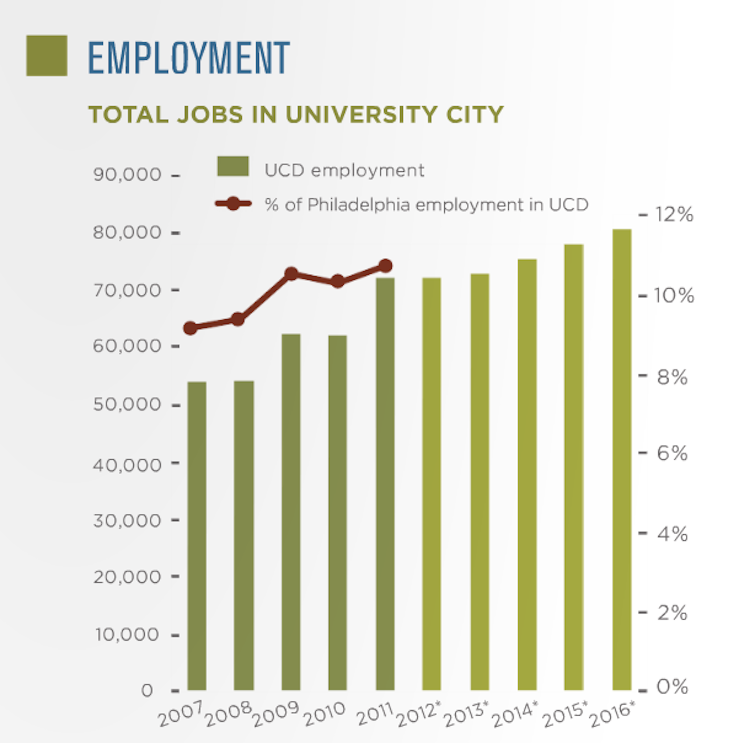 2. The housing growth is powered by job growth
Emma Jacobs asked at Next City whether all this construction means Philly is just blowing up a big housing bubble, but at least in University City and greater Center City, that doesn't appear to be the case.
University City District is projecting the number of jobs in the area will increase by 7,000 from 73,000 in 2014 to 80,000 in 2016. They're projecting the number of multi-family housing units will increase by just 1,596 units in the same time period.
Where are the other 5,400 people who get those jobs going to live? Some will live elsewhere in West Philly, and some will live in other parts of the city and region.
But what is clear is that there's no sign developers are overshooting housing construction, and if anything, we should be concerned about the opposite problem – that the gratuitous use of industrial and institutional zoning in the area is causing University City's housing market to undershoot housing demand.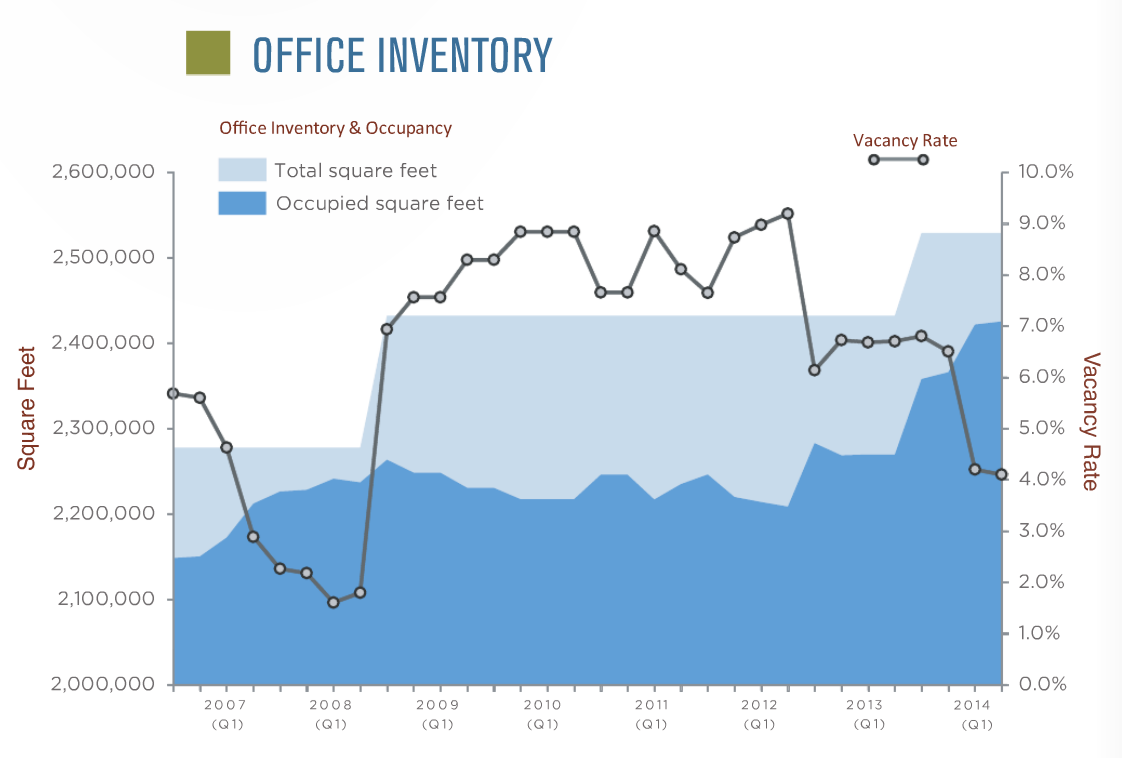 3. New office supply has mostly been absorbed.
Here's another strike against the construction bubble hypothesis. New office construction was flat from mid-2008 when the financial crisis hit until early 2013. Some new square footage came on the market, but the occupancy rate has been ticking up faster, causing the vacancy rate to drop. As such, new office construction seems to be supported by the fundamentals.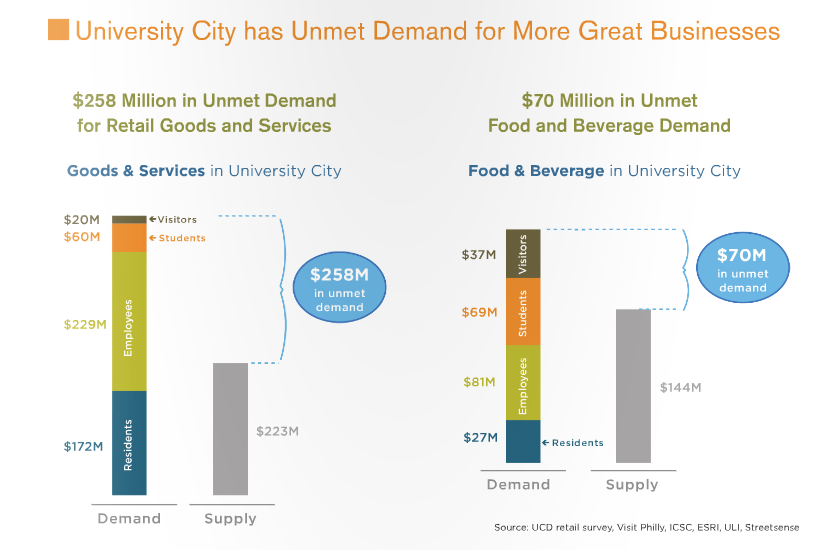 4. UCD sees substantial unmet demand for new businesses
See the pattern yet? With more people, and more jobs, the report argues that the amount of purchasing power in the area is sufficient to support significantly more retail and food and beverage businesses than currently exist.
5. The high pedestrian counts are good for business.
Where the rubber really meets the road here is that when you put a lot of new housing and new jobs in the same area, people are going to be making more walking trips. And that creates an opportunity for entrepreneurs to catch people's fancy on the trips between home and work with new stores, bars, restaurants, and other face-to-face services.
Pedestrian traffic counts in University City compare favorably with successful mixed-use corridors in Center City and elsewhere, because the population density is there, but there's a challenge in that many of the blocks closest to the Schuylkill River bridges and major transit stations are superblocks of single-use buildings and unpleasant walking conditions. That's what the study UCD is conducting with Gehl Studio is meant to address.
6. The highest pedestrian counts overlap with transit station areas.
This is pretty obvious, but high-frequency transit stations produce a lot of pedestrian activity in the walkable half mile radius around them, and this is a big part of the case for city zoning policies that encourage transit-oriented development – basically allowing higher-density mixed-use development in that radius.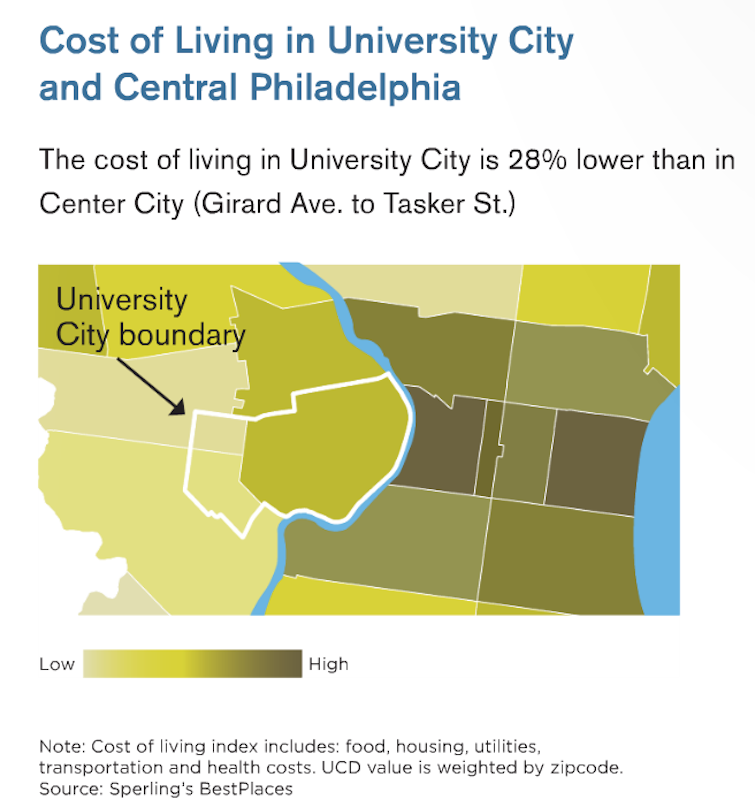 7. University City is still affordable.
Maintaining the affordability of University City won't be a passive endeavor once it starts piling up amenities, but for the moment this area is still more affordable than Center City, which is it itself significantly more affordable than high-amenity mixed-use areas in our peer cities in New York and Washington, D.C. Local rental data site Kwelia puts the price of the median 2-bedroom home at $1,675 a month, versus $1,945 a month in Rittenhouse Square, or $1,847 a month in Logan Square.
8. The Porch at 30th St. Station is going to become a much nicer permanent park.
PlanPhilly readers knew this already, but this is the first rendering we've seen from Bryan Hanes's redesign.
9. The parklets are well-used
The report combines the counts for all six of the parklets, so we don't get to see which ones get the most or least use, but going off of what is presented here the numbers look impressive – and at least impressive enough to retroactively validate UCD's choice to reuse parking spots or extra space in the cartway as recreational space.
WHYY is your source for fact-based, in-depth journalism and information. As a nonprofit organization, we rely on financial support from readers like you. Please give today.