New Zoning Code's Growing Pains [updated]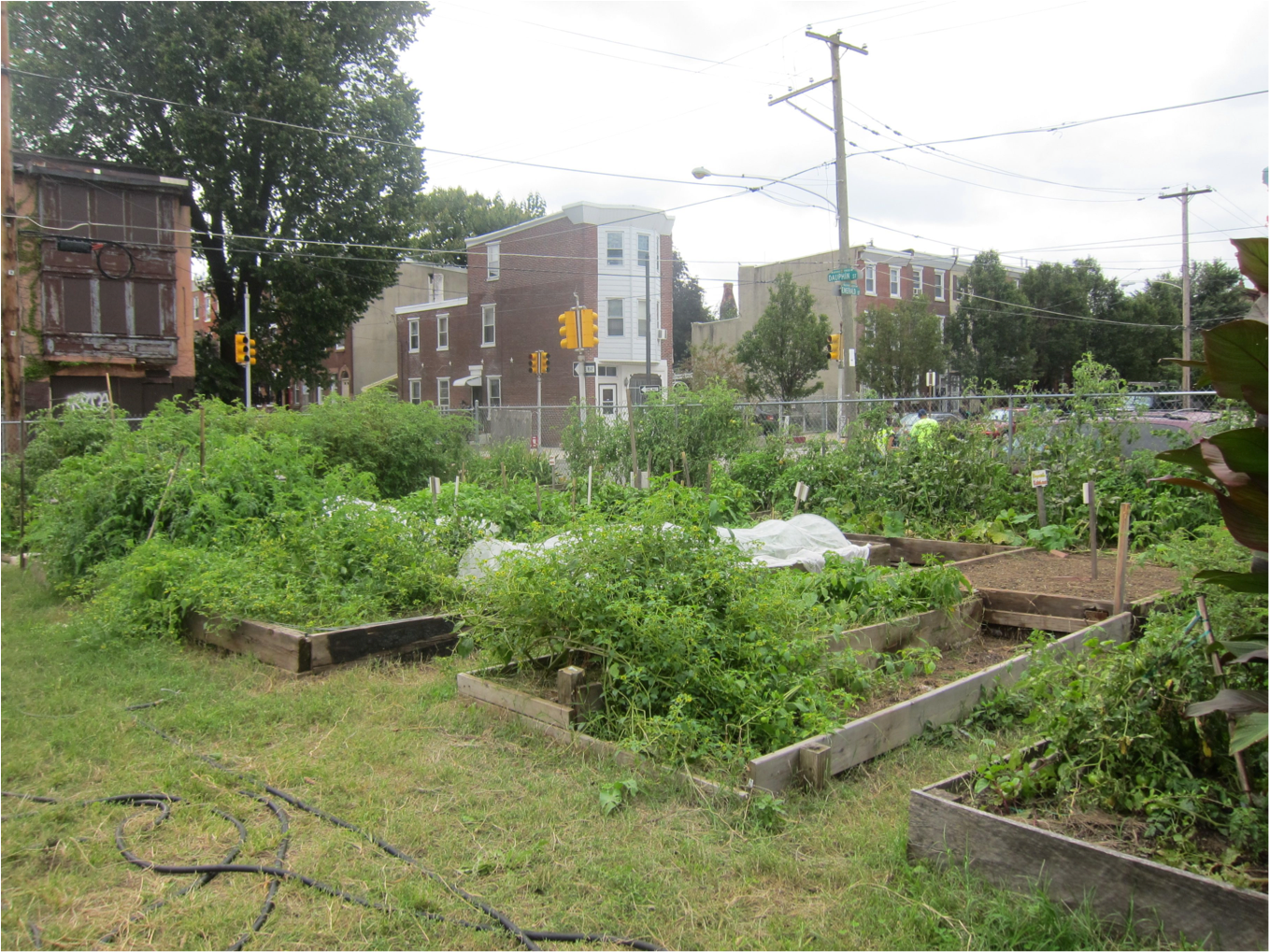 UPDATED: 1/23/13, 12:30pm: On January 24, City Council was set to consider changes to the new zoning code that would restrict land uses in neighborhood commercial districts, including allowing community gardens and market farms as a "by-right" use in areas zoned CMX-2 and CMX2.5. PlanPhilly's Jared Brey reports that Councilman Brian O'Neill intends to remove these restrictions on urban agriculture from his proposed legislation.
Christine Fisher outlined the proposed changes by Councilman O'Neill and how they would affect garden advocates. Here Community Contributor Nic Esposito weighs in on what these changes would mean for urban farmers like him.
As an urban farmer in the 7th Council District of Philadelphia, the countdown to the January 24th City Council vote on Councilman Brian O'Neill's zoning code amendments has been excruciating.
The new zoning code has been four years in the making and has received input from many major academic and non-profit institutions in the city, as well as from countless citizens at many community meetings. This new code was originally very exciting for me because for the first time in the city's history, urban agriculture was written into the zoning code as an as-of-right use in almost all residential and commercial zones. But in only three months of existence, Councilman Brian O'Neill proposed an amendment that would exclude market farms and community gardens in CMX-2 and CMX-2.5 zones.
For all you who aren't zoning nerds, CMX-2 and CMX-2.5 stand for "commercial mixed-use space." It accounts for almost one fourth of the land in the city and for more than half the land in the 7th District.* Thanks to forward-thinking Council members, especially my councilwoman Maria Quiñones-Sanchez, O'Neill amended his bill to allow market farms and community gardens in CMX-2 (2.5) zones by "special exception," which is similar to the variance process that currently exists in zoning.
Along with community gardens and farms, Councilman O'Neill also added uses like pet grooming and prepared food delis to his list of restricted uses. I have no basis for conjecture on why the Councilman did this, mostly because his office has yet to provide clear reasoning for any of these changes. However, his decision to move market farms and community gardens from a clear "yes" to "special exception" is particularly baffling. Urban farming and access to healthy food has gained recognition as a policy priority in the Mayor's Office of Sustainability, the Mayor's Food Policy Advisory Council and the Mayor's Greenworks Plan, as well as in the city's comprehensive plan. It gained the support of enough of the major stakeholders involved in the zoning code process to be included into the new code. And it has been validated by the proliferation of new farmer's markets, new community farms, and by the fact that Philadelphia is looked upon by many as a national model for Urban Agriculture. All of these signs seem to point to "yes" that urban farming should be in the new zoning code for both residential and commercial zones in the city.
And it should be a priority for a City Council that is supposed to be working towards making Philadelphia a "World Class City." Yes, we need to spur economic development in Philadelphia's commercial districts. And I understand that each district has different needs. Some people have argued for the "special exception" designation to stand, and then each individual Council member can address these concerns through zoning remapping in their districts. Councilman O'Neill's district was for the most part built as a post-World War II automobile-centric design, where many commercial districts are laid out in shopping centers with big parking lots on major thoroughfares like Cottman Avenue and Bustleton Avenue. It may not make sense to put a community farm or garden in one of these shopping centers. But a majority of Philadelphia's neighborhoods, like East Kensington, exist on the sidewalk level and it's important to people like my neighbors and I to be able to walk down the street to our local grocer while passing thriving and attractive green space.
And in almost all of Philadelphia, food access and access to green space are an issue. Market farms and community gardens provide both of these amenities, often times for very little money, which is why it should be a by-right use for all districts, and not subject to the remapping process. The burden of cost is diminished for the patrons of community gardens and market farms because many of these entities operate as grassroots civic projects or as non-profits. And it would be a huge burden on these organizations to have to pay for the lawyers, the fees, and the time to apply for a special exception.
But I don't want to make this out to be a charity case. Urban farmers and community gardeners are not asking for any special privileges or favors. We are only asking for the City Council to leave intact what was rightly afforded to our projects by the Mayor's Office, Zoning Code Commission, the city planning community and the people of Philadelphia.

*ED NOTE: Zoning reporter Jared Brey reminds us that more than half the 7th District's commercial property is zoned CMX-2 and CMX-2.5.
———
Nic Esposito has previously contributed pieces to EOTS about the difficulty of sharing the road, the need to balance urban sustainability and neighborhood stability, and examined what Philadelphia's vacant property reform efforts might mean for urban farming efforts like his on Emerald Street in East Kensington for the Eyes on the Street series, Situation Vacant.
———
Got something to say? You too can be a Community Contributor. Drop us a line at EOTS@planphilly.com with your ideas for a guest post.