New Whole Foods project to begin construction early next year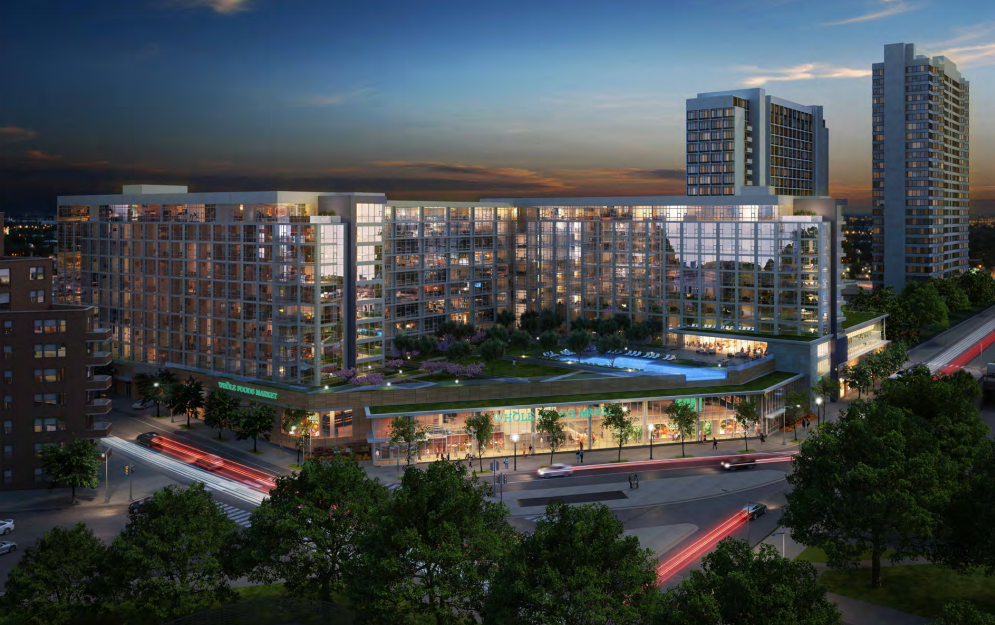 The Zoning Board of Adjustment unanimously approved a handful of variances on Wednesday for the new location of Whole Foods supermarket at 22nd St. and Pennsylvania Ave.
Developer Neil Rodin's plans for the site, where there currently sits a Best Western hotel, includes 293 residential apartments, a 55,000-square-foot Whole Foods, and 20,000 square feet of "neighborhood retail." Demolition of the Best Western should begin early in 2014 and take about three months, according to Rodin, and the whole project is expected to be finished in about two years.
The project was held up at the zoning board during previous hearings while the builders worked out a neighborhood development agreement with Logan Square Neighbors Association, one of the local Registered Community Organizations. That agreement was signed yesterday, and according to LSNA zoning chair Ed Panek, it covers issues like hours and days of construction, emergency plans, vermin control, signage, and landscaping. Because the developers are planning to build wider curb cuts than the code allows—which was approved by the board Wednesday—they agreed to lease some of the parking spaces in the project to neighbors at a discounted rate, as a way to offset some of the reduction in on-street parking the project will entail.
"We came up with an agreement that was fair and reasonable to both parties, and we're happy about it," Panek told PlanPhilly.
The project will include 170 underground parking spaces for Whole Foods customers, 320 above-ground parking spaces for residents and customers of the other retail stores, and 108 bicycle parking spots. It will be 122 feet tall at its tallest. The grocery store will be one story, with nine stories of apartments and a five-story parking garage for residents. A fairly intricate loading plan accompanies the project, with an internal, private street directing truck traffic to separate loading docks for the grocery store and other retail.
The project was recommended for favorable consideration at the zoning board by the Planning Commission, after the plan was considered by the Civic Design Review Committee in early August.
Neil Rodin said that Whole Foods' current location, a block away at 20th and Callowhill, is scheduled to be vacated roughly around the time the new store is expected to be finished.
That, of course, will leave another grocery-store sized building with a surface parking lot vacant. Time will tell what sort of use will take its place.
VIDEO TO COME
WHYY is your source for fact-based, in-depth journalism and information. As a nonprofit organization, we rely on financial support from readers like you. Please give today.