New vision for public space at Bainbridge Green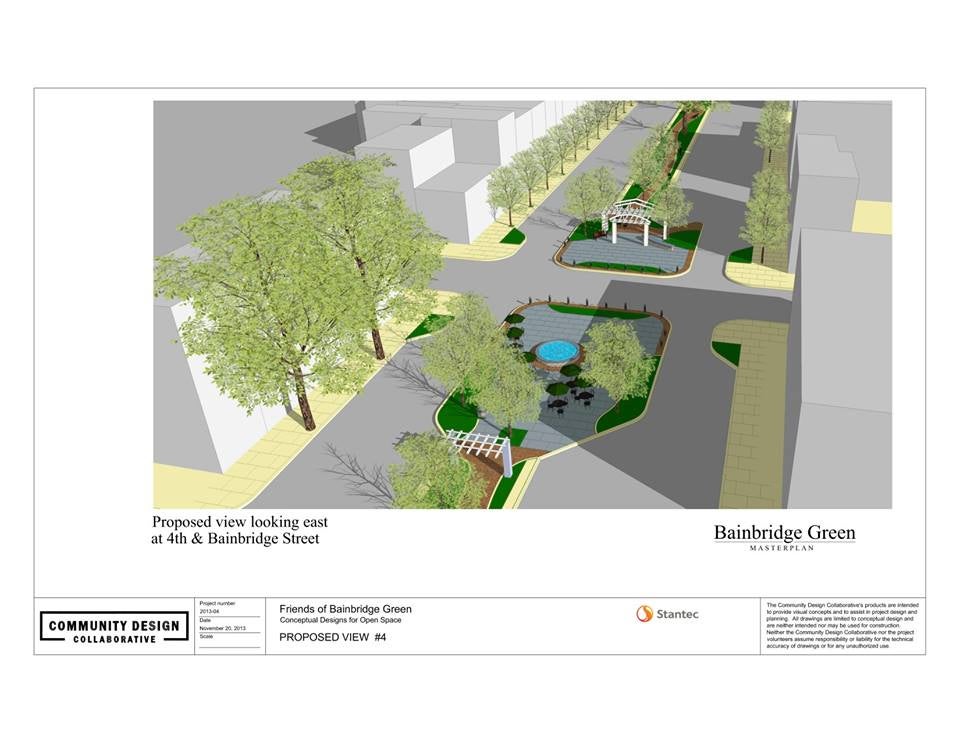 Bainbridge Green, the parking-surrounded planted sliver in the middle of a wide stretch of Bainbridge Street between 3rd and 5th, is a leftover. The width is the legacy of a public market that once stood in the middle of the street. It was razed and replaced by a linear park, but all that remains of that are odd barbell-shaped medians separating parked cars.
But Bainbridge Green is poised to become a signature public space for Queen Village once again, and serve as an inviting gateway to 4th Street's Fabric Row.
Last May we reported on the renewed effort to reclaim Bainbridge Green from a parking-dominated space into a quality community space. This effort, spearheaded by Friends of Bainbridge Green in concert with Queen Village Neighbors Association and South Street Headhouse District, now has a conceptual plan in hand to illustrate what a revived Bainbridge Green might look like, thanks to a service grant from the Community Design Collaborative.
The conceptual plan envisions Bainbridge Green with a vastly improved streetscape, intimate pedestrian plazas, improved furniture and plantings, and it even reclaims a bit of the vast space currently devoted to cars.
Rendering of Bainbridge Green at 4th Street showing Fountain Plaza and Gateway Plaza | Community Design Collaborative

(Community Design Collaborative)

The tired, oddly shaped plaza at 3rd Street features an overgrown brick wall that once had a veterans memorial on it.

Drink Gentle Friends – This trough and fountain at Bainbridge Green was installed in 1910.

Parking or Park?: Looking down the center of Bainbridge Green in early spring 2013.
Instead of the thin fenced median the plan shows the possibility of a wider, unfenced expanse with trees and grass, featuring new pedestrian-scale lighting and a six-to-eight foot wide path meandering through the center that is paved in a decorative herringbone pattern.
Perhaps the most transformative improvement would be to the four "plazas" anchoring each end of the barbell-shaped strips. The plan offers a different treatment for each: seating under an arbor, a new fountain, a pergola interpreting the former Washington Market sheds, and a more dignified backdrop for the 104-year old horse fountain standing at 3rd Street. One of the traffic triangles where 5th Street and Passyunk Avenue split could even feature a bike share station.
"I am most excited about the plaza spaces, providing public common areas for fun programming. It also provides a place for people to sit and talk, for neighbors to get to know each other; it especially provides a draw for visitors to Fabric Row, which also has received a Community Design Collaborative grant for streetscape improvement," said Jonathan Rubin, Friends of Bainbridge Green chair, over email. The hope is that improvements could be made to Bainbridge Green and Fabric Row concurrently.
Beneath the large plazas at 4th Street there is also opportunity to install stormwater management tools, in this case rain gardens and underground retention basins.
"It is a small project for [the Philadelphia Water Department], so it won't be a huge source of funding but it will help to make Bainbridge Green 'green,'" said Rubin.
Rounding out the improvements are corner bumpouts at intersections to make pedestrian crossings easier, an elevated "speed table" to calm traffic at the 3rd Street turnaround, removing the traffic turnaround at 4th Street to make way for a larger plaza space, and redoing the outer sidewalks on Bainbridge with new pavers and small street trees.
The Collaborative's team cast the conceptual plan into five discrete phases, and estimated the total cost at about $2.1 million.
Rubin casts the Community Design Collaborative plan as a "first draft" of a new vision for Bainbridge Green and will use it as a point of departure for a year's worth of public outreach and conversation among stakeholders.
In the early part of this year, Friends of Bainbridge Green plans to unveil the plan at a meeting for stakeholders and their task force, give presentations to the Queen Village Neighbors Association and South Street Headhouse District, as well as have informal talks and walks around the site. And come spring will be a big public unveiling.
"May 10 will be Bainbridge Green Festival, which will be us showing the plans to the community and gathering ideas and comments," Rubin explained. "When the park is built, the festival will close down the street and be the big celebration! For now, it will be simple and fun chance for the community to come together."
Bainbridge Green existing conditions | Community Design Collaborative

Bainbridge Green concept 5th and Passyunk to 4th | Community Design Collaborative

Bainbridge Green concept from 4th to 3rd streets | Community Design Collaborative

Bainbridge Green Conceptual Plan | Community Design Collaborative
WHYY is your source for fact-based, in-depth journalism and information. As a nonprofit organization, we rely on financial support from readers like you. Please give today.