New Philly school board unanimously rejects charter applications, pivoting away from SRC
The decision could signal a new attitude toward the growing charter school sector in Philly. The board said the applications before it didn't meet its high standards
Update: 3/1/19 10:25 a.m.
In a move bound to raise eyebrows across the state, Philadelphia's new Board of Education unanimously rejected three new charter school applications Thursday night.
The decisions could signal a new attitude toward charter oversight in Pennsylvania's largest school district.
This was the first time the locally appointed board entered the fractious charter school debate. It took over last summer from the state-controlled School Reform Commission (SRC), which some critics saw as charter friendly.
Board members warned against reading too deep into their decisions. Board President Joyce Wilkerson, a former SRC chair, said the board had specific concerns with the three applications it reviewed. Those concerns revolved around unsophisticated curriculua, inaccessible location via public transit, and, in two cases, the fact that the charter operators hadn't signed renewal agreements at other schools.
"These were applications that just were not sufficient," she said.
She also argued in prepared remarks that it's difficult to close under-performing charter schools due to what she says is a weak state charter school law. So, the board wanted to make sure it set a high bar for new applicants.
Board member Maria McColgan, whose own children attend a charter school in Far Northeast Philadelphia, said applications need to be "perfect or near perfect" to earn her approval.
"Our children deserve nothing less," she said. "We want to set a high bar."
Wilkerson says, regardless of personal philosophy, the new board is in lock step over how to think about charter approvals.
"We're for quality seats," Wilkerson explained.
How will that explanation sit with school choice advocates and the many state lawmakers who tend to back charters? That's an open question.
"They're kind of setting a tone that at least according to their measures they wanna keep this high bar," said Jason Corosanite, who runs the String Theory charter network. "But we disagree with those findings."
Corosanite's network had perhaps the highest-profile application of the night. It wanted to open a school in West Philadelphia in conjunction with famed dance instructor Joan Meyers Brown, who spoke at the meeting. The board also rejected a school that would have been run by the American Paradigm charter network in Tacony and a third connected to the People for People charter school that would have opened in Francisville.
Charter advocates say the votes disappointed them, but didn't come as a shock.
"I saw a group of people intent on blocking any and all new charter applicants, but no empathy for the more than 20,000 mostly black and brown students stuck in the lowest performing district schools," said David Hardy, a longtime charter backer and former head of Boys Latin Charter School in West Philadelphia.
Several charter supporters compared the new dynamics in Philadelphia to Pittsburgh, whose locally elected school board has a reputation for being less charter friendly than the old SRC.
They also said these votes emboldened their efforts to reform the state's charter school law. Many school-choice backers argue districts shouldn't authorize charters because they're inherently biased against schools that could compete with their own. They believe there should be "independent" authorizers.
"
We will use these cases as examples when we start to do a full court press on an independent charter school authorizer with the General Assembly," said Ana Meyers, executive director of the Pennsylvania Coalition of Public Charter Schools.
The charter debate has raged for two decades in Philadelphia, which has about half of the state's 135,000 charter school students.
Charter backers say the privately run, publicly funded schools offer parents a much-needed alternative to the traditional system. Critics say the schools lack enough oversight and hurt district finances by siphoning away students and funding.
Those critics often bashed the School Reform Commission for its charter school decisions. And many pushed for a locally controlled board in hopes it would be tougher on charters.
Still, some of those advocates seem genuinely surprised by the unanimous decisions rendered Thursday night.
"I was shocked," said Lisa Haver, a former district teacher and longtime charter critic. "We do have local control and we came in thinking is that going to make a difference. And I think it has made a difference."
The School Reform Commission, formed in 2001, was comprised of five members — three of which were appointed by the governor and vetted by the Pa. Senate.
The nine members of the new board were all chosen by Mayor Jim Kenney, who was elected in 2015 with strong support from charter opponents in the city's teachers union.
SRC appointees from Kenney and Gov. Tom Wolf gave the commission enough votes to eliminate itself last year.
"Tonight's votes were particularly poignant, given our 17 year fight for local control; we fought relentlessly for a school board that reflects the vision of Philadelphians for a fair, equitable public education system," said Philadelphia Federation of Teachers President Jerry Jordan in a statement.
But Otis Hackney, the mayor's chief education officer, said Thursday's decisions don't mean Kenney dislikes charter schools. He feels the board is simply "raising the bar for what charters should be doing moving forward."
Thursday isn't the end of the road for the three rejected charters. All of them can appeal to the state Charter Appeals Board, which is comprised mainly of former Republican Governor Tom Corbett's appointees.
Corosanite indicated his group would appeal the board's decision.
In past charter decisions, some SRC members referenced these looming appeals when justifying 'yes' votes on charter schools. They felt it wasn't worth the district's time and money to reject charters if the appeal board would simply overturn their judgements.
Board Chair Wilkerson said she's confident the decisions will hold.
Metal detector debate
The board also reviewed an amendment to the district's emergency preparedness policy, which would mandate the use of walk-through metal detectors and X-ray scanners in all district high schools. Policy 805 essentially targets three district high schools that forego the equipment —the two Science Leadership Academy campuses, and the Workshop School.
Such a change comes in the months before SLA Center City will co-locate with Benjamin Franklin High School.
Superintendent William Hite says the co-location and the optics — one school using metal detectors while the other doesn't —were considered.
"Whatever we do, it's going to be applied to everybody," he said.
SLA Beeber students railed against the policy during the public testimony, saying it criminalizes students and threatens school community. The West Philadelphia school has a model rating of 85 percent for school climate on its school progress report.
"These metal detectors, they impose the idea that we should fear our schools," said Amiri Rivera, a junior at Beeber. "That we should fear our peers, and even our sacred communities. This kind of security it doesn't keep us safe. It damages the most important part of any community: trust."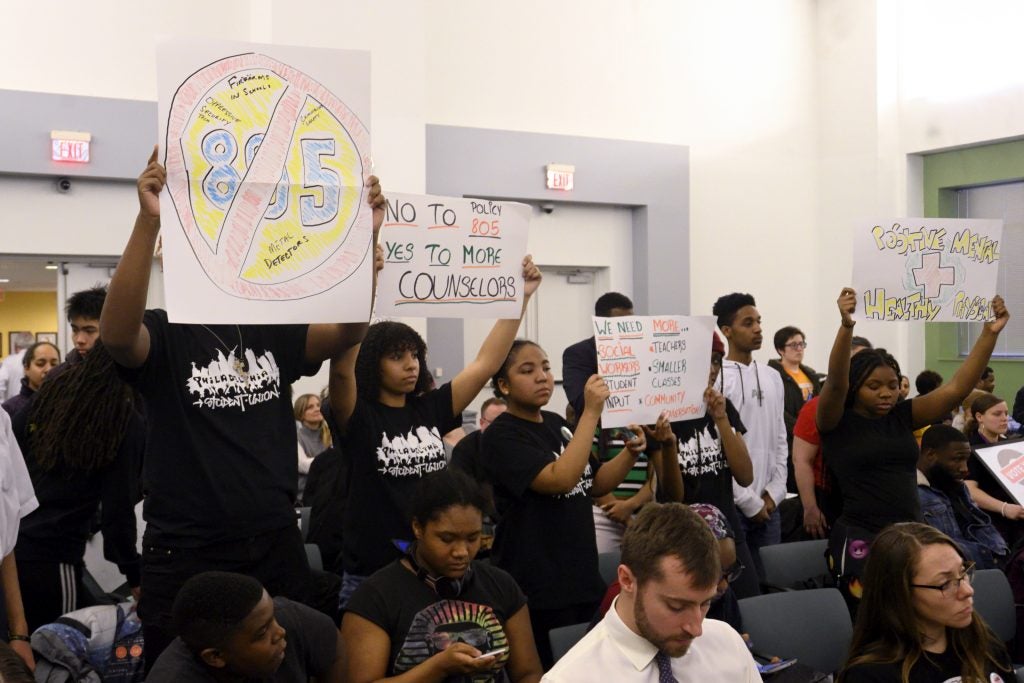 Beeber junior Sam Shippen says the metal detectors are a "band-aid on a bigger problem.""These kids don't feel safe going home," she said. "But I don't feel that when I go to school. I feel safe, and part of that is there are very few police officers and no metal detectors."
School board members Angela McIver, Mallory Fix Lopez, and student board representative Alfredo Pratico, also stated their opposition of the proposed amendment and encouraged fellow board members to vote against the it at next month's action meeting.
McIver says the mandate tells students "we believe they are incapable of engaging in good decision-making. And we are reinforcing a model that mimics prison."
School board member Julia Danzy endorsed the opposition, but said "we're caught in a quagmire. How do we protect our students" from potential danger and "how do we present to them that we value them?"
WHYY is your source for fact-based, in-depth journalism and information. As a nonprofit organization, we rely on financial support from readers like you. Please give today.