New Jersey's minimum wage will increase 16 cents in 2018
Gov. Chris Christie's administration announced the new minimum-wage floor late last week.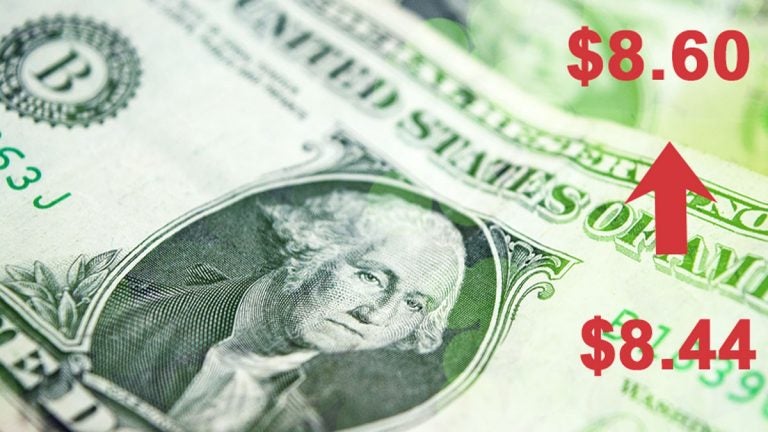 While it's not the major boost that advocates for low-income workers have been calling for in recent years, New Jersey's minimum-wage labor force will be getting a modest raise of 16 cents an hour at the start of 2018.
Gov. Chris Christie's administration announced the new minimum-wage floor late last week, indicating a recent rise in the federal rate of inflation will trigger an automatic increase in the statewide minimum hourly rate next year.
The wage increase, from $8.44 an hour to $8.60 an hour, will be the fourth to occur in the past five years, thanks to changes that New Jersey voters made to the state constitution in 2013, which included immediately hiking the minimum wage by $1, and then tying future adjustments to the federal rate of inflation.
Not enough to live in N.J.
The higher hourly rate is being welcomed by advocates for low-income workers, but it amounts to an annual salary of just under $18,000, and they said the minimum wage is still not going to be enough to cover even the most basic needs in a high-cost state like New Jersey.
Meanwhile, business leaders stressed the wage's current link to inflation, suggesting it's a logical way to gauge whether companies are able to absorb the rise in the wage floor. And the modest change also comes as candidates in this year's gubernatorial contest have been debating the minimum-wage issue, with Democratic frontrunner Phil Murphy calling for the hourly rate to go up to $15, a proposal that Republican Kim Guadagno has vocally opposed.
New Jersey's minimum wage was equal to the federal floor of $7.25 in 2013, but after Democratic legislative leaders were unable to get the Republican Christie to sign a bill that sought to increase the hourly rate, they instead put a question on the November ballot that year that asked voters to make a series of changes, including elevating the rate immediately by $1.
Voters signed off on that raise, and they also approved language calling for future increases in the hourly rate to occur automatically following years in which inflation had occurred. Specifically, the state Department of Labor and Workforce Development must perform an assessment of changes in the Consumer Price Index each September based on the latest 12-month figures collected by the federal Bureau of Labor Statistics. The rate is then adjusted upward on January 1 following any year in which inflation increased.
Wages flat in 2015
After the initial $1 increase that occurred between 2013 and 2014, the minimum wage was automatically increased from $8.25 to $8.38 in 2015, thanks to the constitution's inflation clause. But no increase in inflation was measured between 2014 and 2015, meaning the rate remained at $8.38 for all of 2016.
The minimum wage increased again at the start of 2017 due to a rise in inflation, going from $8.38 to the current rate of $8.44. And the 16-cent increase that's in store for the start of 2018 will be the largest inflationary adjustment to occur since the constitutional amendment was approved in 2013.
In all, the minimum wage is up nearly 19 percent since the state constitution was amended in 2013.
The rising minimum wage was welcomed by New Jersey Policy Perspective, a liberal think tank that has been advocating for higher wages for low-income workers, including legislation calling for a phased-in increase to $15. But analyst Brandon McKoy pointed to challenges that low-wage workers still face in New Jersey when making less than $18,000, which is only slightly higher than the federal government's definition of poverty for a two-person household. An analysis of the state's housing market by the National Low Income Housing Coalition also indicates workers need to earn at least $27.31 an hour this year to be able to afford to rent the average two-bedroom housing in New Jersey.
"It's clearer than ever," McKoy said. "Gradually increasing the minimum wage to $15 an hour is urgently needed to reduce income inequality and help hundreds of thousands of hardworking New Jerseyans afford basic needs for themselves and their families."
"The sooner elected officials can recognize this need and work together to help our friends and neighbors who are struggling to get by on the current insufficient minimum wage level, the better of all of us — workers, families, and businesses — will be," McKoy said.
Urging caution
But business leaders in New Jersey have been urging caution amid the push for a $15 minimum wage, saying the discussion should be comprehensive, and include a review of issues like regionalization and workforce development to ensure any wage hike doesn't end up backfiring and hurting workers and businesses in the long run. And just before the start of 2017, a survey of the members of the New Jersey Business & Industry Association indicated 70 percent were already planning to give their workers at all wage levels raises as they expected increased sales and profits.
Michele Siekerka, NJBIA's president and chief executive officer, suggested the purpose of the 2013 constitutional amendment was to make sure the wage floor would go up when the consumer price index indicated the economy was strong enough for businesses to be able to take on the higher costs associated with increasing wages.
"When the CPI increases, it means the state is stable enough for a commensurate increase," Siekerka said. "That slow and steady rise is a big key to allowing businesses to be prepared for it and to absorb the increase."
_______________________________________________________________
NJ Spotlight, an independent online news service on issues critical to New Jersey, makes its in-depth reporting available to WHYY.
WHYY is your source for fact-based, in-depth journalism and information. As a nonprofit organization, we rely on financial support from readers like you. Please give today.