New Jersey's Bishop of Bling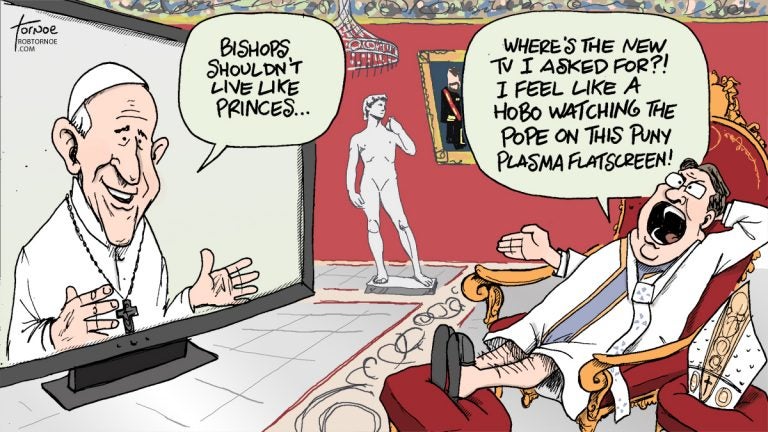 "Feed the flock of God which is among you, taking the oversight thereof, not by constraint, but willingly; not for filthy lucre, but of a ready mind;" – Peter 5:2
I have a semi-serious question to ask Newark Archbishop John J. Myers: Do you actually read the bible?
I'm not a religious person, and I've been called everything from a bigot to an ugly human being for calling out the inconsistencies I see in high-ranking members of the church. But in my 35 years I've spent on this Earth, I've never done anything as disgusting as The Most Reverend Archbishop of Newark. You see, while Meyers is asking his own flock to make sacrifices, he's broken ground on a $500,000 addition to his 4,500 square-foot palace in Hunterdon County. The new wing (a description usually reserved to large hospitals or office complexes) will include an indoor pool, a hot tub, three fireplaces and an elevator.
This opulence would make Mitt Romney blush, but what makes it worse is Newark's Bishop of Bling is building it at the same time he's asking members of the archdiocese to donate to the "archbishop's annual appeal," which the Bergen Record describes as a fundraising effort to support religious education and… feeding the poor.
Unlike Meyers, I've read the bible, and even my heathen sensibilities were able to pick up on the fact that an enormous part of God's word has to do with poverty. In fact, the poor seem very close to God's heart, as they do to Pope Francis, who told bishops back in September not to be deaf to people's needs and to live the lives of pastors, not princes.
Not that I would expect Meyers to do what's right and take the responsibility God seemingly put in his hands seriously. Not only has financial strain caused the Newark Archdiocese to close several schools over the last few years, enrollment has dwindled as Meyers and those of his ilk continue to show leniency towards pedophiles.
Last year, it was revealed that Michael Fugee, a priest under his supervision, was allowed to attend youth retreats and hear confessions from minors despite a court-ordered lifetime ban on ministry to children. According to the Star-Ledger, Meyers had full knowledge of Fugee's actions, so when they broke the news and called for his resignation, did he take responsibility for putting the children in his flock in danger? No, first he defended Fugee's interactions with children, then he demoted Rev. John Doran from his position as vicar general. He didn't even both to apologize, except to say the church's "strong" policies had apparently not been strong enough.
Meyers isn't the only bishop in New Jersey not to hear Pope Francis' message. The Diocese of Camden has taken heat for purchasing a $500,000 mansion from Rowan University for the residence of Bishop Dennis Sullivan. The 6,463-square-foot of extra space, complete with a heated pool, converted carriage house and three-car garage, was apparently needed for the bishop to carry out his duties. I guess meeting in the church is beneath these holy benefactors of God.
News like this should anger everyone, religious or not. It's no different than a politician abusing his power to enrich himself. But faith is intertwined with the church's action, and despite the blatant disregard for their own members, I've found it hard to ask members of a church to look to their leaders in disgust.
I could quote Bible verses about poverty until I'm blue in the face, but a line from The Book of Proverbs stands out: "He who oppresses the poor shows contempt for their Maker, but whoever is kind to the needy honors God."
Maybe that's why Meyers feels the need to build his own little heaven on earth. He may have fooled his followers, his clerks, he's defenders and maybe even himself. But he can't fool God, who is the only one fit enough to judge Meyers' actions. I believe religious folks call that a reckoning.
____________________________________________________
Rob Tornoe is a cartoonist and a WHYY contributor. Follow Rob on Twitter @RobTornoe