New Hunting Park mural remembers Philly graffiti legend Karaz
This story originally appeared on PlanPhilly.
—
The corner of Fifth and Luray streets in Hunting Park resembled a 1990s hip-hop video. With Wu-Tang Clan, A Tribe Called Quest, and other classics from that time booming from a speaker, local graffiti writers painted, with permission, a mural honoring a fallen comrade.
First, the wall was scraped of old paint chips, and primed with blue paint. With that first layer of paint down, writers Sew and Denske then began to sketch the outline of a name: Karaz.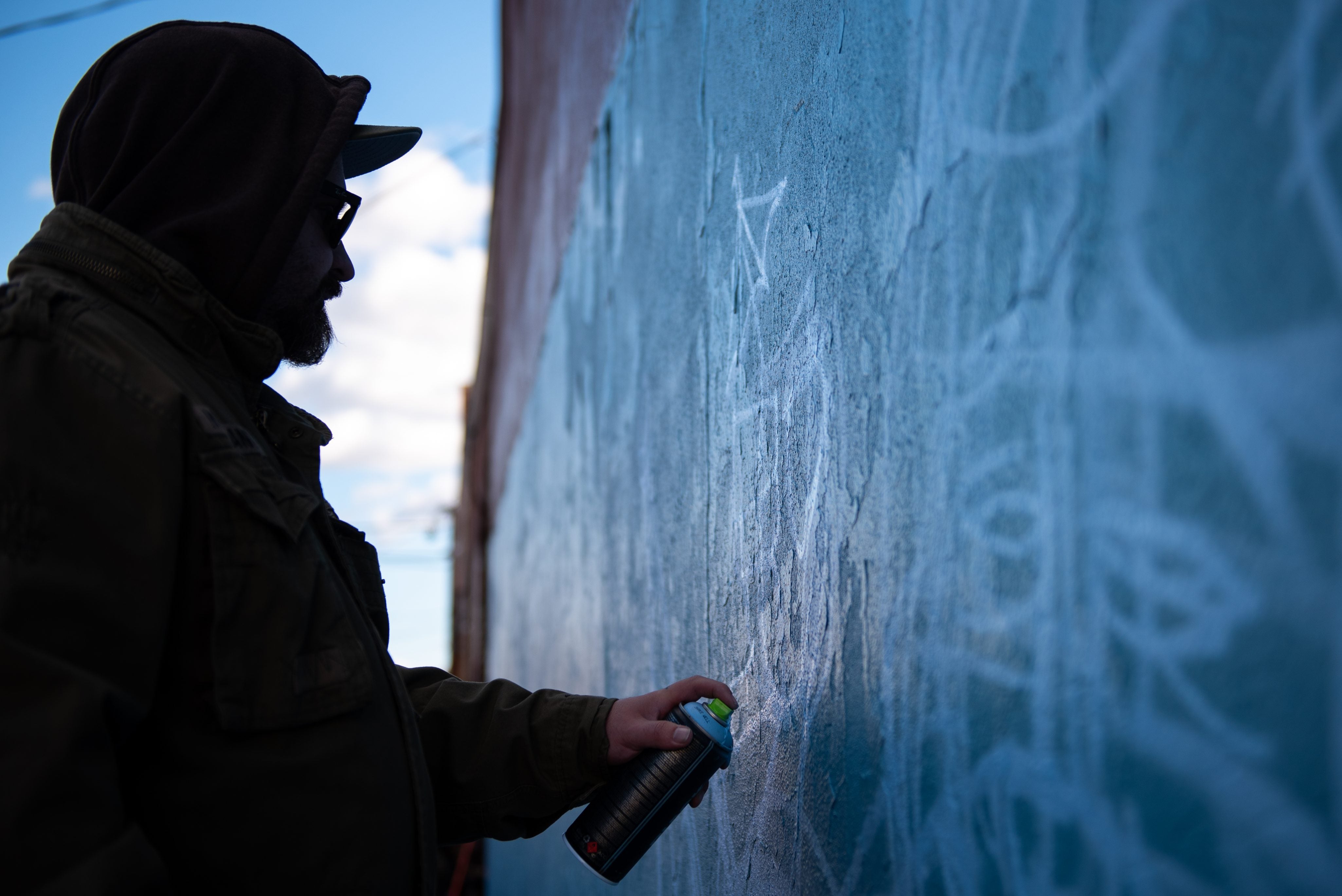 As dozens of their esteemed peers watched and reminisced about the local legend who grew up in the neighborhood and lived around the corner until his October death, the two men filled in nine-feet-tall, pink and green semi-Wild Style letters and a cartoon depiction of a man in a tropical destination relaxing in a hammock with a boombox.
"Everybody out here in love for Karaz," said Robert "Boo" Rosario, organizer of the event. "King Karaz."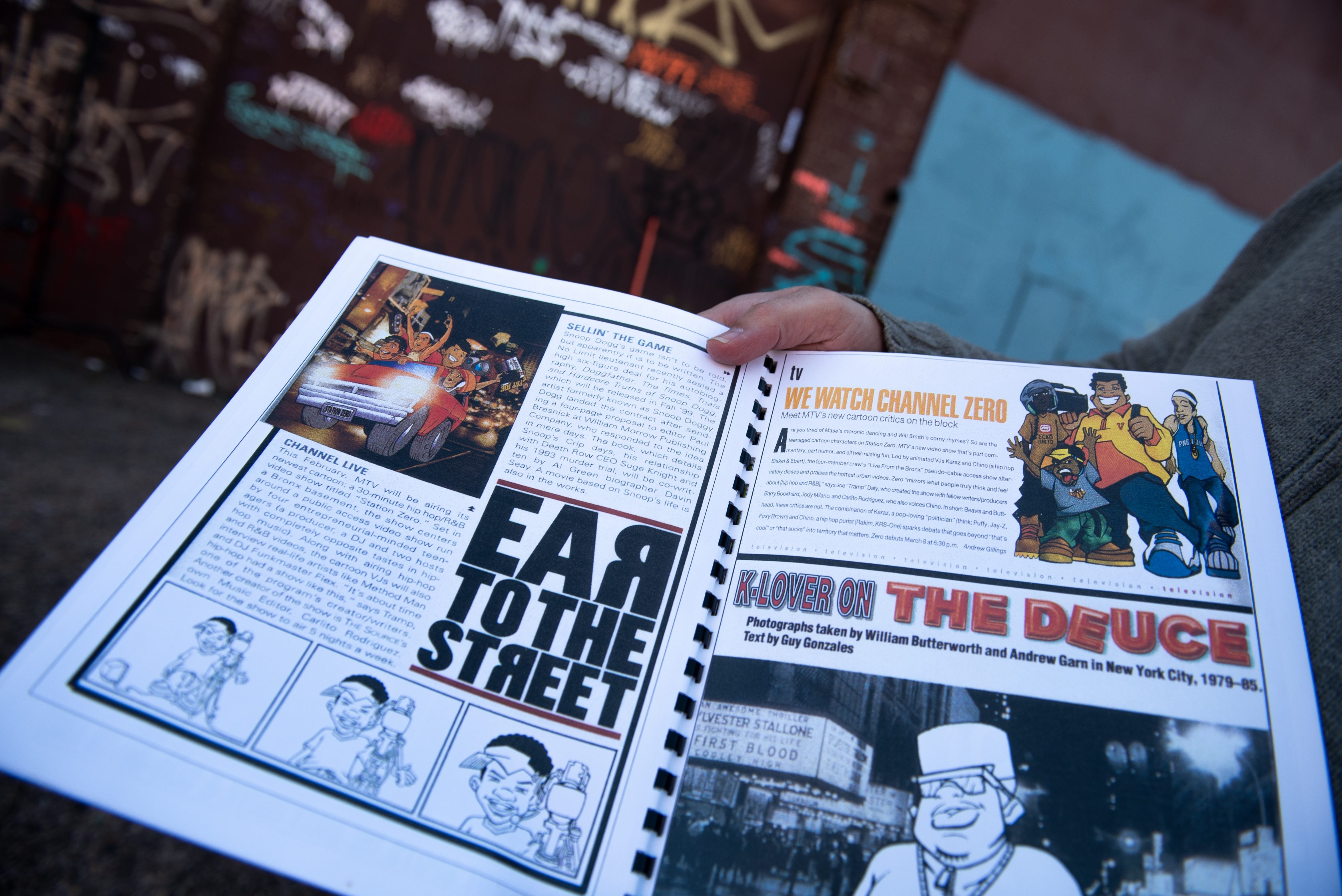 Eliu Nazario aka Karaz, who died of brain cancer at the age of 51, is revered among fellow writers as the "king of the Wickeds," a Philadelphia-born style of graffiti where letters are elongated and distorted into cryptic, spidery lines decipherable to only a trained eye.
Sew, who was active on the scene during the 1980s, says the style acted as camouflage to outsiders and police. But throughout time it evolved into one of the hardest styles to replicate, and Karaz was one of its innovators.
During the '80s and '90s, he and his crew would leave their mark throughout the city, inspiring generations of graffiti writers.
"He's got one of them Wicked styles you can't copy no matter how hard people try," said Rame, a local graffiti writer. "No matter how much time they put into their hand, you will never do a Wicked and make it look like Karaz."
There was more to Karaz than graffiti, says Rosario, a close friend. He was an all-around hip-hop trendsetter, who introduced Philadelphia to music and fashion from New York City, a Mecca for hip-hop fans.
His b-boy attitude and aesthetic was the basis for a character with his namesake on a short-lived MTV cartoon "Station Zero."
"Karaz is the type of dude whose body and soul is all hip-hop," said Joseph "Tramp" Daly, a producer on the show, and friend of Karaz. "He won't ever stop being the hip-hop spirit."
And via Instagram, Questlove of The Roots credited Karaz for inspiring his stage name, and providing the name of his popular website Okayplayer.  "An even zanier DJ (truth be told I used to run his "K-Luva" mixtapes so damn much I think THAT was the true signal for me to morph from "b.r.o.ther. ?uestion" to Questlove," Questlove wrote.
Roots frontman Black Thought called him the "mayor of HP (Hunting Park)."  "You will be missed but your influence lives on," he shared in an Instagram post viewed more than 39,000 times.
Graffiti writers tag a wall adjacent to a mural dedicated to the late graffiti writer Karaz on Saturday, November 3, 2018. (Kriston Jae Bethel for WHYY)

Ashley Sanchez, niece to the late graffiti writer Karaz, wears his jacket while a mural is painted in his honor in Hunting Park on Saturday, November 3, 2018. During large gatherings, like this send off, writers often bring books that they have others sign. (Kriston Jae Bethel for WHYY)

During a mural painting for grafitti writer Karaz on Saturday, November 3, 2018, "Cabesa WSL" recounts the story of how he tagged a wall at 18th and Wallace when he was only 12 years old. The tag can be spotted in the title sequence of "The Fresh Prince of Bel-Air." (Kriston Jae Bethel for WHYY)

Migdalia Nazario, sister to the late graffiti writer Karaz, flips through photos of the Philadelphia legend on Saturday, November 3, 2018. (Kriston Jae Bethel for WHYY)

Spray paint used for a mural dedicated to Philadelphia graffiti writer Karaz fills the trunk of a car on Saturday, November 3, 2018. (Kriston Jae Bethel for WHYY)

Silas, age 5, adds his own art to a wall tagged by other writers during a memorial and mural paiting dedicated to Karaz on Saturday, November 3, 2018. (Kriston Jae Bethel for WHYY)
Rosario recalls the interactions between the then-unsigned band and Karaz.
"The Roots used to be out there on the corner before they were signed," he said, "freestyling and hitting the drums, Quest on the drums, and Karaz would be like, 'Okay, player.'"
News of Karaz' passing moved Teaz, a local writer, to bomb a wall just around the corner from the mural the night before.
The passing cars and pedestrians made it the "the scariest hit I ever took." But he managed to spray and whip the paint into a tall "semi-Wicked," as one writer would call it, that read: TEAZ 4 KARAZ RIP.
"I wanted something big near him to let people know that I love him," he said.
Rosario says Karaz wasn't interested in money or fame, "it was just love, bro." He worked at Jefferson Hospital as an environmental services worker for more than 30 years.
Karaz may have been a giant in the city's hip-hop culture, but to his sister Migdalia Nazario he was simply an awesome brother.
"It's amazing how many people my brother touched," she said. "And to this day he still touches people."