New gardens, new tools, and a summer garden tour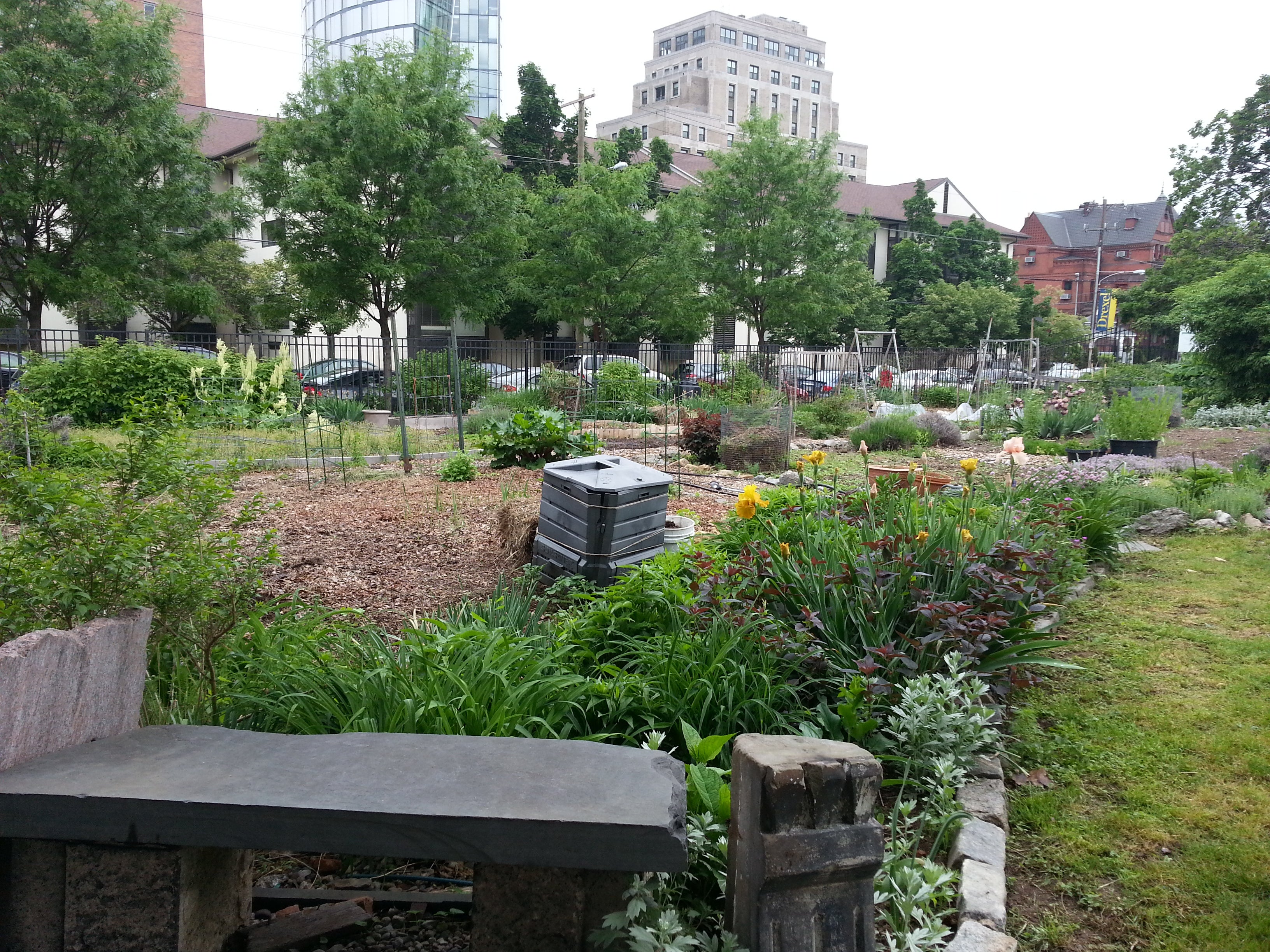 Lettuce looking almost floral at Summer Winter Community Garden

NGT Board President Margaret McCarvill and PHS President Drew Becher unveiling NGT's new logo.

Spiderwort at Summer Winter Community Garden

Strawberries at Summer Winter Community Garden

Strawberry plants at Summer Winter Community Garden

Summer Winter Community Garden in its Powelton Village neighborhood

An iris in bloom at Summer Winter Community Garden

A peony in bloom at Summer Winter Community Garden
Under the wrought-iron arch of one of its most established community gardens, the Neighborhood Gardens Trust Wednesday announced the preservation of two new ones, a city-wide summer garden party, and the revamped effort to preserve many more spaces for city residents to grow food and beauty in the next several years.
Germantown's Pulaski Zeralda Garden and University City's St. Bernard Community Garden were recently added to the roll of 34 under the trust's protection, said NGT Board President Margaret McCarvill, standing at the entrance of Powelton Village's Summer Winter Garden.
After 25 years of serving as a community garden, Pulaski Zeralda was in danger of being sold when the Garden Justice Legal Initiative got involved. Amy Laura Cahn, the GJLI's director, is a new NGT board member.
Three-quarters of St. Bernard Community Garden was in danger of being lost to sheriff's sale, but was purchased by the city in 2012. The city worked with the friends group to protect it for good.
Summer Winter co-founder and NGT board member Joe Revlock remembers when that setting, just coming into spring fruit and flower, was an empty lot where dilapidated houses had been knocked down. A good rain would hit the naked dirt and turn the street into a red-brown stream, he said.
He and neighbors began planting in the space in the 1970s, in part because no one else was doing a thing with it. Yet, they were always wondering whether and when Drexel University's expansion might gobble up their garden.
Turned out Drexel was instrumental in officially preserving the space, back in the 1990s, and in helping to find money for the iron fencing that formalizes the edges of the crazy quilt of flowers and herbs, vegetables and fruits, and neighborhood trash-picks turned trellis.
McCarvill and representatives of NGT's partners in land protection said the hope is to use new tools, including the city's new land bank program, a state planning grant, and the expertise of the organization's board members to preserve more space for urban agriculture more quickly.
Pennsylvania Horticultural Society Executive Director Drew Becher promises that NGT, an affiliate program, has PHS's backing. "Preservation of our community gardens is a top priority for us," he said.
Becher said the number of community gardens are surging in Philadelphia and across the country. He said a just-issued report by the National Gardening Association says between 2008 and 2013, the number of community gardens in the United States grew from 1 million to 3 million. "The report also showed that young people, especially millennials, 18 to 34, are the fasted growing group of food gardeners." There were 8 million young food gardeners in 2008, and last year, there were 13 million, he said. (The full report, Garden to Table, is available here.)
These trends are mirrored in PHS membership, Becher noted. Membership has increased 35 percent in the past four years, and 18- to 44-year-olds have attributed for "major growth," he said.
Other speakers: Philadelphia Parks & Recreation's Director of Urban Forestry and Ecosystem Management Joan Blaustein; Contract Administrator of the Philadelphia Office of Housing and Community Development Laura Taylor; and Executive Director of the Philadelphia Redevelopment Authority Brian Abernathy.
Blaustein said parks & rec has expanded its traditional outdoor recreation programs to include several kinds of gardens, orchards and urban agriculture programs.
Taylor said OHCD has been a partner with NGT and its predecessor since 2001, because it recognizes that community gardens are an important part of the urban fabric.
"I truly believe without these oases, the urban jungle is an awful gray space," Abernathy said. With the advent of the Philadelphia Land Bank, "We hope to see more opportunities for urban agriculture," he said.
Now, about that community garden tour: NGT plans the first Community Gardens Day on Sat., June 21. Gardens in each neighbohrood will be open to the public for tours and a variety of events. Watch for details on the NGT website.
PlanPhilly recently wrote in detail about changes, goals and new tools at NGT.
Hear more from NGT and its garden-preservation partners in the first video below.
In the second video, Revlock speaks of the garden's founding, and tells the story of its fig-tree, which prolifically provided for appetizers and fig butter and wine until it was done in by this year's harsh winter. Or was it?
WHYY is your source for fact-based, in-depth journalism and information. As a nonprofit organization, we rely on financial support from readers like you. Please give today.