New deal streamlines progression from Delaware community college to Cheyney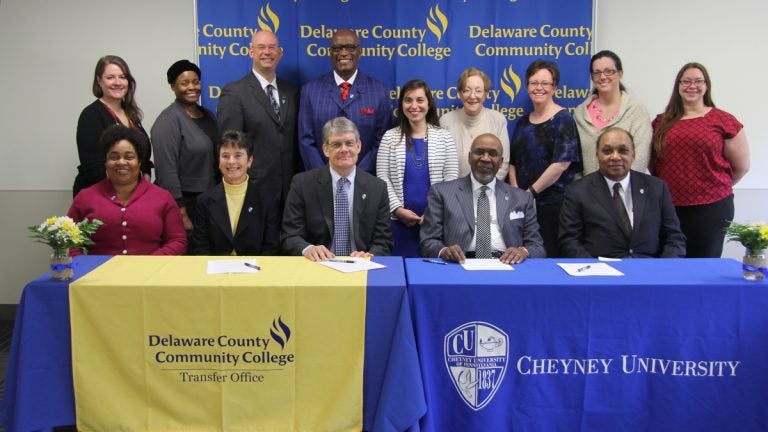 Students enrolling in Delaware County Community College have, in a way, received two acceptance letters.
Cheyney University signed an agreement this week guaranteeing admission for qualified students with an associate's degree from Delaware County Community College.
Jerry Parker, president of Delaware County Community College, has been anxious to finalize a guaranteed admissions agreement with Cheyney. The two schools, located 20 minutes apart, have had a transfer agreement in place for years, he said, but not one this comprehensive.
The community college has numerous agreements like this one with other area universities, including Temple, West Chester and Widener.
"The idea here was to enable Cheyney to be as competitive with all the other universities that are coming after our students. So this will do that," Parker said.
The partnership is aimed at attracting some of the community college's 27,000 students who could help boost Cheyney's enrollment, which has dropped significantly in the past several years.
"Cheyney has a long proud tradition. We want it to thrive, not just survive as an institution," Parker said. "We're just 15, 20 minutes down West Chester Pike. It would be a great opportunity for our students. We don't have dorms and so forth. As a destination university, why not consider Cheyney?"
Cheyney applications for the fall are up 55 percent compared with this time last year.
Qualified students may start as juniors at Cheyney, which will accept all of their coursework — something that can be a problem when transferring.
With this new agreement, Cheyney can connect with students much earlier and get them thinking ahead to undergraduate and graduate degree programs.
Frank Pogue, Cheyney's interim president, said the arrangement encourages a more holistic recruitment approach.
"We can begin now reaching students in the 11th, if not the 10th grade, to assure them that when they enter Delaware County Community College that they are also being admitted to Cheyney University as an undergraduate under certain conditions," he said.
The goal is to increase Cheyney's enrollment, as well as prepare students earlier so that transferring is smooth, Pogue said.
"The purpose of the agreement is to make sure that students are successful and the needs of all students are going to be met because we are dealing with those needs much earlier than we normally would," he said.
The agreement, which will take effect this summer, will reduce the time and cost to finish a degree, Pogue said.
"It costs a lot of money to stay in school. One of the worst things … is, in so many ways, we have priced students out of an education in the first place. The whole student loan area is just massive," he said. "This agreement does make it possible for you to move with ease without too many complications and finish work in a reasonable time, which will reduce the cost and the money you borrow."
Students at Delaware County Community College will also be eligible for Cheyney's signature program, the Keystone Honors Academy, which offers full scholarships, including tuition, room and board, and qualifies recipients for graduate school scholarships.
"The goal here is to make sure students have access, ideally, to an affordable education," Pogue said. "The relationship between the two institutions will do much to increase graduation of students in different disciplines and preparing the workforce for Pennsylvania."