New City Council bill threatens progress on Philly's bike lanes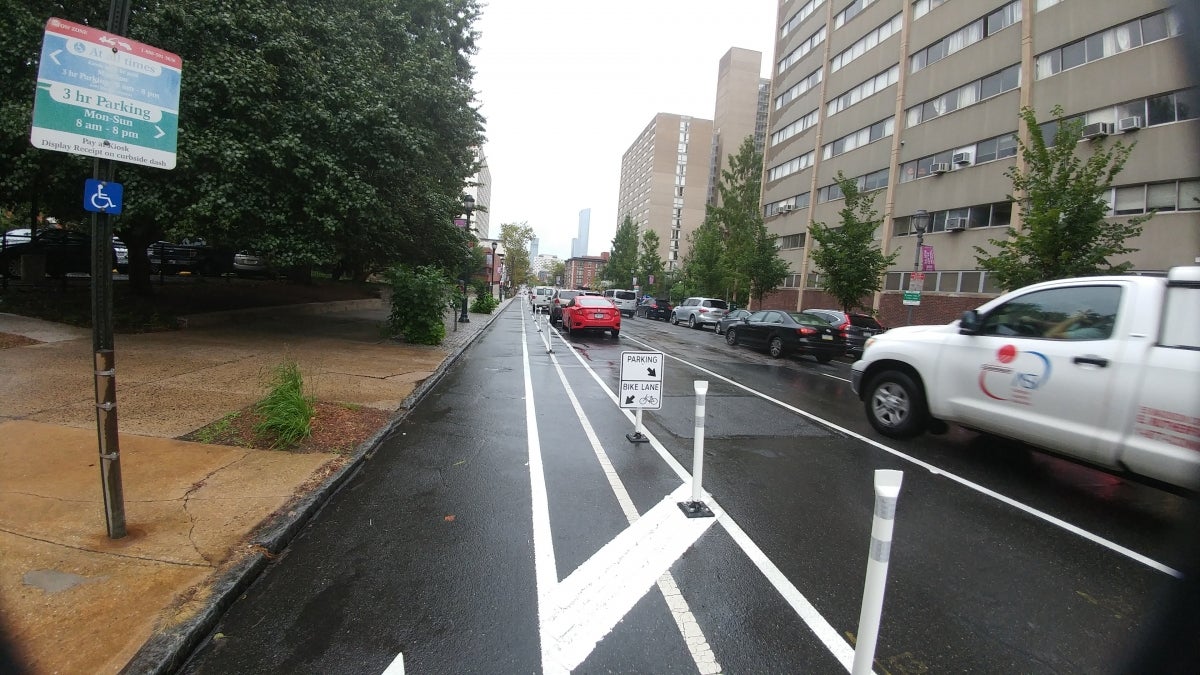 City Councilwoman Jannie Blackwell introduced a bill on Thursday that would shift more control of Philadelphia's bike lane infrastructure to council and away from the city's planners and traffic engineers. The proposal comes as the latest local example of bikelash — the backlash against bike lanes that often comes after a significant bike infrastructure upgrade.
Blackwell, who represents University City, has come to regret her support of a parking-protected bike lane running down Chestnut Street from 45th Street to 34th. "I've been looking at this ever since we did our Chestnut Street bill," said Blackwell. "I still get people complaining."
The bill would expand a 2012 ordinance that required council to sign off on any bike lane that removed parking or a travel lane. Under the proposed law, the body would also need to approve "any modification to an existing bicycle lane that would affect the flow of traffic."
Blackwell said the purpose of her bill is to ensure that residents are informed of potential changes to the streetscape and have a chance to petition their city councilmembers about the changes, not make it harder to expand the bike lane network. "I just want to make sure… that everybody that uses that street has their opinion considered," said Blackwell. "So, I don't know if it makes it harder or not.
"The bike lane people have a great group [the Bicycle Coalition of Greater Philadelphia,]" Blackwell added. "They're really involved — they fight hard for [bike lanes] — I don't think they'll be so concerned about [the bill]. They're happy to fight for their issue."
"It's baffling as to why Councilwoman Blackwell introduced this bill," said a decidedly unhappy-sounding Sarah Clark Stuart, executive director of the Bike Coalition. "Why there should be action to slow down more kinds of traffic safety measures, I am just at a loss of words."
"We will be there to make it clear that this is an overreach, this is simply the absolute wrong direction for Philadelphia," Stuart added.
The Chestnut Street bike lane was installed last August after more than five years of planning, engineering, and community outreach. A 2015 study found that this stretch of Chestnut Street had the highest crash-per-mile ratio in the city, thanks in part of persistent speeding. City traffic engineers installed protected bike lane and pedestrian crosswalk bumpouts in part to slow cars down and reduce crashes. But, Blackwell said, drivers have complained that the loss of a travel lane has ruined their once-speedy commutes into Center City. Stuart said the safety benefits were worth adding two or three minutes to rush hour commutes.
"Traffic safety is a very important public safety process that needs to be done by professionals," said Stuart. "For council to second guess every decision made by transportation engineers is inexplicable to me."
As written, the bill would not prevent the city's Streets Department from installing new bike lanes, provided they did not remove any travel lanes or parking. But it would likely slow down the upgrade of existing, paint-only bike lanes to protected bike lanes, offering opponents another chance to kill improvements.
The bill would also presumably affect the slow-moving proposal to add delineator posts or some other form of physical protection to the bike lanes on Pine and Spruce Streets. In November, 24-year-old Emily Fredricks was fatally struck by a trash hauler while riding in the Spruce Street bike lane. Some neighbors oppose any physical improvements to the lane that would prevent cars from being able to temporarily park in them.
Mayor Jim Kenney's office declined to comment on Blackwell's bill.
Council also authorized two new bike lanes in Chinatown and near Philadelphia International Airport on Thursday. Blackwell voted in favor of both.
WHYY is your source for fact-based, in-depth journalism and information. As a nonprofit organization, we rely on financial support from readers like you. Please give today.