Neon Museum lights up forgotten corners of Philly's past
A new museum in a Kensington warehouse showcases vintage neon signs from a proud working-class past.
Len Davidson is a lifelong basketball fan, as was his father.
"He wasn't the kind of guy who did a whole lot with his family, but he loved basketball," Davidson said. "It was like a bonding thing."
In the early 1960s, Davidson's father would take him to watch Wilt Chamberlain play for the Warriors, back when they were a Philly team. Afterward, they would go out for a hot dog together.
"We'd drive over Market Street from West Philly — the Warriors played at the Convention Hall in West Philadelphia — and we drive over Market Street and then we turn up Sixth Street. Off in the distance, I'd see this tiny red hot dog. You're, like, six blocks away, and I'm 10 years old," he said. "As you start getting closer and closer, the hot dog starts blooming and getting bigger. Eventually, you get to Levis and you see it's a 13-foot, neon hot dog."
Four generations of Davidson fathers and sons frequented Levis (pronounced LEV-is, not like the jeans), the iconic Philly hot dog and ice cream spot at Sixth and South streets. It's gone now, closed in 1992, but the giant neon sign that once spilled a red glow over the sidewalk is still around. It's now in Davidson's Neon Museum, home of his approximately 160 vintage neon signs, many from Philadelphia's past.
Collecting since the 1970s, Davidson has acquired some choice pieces: the giant King of Steaks crown that used hang above the Pat's Steaks location in Strawberry Mansion (now gone), an animated, dancing Elvis Presley that used to hang on the front of a South Philly dive bar called Blue Suede Saloon (now gone), and a large Bulova watch sign that was once at the 1939 New York World's Fair.
"After the fair, for whatever reasons, at least three of them came to Philadelphia," Davidson said. "They were put above big jewelry stores."
For many years, Davidson found places to display pieces of his collection around the city, including the Philadelphia Center for Architecture and Design and Drexel University. In 2019, he secured a warehouse space in Kensington, now a building shared by the maker space NextFab, the Keystone Bicycle Company, and Beaty American architectural salvage.
This month, the Neon Museum had a soft opening to visitors, by appointment. Visitors must buy tickets online for specific windows of time, Friday through Sunday.
Before Davidson caught what he calls the "neon disease," he taught sociology at the University of Florida. As a former academic, his interest in neon goes beyond the flicker and glow. Neon represents a certain mid-century, working-class urban life where people walked to work at factories near their homes, neighborhoods were full of mom-and-pop storefronts, and kids played games in the street with balls and chalk.
"I hate the word nostalgia. To me it's culture," he said. "You went to your local shopping avenue, you knew your neighbors, you sat out. I'm not saying it was a golden age and all that was better, but it was different. Then once we got into big box stores and everything being delivered to you — you know, Amazon — the whole nature of the city has changed."
On the floor of the Neon Museum is a vinyl sheet marked out with a game of dead box, a street game from Davidson's youth. Kids used to find caps from beer bottles on the street, lay a penny inside, and melt crayons into the cavity. These weighted bottle caps would be used like tiny pucks that you flick across the chalked dead box field, trying to make your way through a series of numbered boxes while also nudging your opponent's bottle cap into the center square of death, the dead box.
The names of kids' street games might be different from neighborhood to neighborhood, but Davidson has been championing games like dead box, wireball, baby in the air, hose ball, and buck buck, as a way to remember them and their street culture history.
"If I see a kid walking down my street dribbling a basketball, it's like music to my ears because there are no kids on the streets," Davidson said. "I live in a very nice neighborhood in Fairmount, but when I moved there in '79 my son and other kids would play on the streets. Then, there were tons of Philadelphia street games. Now you go through most neighborhoods in Philly and you don't see any kids anymore, and those street games are extinct."
Like those street games, neon is another dying art. Davidson said. Philadelphia used to have about 50 professional tube benders, people who shaped glass tubes into whatever phrase or image the customer would want. They were artful and innovative, finding clever ways to animate a sign: Davidson has one in the shape of a camera, for a photography shop, whose lens appeared to open and close through a three-stage neon animation.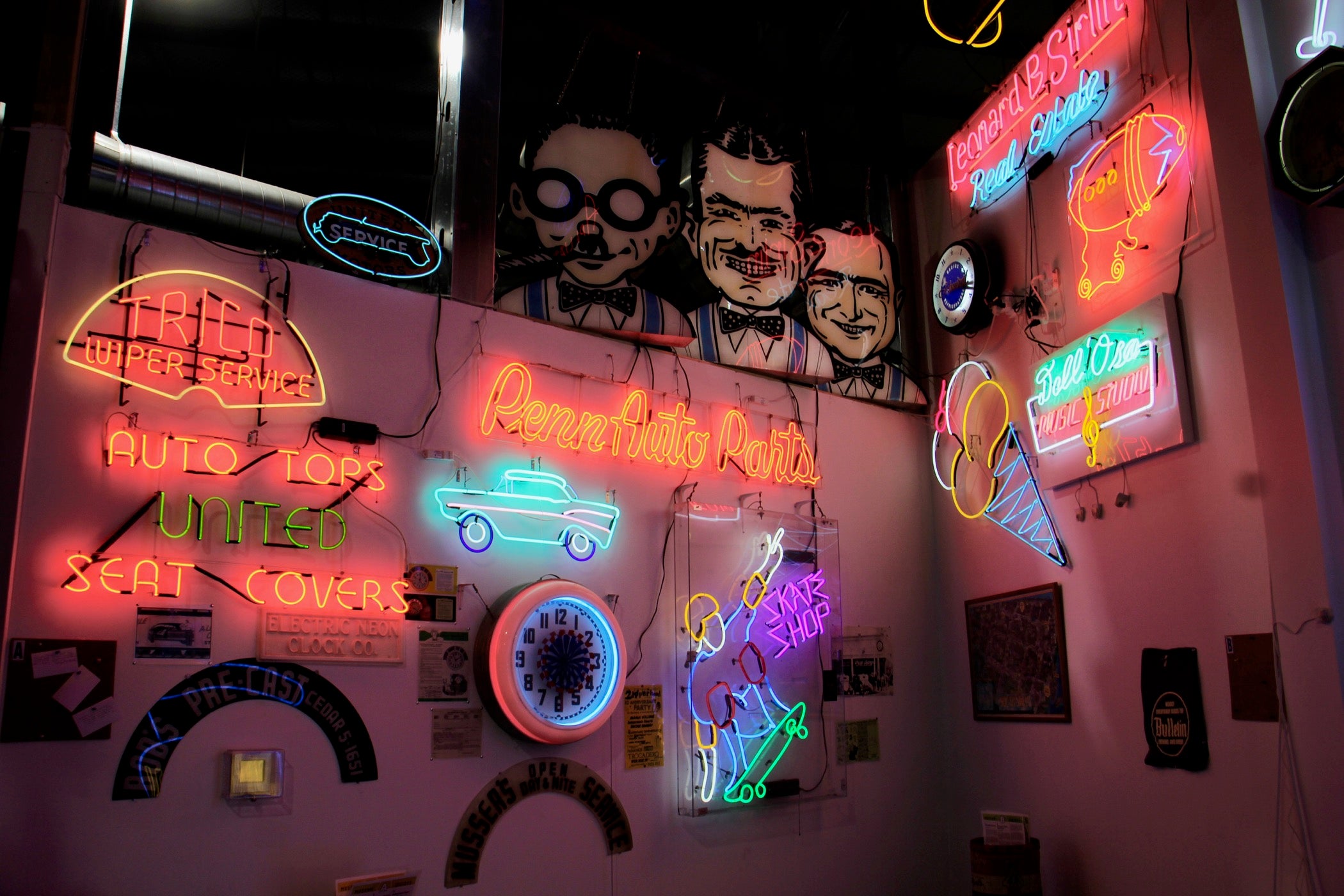 Now, he says there are just a handful of tube benders. People with an interest in neon tend to work in small-scale art projects, not large-scale commercial signage. Davidson points to an original Horn & Hardart storefront sign with 400 feet of neon tubing.
"A lot of people feel that there's a revival, mostly because of the young people wanting to do artistic pieces of neon," he said. "We don't know if that's going to evolve into bigger projects, which can actually support someone and have them make a living through neon."
___
The Neon Museum
Hours: Friday through Sunday by appointment, with COVID-19 restrictions
Location: 1800 North American Steet, Philadelphia, Pa. 19122
Contact: 267-534-3883 | info@neonmuseumofphiladelphia.com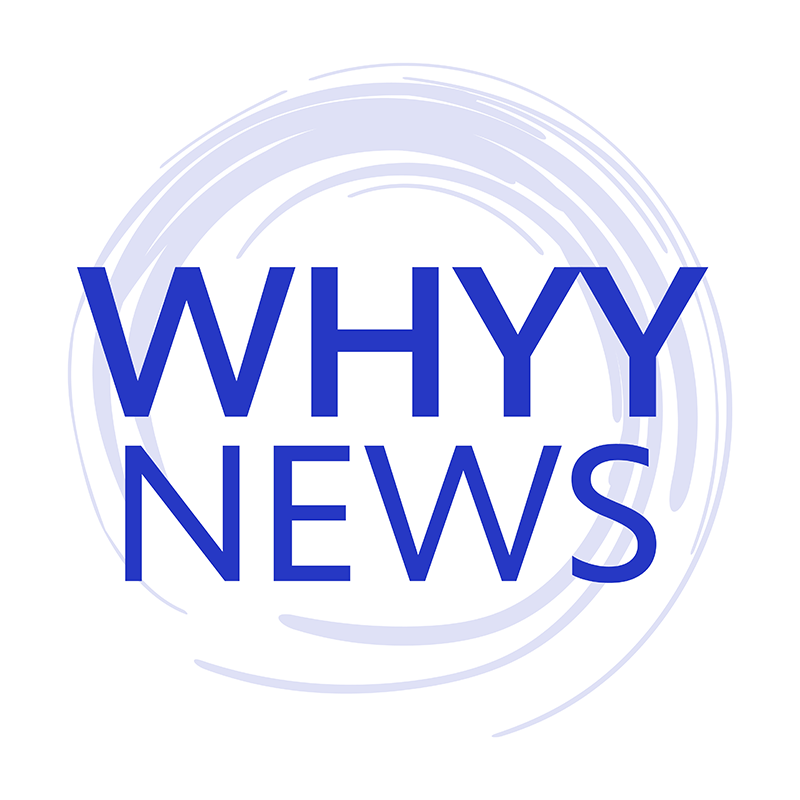 Get daily updates from WHYY News!
WHYY is your source for fact-based, in-depth journalism and information. As a nonprofit organization, we rely on financial support from readers like you. Please give today.