NEast Philly Quizzo @ the Grey Lodge proves a success
There was a ringer in our midst.
More than 40 people packed the second floor bar of the Grey Lodge on Frankford Avenue between Wissinoming and Mayfair Wednesday night for Northeast Philadelphia-themed Quizzo.
As we told you and then popular entertainment blog uwishunu reminded you, it was our first meetup, a chance to meet and interact with our readers and a partnership with the famed Northeast pub. It went swimmingly.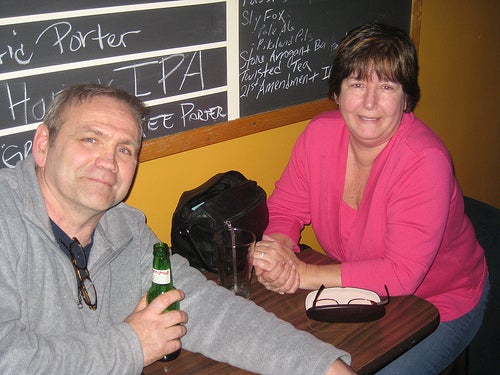 The night's winner proved to be something of a celebrity, Jack McCarthy, esteemed archivist of the Historical Society of Frankford, took home top honors with his lovely wife Patty, though only after a final playoff question against another team.
See a slideshow of photos of the night here.
"I would have been a little embarrassed if I didn't win," McCarthy said with a laugh, of the trivia game that focused on historical and cultural questions about the Northeast. Teams had to come up with answers for questions as varied as simple high school mascot names to neighborhood population estimates to the names of historical buildings.
Bar tabs, free drinks, gift certificates and raffles were doled out, in addition to many a beer and friendly competitive jab.
Grey Lodge owner Mike "Scoats" Scotese said the crowd was at least double what he sees at an average weekday event he hosts.
"It was a blast," he said.
Who's ready for the next!?