Multi-modal with MOTU: Cycle logic [Part 2]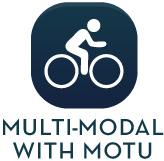 In Part 1 of this biking edition of Multi-modal with MOTU, I visited a pedestrian plaza to-be and explored a few of West and Southwest Philadelphia's new, old, and possible bike lanes.
Today, in Part 2 of our adventure, we head into Center City to learn about the delicate work of adding bike infrastructure and why a trial period for any new bike lane matters.
——–
Aaron Ritz and I are standing around wearing bike helmets at the corner of 22nd and Pine, locked in a really nerdy conversation about bike lanes, Philadelphia's historic grid, and the hidden benefits of complete streets. This is a good day at the office.
We had already cruised new and upcoming projects in West and Southwest Philly alongside Charles Carmalt, Pedestrian and Bicycle Coordinator at the Mayor's Office of Transportation and Utilities (MOTU). For the second leg of our journey, Aaron and I headed up Grays Ferry Avenue from Washington Avenue to see some sharrows and ride the Pine Street bike lane. We pulled over at 22nd and Pine and then at 10th and Pine for some longer conversations about the complexity of adding new bike infrastructure to the city's old grid. We talked about MOTU's cross-agency role, how particular streets are selected for new bike lanes, the importance of a lane's pilot phase, and the trouble with 10th Street.
Work Smarter, Not Harder:
MOTU's work is enabled by partnerships from advocacy and community groups, city departments, state agencies, and federal programs. One of the key city partnerships is with the Streets Department, which Aaron emphasized has enlightened engineers who understand the value of MOTU's bike and pedestrian work. So instead of having to convince Streets about the big picture value, MOTU can dig right in and pitch a particular opportunity for improvement.
Having to satisfy a lot of partners, wait for construction timelines, and find ways to share funding can mean that the pace of change is slow. But being measured can help make sure that any changes are worth making.
"It's hard to think of Philadelphia government as lean and mean, but we do a lot with the resources we've got," Aaron explained. Aaron's own job is among the many partnerships that exemplify the kinds of work the city's doing to meet more public goals with increasingly scarce resources: He was hired as MOTU's active transportation coordinator through federal funding for Get Healthy Philly, which paired shared public health and planning initiatives.
Street Selection:
As part of the city's complete streets initiatives, MOTU works to improve spaces for pedestrians and cyclists in a balanced way. Their work begins with an analysis of where new bike lanes are possible and desirable. Those locations are cross-referenced with planned street improvements, and it's where those maps overlap that MOTU focuses its work. This approach combines fiscal, physical, and political pragmatism with a multiple bottom line in mind.
The critical resource in bike and pedestrian planning is space on the street grid. Much of the city grid is intimate and human-scaled which is great for pedestrians, but that make the addition of bike lanes complicated. There are a lot of places where dedicated bike infrastructure just won't work.
A city street is an elaborate dance of traffic and people, timed to the rhythm of traffic lights and bus stops. Each change to a street alters the choreography of that dance, and sometimes it's hard to predict the results without testing the plan.
In order to install a bike lane the street must have the capacity to absorb that lane without causing congestion. MOTU uses traffic counts and projections to identify the best possible streets for new bike lanes. Streets with terrible paving, too many bus/parking conflicts, and heavy car traffic won't work. That's essentially how Spruce and Pine street were selected as crosstown bike routes.
Before a bike lane becomes official it goes through a pilot phase when the lane is installed temporarily and MOTU studies how the new traffic pattern affects traffic flow, congestion, and use. Sometimes the test lane can spur other changes, like improved signal timing or shared turn lanes, which can improve traffic flow for everyone and even outlive the pilot project.
Bike Lane Ripples:
To be sure, there are jerk drivers, jerk pedestrians, and jerk cyclists who make navigating city streets like joyriding a minefield. But even the biggest bike lane haters should know that streets with bike lanes are safer.
In the first complete year with bike lanes on Spruce and Pine, for example, MOTU's data revealed that severe crashes (involving drivers, cyclists, and pedestrians) went down about 45%, and fender-benders went down by about 17%.
"That really sold us," Aaron said. "The bike lanes made it safer for everyone." Plus, more cyclists were using the lanes, automobile traffic wasn't slowed down, and the flow of traffic was steady.
The most bike commuting in Philly happens in the neighborhoods in and around Center City. So after the successful installation of the Spruce and Pine lanes, the next question was where north-south lanes could be installed to help commuters connect to and through Center City from surrounding neighborhoods.
MOTU settled on 13th and 10th streets after analyzing every street from 2nd to 23rd. The 13th Street lane connects South Philly to the Temple area, and was piloted last summer. The new lane drew commuting cyclists, and improved traffic flow overall. It was, in Aaron's words the "most boring, resounding success…There was very little push back on that and people realized that it makes sense."
The parallel pilot lane on 10thStreet is a different story, and one where the ending is unwritten.
Testing 10th Street:
Aaron and I rode east to 10th and Pine where we stopped and watched plenty of cyclists zip southward on the pilot bike lane on 10th Street. This lane was temporarily installed as of November, and it's been far from the easy win that 13th Street was. What gives?
First, the upside: Near Jefferson, the 10th Street bike lane is well used and even creates a useful emergency lane for ambulances. (Score one for the unintended bike lane benefits.) Below Market Street, bike traffic is up about 125% on the pilot lane, but above Market a different story is brewing.
Chinatown is not thrilled about the idea of a 10th Street bike lane. Members of the Chinatown business community are very concerned that a 10th Street bike lane will create more traffic congestion, discourage shoppers who arrive by car, and delay deliveries. And for months there have been several meetings between bicycle planners and advocates and staff from the Philadelphia Chinatown Development Corporation to help understand Chinatown's concerns.
It's easy to see that 10th Street in Chinatown is busy: There is a fire station, trucks are perpetually loading and unloading, and nearby construction pushes cars onto 10th. Plus, some Chinatown merchants apparently doubt that very many people who visit Chinatown are arriving on bike.
MOTU is still doing outreach in Chinatown and collecting data about the pilot lane. The Bicycle Coalition is also lending a hand with a survey to see how shoppers travel to and from Chinatown.
So is 10th Street in Chinatown too congested to handle the new lane?
Technically speaking, Aaron explained, the 10th Street is a lot closer to its capacity than 13th Street is. A single-lane street can handle up to 800 cars per hour, and it seems that the traffic on 10th Street is near that threshold. MOTU projected that 10th Street could handle the shift, but this very tension demonstrates the value of a bike lane's real life trial phase.
"This is a very complex system and we have to make sure things work," Aaron said. Plus, he added, "We can't be successful in the face of lots of opposition."
So when 10th Street is repaved between Callowhill and South streets this year, it remains to be seen if a new bike lane will make the cut.
———
For the next Multimodal with MOTU adventure, I'm teaming up with MOTU and SEPTA for a ride-about this month. Stay tuned.