Meditation for liberation in a West Philly cemetery
The Woodlands and Ars Nova Workshop launch a summer program of weekly mindfulness and spiritual healing sessions.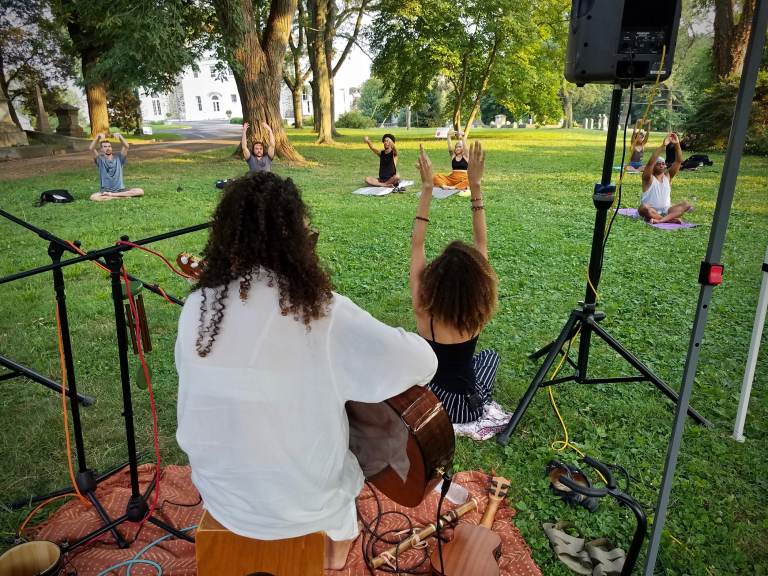 At 54 acres, Woodlands Cemetery is one of the largest open green spaces in West Philadelphia, a neighborhood asset used not just by mourners but by joggers, birdwatchers, and picnickers. The grounds and the historic mansion at their center have been used for weddings, fairs, and performances.
The Woodlands wants to invite more people through its gates with a future vision of building an open-air venue on its southern edge, away from the burial grounds, that can accommodate gatherings of 100 to 200 people.
But first, the Woodlands needs more people to know that it's not just a field of tombstones.
The cemetery has partnered with Ars Nova Workshop, the jazz and new music presenter, on a weekly series of wellness events through the end of September. Called New Grass, named after the 1969 album by Albert Ayler, the Wednesday evening sessions offer spiritual cleansing via participatory drum circles, story sharing, and mindful meditation.
As the title promises, it happens outside in the grass.
Last Wednesday, Netera Brickle came for the first guided meditation event of the series, a one-hour session of intentional breathing.
"I really enjoyed the benefit of being around other people," said Brickle of Southwest Philadelphia, who occasionally meditates on her own, but rarely in a group. "It helps me to be more motivated to do the things I was supposed to do."
The session, led by transformational breathwork facilitator Aubrey Howard, involved exercises to create stillness in the body and mind through a consciousness of breath. She was accompanied by live music: guitar, flute, and percussion were played by Howard's wife, Alexia Oliveira.
"I wasn't expecting the music," said participant Atiba Green, of West Philadelphia. "I thought it was gonna be a deejay. But the live music — that was nice, set the tone."
Howard, daughter of actor Terrence Howard, runs the holistic healing company Spirit Medicine, coaching breathing techniques specifically for women of color. She was hired by one of the partners in the New Grass project, Spirits Up!, which facilitates meditation and holistic wellness as a form of Black liberation.
"I've personally been in so many healing and wellness spaces that are only highlighting a certain experience — a white body," said Howard, who is Black. "To really invite in people and facilitators who look like you allows you to connect more deeply."
The meditation sessions are free and open to anyone. The small group that came for the first one was roughly half white and half Black. During the session, Howard guided the small group toward a peaceful state of mind by becoming aware of both their own bodies and the ground they were sitting on, through indigenous land acknowledgment.
She called it "radical rest."
"We invite in universal spirit, divine energy," Howard told the group, while Oliveira played a shaker. "Calling upon our ancestors and those who have been on the land before us to give us whatever guidance, awareness, and assistance we need in this moment."
Howard encouraged them to keep breathing slowly and deliberately.
"We're creating an energetic circuit with your breath that helps stuck emotions in the body to actually rise, lift and clear," she said. "Don't give up. This is your test of endurance, of willpower, resilience, resistance."
The biweekly meditation sessions, called The Wake, will alternate on Wednesday evenings with Spiritual Atmosferic Cleansing by drummer Karen Smith, described as "rhythmic release" sessions using drum circles and story sharing to "get in tune with ourselves and others."
Meditation is new territory for Ars Nova Workshop. Since launching in 2000, it has put on more than 1,000 jazz and new music shows, including the annual October Revolution festival at FringeArts and a museum exhibition about the life and work of visionary drummer Milford Graves at the Institute of Contemporary Art.
New Grass, with its focus on participatory actions fostering mindfulness and spiritual healing, is a way for Ars Nova to build a different kind of audience. It is funded by the William Penn Foundation through its New Audiences/New Places initiative, encouraging presenters to go beyond traditional performance venues.
"We really would like to be engaging with these people in more deep and meaningful ways, creating more of a community," said Zindzi Harley, Ars Nova's manager of community programs. "With New Grass, we're breaking into these new relationships with the community that hopefully will be very impactful over time."
For the Woodlands, music-enhanced meditation sessions highlight the cemetery's potential as a therapeutic space. During the pandemic, the grounds saw an significant influx of people who were sheltering at home and looking for a restorative green space.
"An incredible, incredible increase. We actually had to close the gates two days a week just to give the landscapers the opportunity to mow the lawn without having too many people here," said Woodlands operations manager Emma Max. "Early in the pandemic, when we were nervous about having too many people here at once, we needed to monitor that, but we tried to keep the space open as much as possible."
Since those early pandemic days, public use of the cemetery has dropped to manageable levels. The gates are now open seven days a week, as usual. New Grass, which was originally planned for summer 2020 but postponed, is meant to set the path for the Woodlands to become a more prominent neighborhood asset.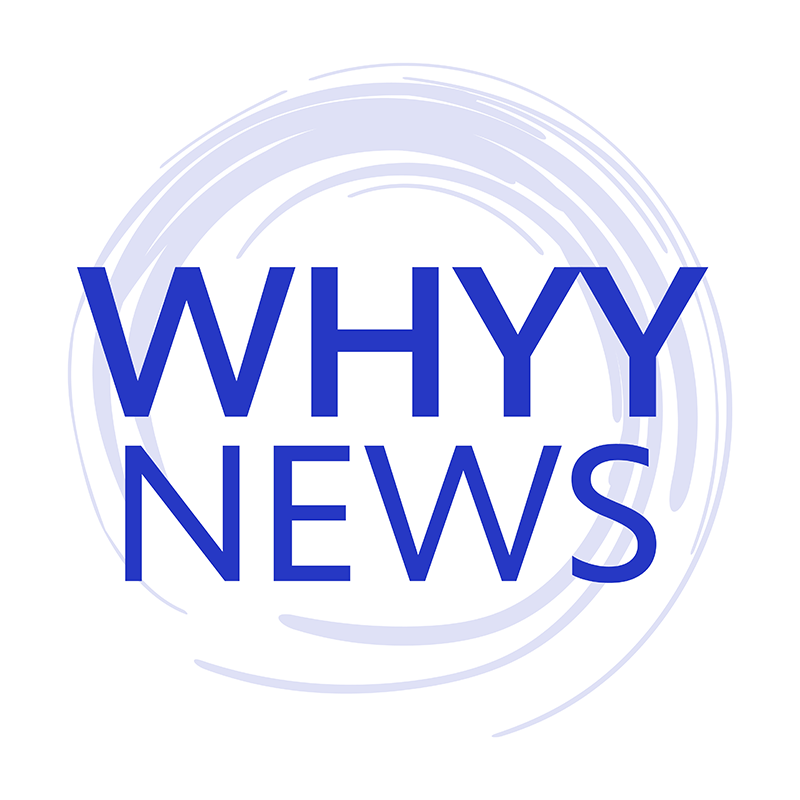 Get daily updates from WHYY News!
WHYY is your source for fact-based, in-depth journalism and information. As a nonprofit organization, we rely on financial support from readers like you. Please give today.