Medical Mission Sisters represents America from Fox Chase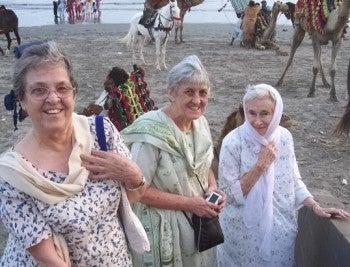 They have spanned the globe for decades in their mission to provide medical care and in the name of social justice. Dr. Anna Dengel founded the order in 1925 in Washington, D.C. in response to a lack of medical care provided to women and children in North India. They are The Medical Mission Sisters.
The order moved their North American headquarters to the sprawling Fox Chase campus at 8400 Pine Rd. in 1939. Their missionary work expanded to encompass five continents and has had an immeasurable impact on social issues, medical care for those in need, addiction, women's rights and providing the basic needs for life that many of us take for granted.
The order is 800 sisters strong; some are reaching retirement and returning to Fox Chase. Nine of the sisters have returned since 2009. Sister Celine Bernier, Sr. Elona Stanchak and Sr. Helen Marie McGrath returned after years of service in Pakistan.
Ann Nallo, public relations officer for MMS, said, "Our campus is becoming a 'full house,' but there is wonderful sharing and a more in-depth understanding of political and sociological realities of countries in which they have been in mission. The international mission of MMS is very apparent by their presence here."
There are currently no plans for the sisters to share their overseas experience with local civic and church groups, Nallo explained: "Many are still transitioning from life abroad to life here in Fox Chase."
Although The Bridge treatment facility recently vacated a building that will be converted into residences for returning sisters, MMS maintains a thrift shop open to the public and The Peace Hermitages, a group of cottages clustered in the woods for use by the public for meditation and reflection. The Medical Mission Sisters, reaching out to the world from Fox Chase.