Mayor Nutter: Philly should make Open Streets a regular, maybe even monthly, event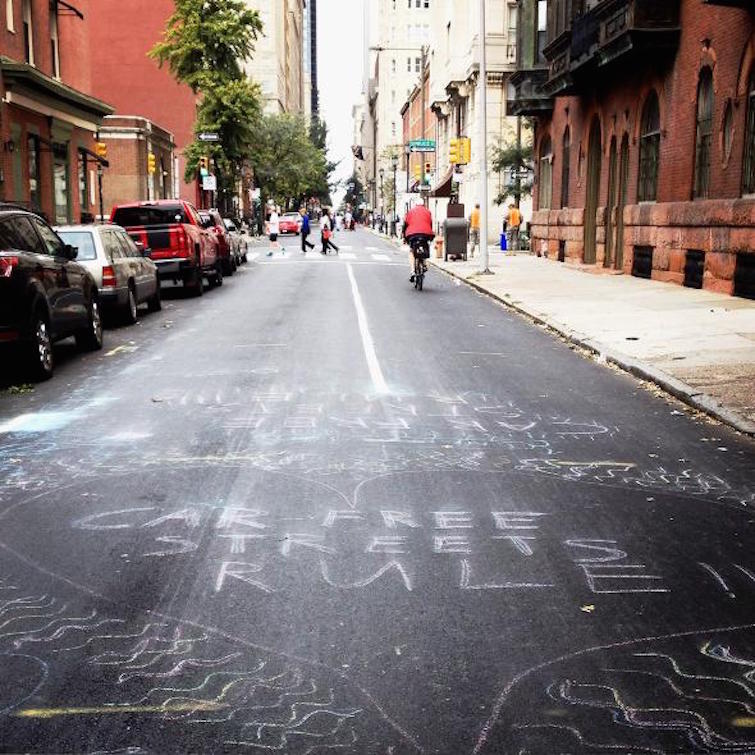 In an interview with PlanPhilly, Mayor Michael Nutter said that the temporary automobile ban that accompanied security preparations for the papal visit should become a "regular" event.
"I think we can figure out—with a lot of cooperation, patience and support from stakeholders—something that can make some sense for something people can look forward to," Nutter said, adding, "even if it was once a month to start."
"So, nothing definitive, and just as an example, the fourth Sunday in every month from X month to Y month," said Nutter. "Then people know what the story is and how to make whatever adjustments that have to be made."
The past weekend's security shutdown of Center City traffic was the latest, albeit inadvertent, example of a global movement known as "open streets." The Open Streets Project, a collaboration between the Alliance for Biking & Walking and the Street Plans Collaborative that promotes temporary traffic bans in urban centers, coincidentally held its 2015 summit this weekend in Atlanta. And across the Atlantic, about a third of Paris went car-free on Sunday.
As was widely reported yesterday, Nutter has already tasked a team of staffers to look into implementing another Center City traffic ban this year, before he leaves office.
In doing so, Nutter has in essence become the most notable supporter of the "Open Streets PHL" campaign. Launched earlier this week, the campaign already has more than 5,000 supporters on Facebook and 3,600 signatures on a Change.org petition directed at Democratic mayoral candidate Jim Kenney, who is widely expected to win the general election in November.
In e-mailed comments, both Jim Kenney and Republican candidate Melissa Murray Bailey said they were generally supportive of the open streets idea.
The Open Streets PHL campaign began as a Sunday afternoon conversation between Jake Liefer and Jon Geeting. (DISCLOSURE: Geeting is PlanPhilly's Engagement Editor).
According to Liefer, the petition and social media accounts were created almost on a whim. "We said, let's see what happens," said Liefer, an IT consultant and Point Breeze resident. "We were thinking a handful might be interested." Before the papal visit weekend, Liefer says he wasn't even aware of the term "open streets," let alone that it was a movement.
That echoes what Alexandria Schneider of Jenkintown said about planning the "Pope Ride," through Philadelphia's largely empty streets on Saturday. Schneider, 28, said the Pope Ride "started out as a joke."
Noticing that a large chunk of Center City would be closed to cars, she planned to go on a bike ride on streets she usually couldn't (to her disappointment, cyclists weren't allowed on the Vine Street Expressway).
"I said, hey, I wanna do this, maybe other people will want to, too," said Schneider. She created a Facebook event, expecting a handful of her friends to join. Instead, more than 3,000 signed up. Schneider, who works in event planning, estimated that somewhere between 2,500 and 3,000 actually showed up in front of 30th Street Station on Saturday for the ride. The papal visit weekend also saw Philadelphia's bike share program, Indego, enjoy its busiest weekend: over 13,000 rides, double the average, even though dozens of docking stations were shut down.
The Pope Ride experience, and seeing thousands walking, skating and even sitting in the middle of the street, served as a catalyst for Open Streets PHL. While Schneider and Liefer both said they expected the experience to be nice, neither anticipated how enjoyable they—and hundreds of residents—would find it.
Mayor Nutter was one of those residents. "When I walked around that first morning [with traffic restrictions in place], it just had a very, very different feeling," he said.
"Saturday and Sunday, seeing everyone about, whether it was the pilgrims walking, people on bikes, kids out playing, it just seemed like a very different kind of experience."
Despite his enthusiasm for the idea, the mayor repeatedly emphasized that the size and scope of the traffic-free area—not a box, he urged: "Believe me, I'm trying to stay away from the word 'box' for obvious reasons"—would be smaller than the Francis Festival area, but it would be the same concept: "This would be a multi-street area, a section in the heart of Center City."
"Even if it were on a kind of limited but regular kind of schedule, I think it could be very, very exciting," the mayor said.
Another, perhaps obvious, difference: no fences, checkpoints or National Guard posts. The mayor likened his vision for open streets to the regular weekend closures on Martin Luther King, Jr. Boulevard from April to October.
Nutter also repeatedly emphasized that his team would reach out to businesses and residents in the affected area to make sure the traffic closure would not seriously inconvenience them. Many businesses in the Francis Festival zone reported weak sales during the papal visit. Nutter said that they would use information from the papal visit to help with the planning.
Nutter stressed the need "to balance the fun, open, vehicle-free area," against "the level of impact on public transportation, businesses and motorists trying to get around."
But other road closures in Philadelphia have meant booms for impacted businesses. A few blocks of South Street are closed to cars every year for 'Blocktoberfest', but Lauren Vidas, who helps organize the event as president of the South of South Street Neighborhood Association, said businesses love it. "It's usually their biggest day of the year."
While Blocktoberfest particularly benefits bars and restaurants, it doesn't hurt the non-hospitality businesses, says Marcus Ferreira of the South Street West Business Association. "The other businesses usually do just okay, but are appreciative of all the exposure that the event brings them." Ferreira added that shifting the focus away from eating and drinking might help.
The Food Trust's Night Markets, which replace cars and traffic with crowds and food trucks along commercial corridors a few nights every summer, also generate added business for nearby businesses. According to an Econsult Solutions report, the 2013 Night Markets brought in over 200,000 attendees who spent $7.2 million on local businesses. That figure included brick-and-mortar stores in addition to the food trucks and other temporary vendors.
Open Streets would differ from those festivals and events, which focus heavily on food and drink and frequently attract such large crowds that simply walking becomes difficult. Open streets they are not.
Instead, Liefer points to New York City's Summer Streets and Los Angeles' CicLAvia as successful open streets events. In those cities, long corridors stretching to seven miles in length are shut down for a full or half day. While they feature some programmatic elements such as an intersection with food trucks or a pop-up playground, the main feature is simply the open, car-free road.
According to Romel Pascual, executive director of CicLAvia, even car-crazy Southern Californians love open streets. "I would say there is nothing in LA that has gotten such overwhelming support, in terms of enjoying, living, participating in a CicLAvia event," he said.
"[There is] nothing like seeing 100,000 people in one day talking about communities, talking about connections where the ambient noise of car traffic is replaced with the ambient noise of conversation," said Pascual.
CicLAvia has held fourteen open street events across LA since 2010. Pascual said that businesses along the road closures tend to see an uptick in business ranging between 25 and 66 percent on the day of the event.
Both LA's and NYC's open streets programs receive support from diverse coalitions of sponsors, ranging from local businesses to large corporations to government agencies. Closing city streets means paying police extra, and just a few hours can cost tens of thousands.
Nutter told PlanPhilly that he would put "all the options on the table" to cover the cost. "There may be some corporations that may want to do something for the good of the city and, y'know, get some free advertising."
The mayor also said he was open to using city funds. "Sometimes, when the city wants to sponsor some activities, there are some costs," he said. "But it's about quality of life and, quite frankly, the fun factor of being in the city."
WHYY is your source for fact-based, in-depth journalism and information. As a nonprofit organization, we rely on financial support from readers like you. Please give today.