Masterman teachers and parents at odds with district over asbestos fears
Teachers and parents at the magnet school fear there is harmful asbestos in the school. District leaders say problems have been fixed and school is safe.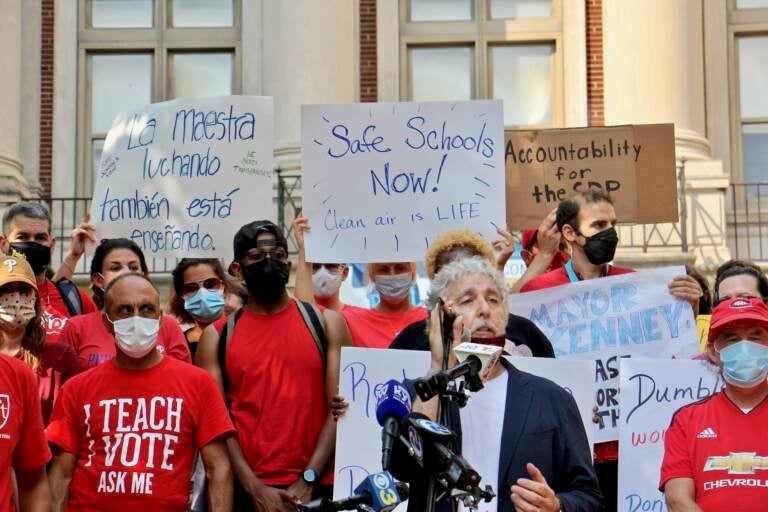 In sweltering heat Thursday, educators at Julia R. Masterman school took their laptops and power cords and conducted their professional development day outside.
They stayed outside all day to make a statement, hoping to raise awareness about their concerns around asbestos in the building, which is perilous to health when damaged.
Inside the school, construction is also ongoing. According to teachers, there is a plastic tarp on the gym floor, there is rain coming through the roof, known by students as "roof juice," and there's dust from construction. One staffer is said to have been hit by a piece of debris in the school elevator.
"We don't feel safe going into the school," said Spanish teacher Elizabeth Diffenderfer, of the Center City campus.
Many teachers feel the same, and, along with Masterman's Home and School Association, criticized the district for not providing more information and clarity on infrastructure concerns before students return next Tuesday.
The outdoor protest caught the attention of School District of Philadelphia leaders. At a separate event at Citizens Bank Park Thursday, Superintendent William Hite disputed the idea that the school is unsafe.
"I want to be very clear, the district has been in close communication with Masterman HSA reps and the [teachers union]," said Hite, adding, "No known damaged asbestos remains in the school."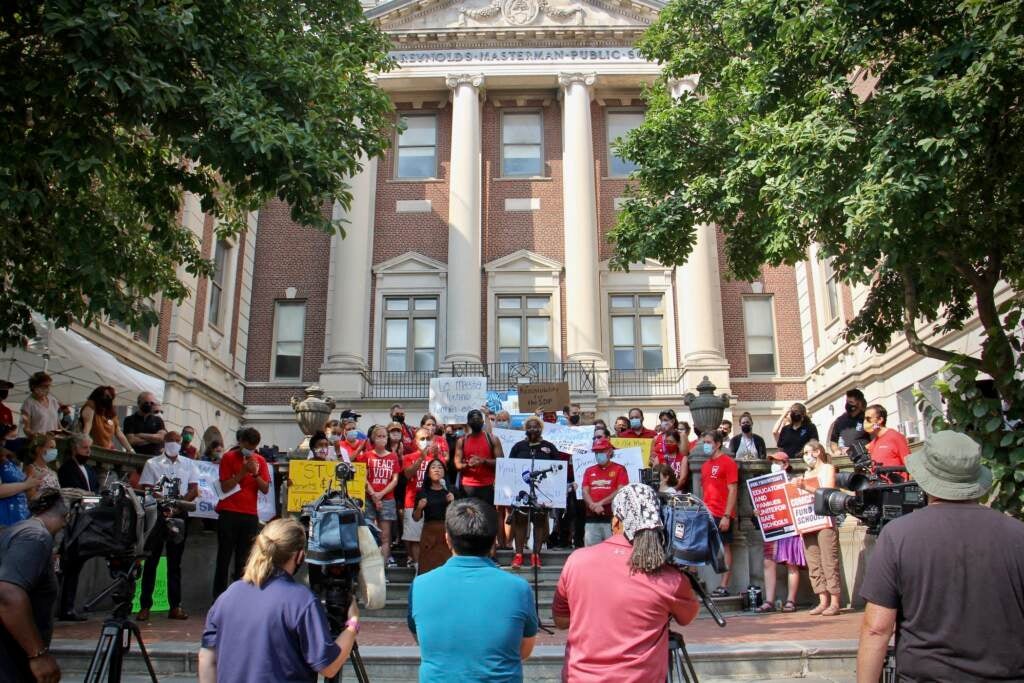 In a statement released later, the district cited "abatement and repairs made in January, July, and August of 2021 which addressed the 60 areas of damaged asbestos," supervised by a third-party asbestos inspector.
"The concerns outlined in the signed document from the Masterman teachers appear to be based upon incomplete information or a misunderstanding of applicable regulatory requirements surrounding management of asbestos," the district letter continued.
'Lost complete trust and faith'
The district's reply did not assuage educators outside the school Thursday, who defied orders by top district leaders to return indoors, risking an unauthorized absence.
7th grade English teacher Donna Amit-Cubbage, who has worked at Masterman for 17 years, is "fed-up."
Cubbage acknowledged the outdoor protest was impractical, but, as she saw it, necessary.
"We want to be in our classrooms more than anything because we have to set up, we want to organize," said Cubbage. "Being out here… It sucks. How is this benefiting us in any way?"
Parents at the high-performing magnet school have been requesting more information on the most recent asbestos issues since 2019, but transparency around asbestos has been an issue since 1984, when the Environmental Protection Agency fined the School District of Philadelphia for failing to properly post warnings about asbestos in both Masterman and nearby Franklin Learning Center.
Most recently, Barbara Dallao, chair of the Masterman Home and School Association environmental committee, says they've been engaged in a battle with the district over access to information.
According to Dalloa, the district did not send the requested full asbestos inspection reports they wanted, so the HSA filed an open records request.
"It's unconscionable that we would even need to file," said Dallao.
The HSA now has those reports, and other thousands of pages of information, because they filed the request. But, said Dallao, "the information created more questions."
In its release Thursday, the district documented several instances of meetings, communications and data sharing with the Masterman HSA that go "beyond that which is required by applicable asbestos management requirements."
Dallao says that synopsis falls flat.
"Though they say they collaborate, they don't. Though they say they're transparent, they're not," she said. "And we've lost complete trust and faith in what the district says."
Kevin Lawrence stood outside Masterman on Thursday in support of the teachers' action. After having two children go through the school, one a rising senior, he said he's "furious" with the district.
Over two years ago, Lawrence's daughter came home from school one day and told his family that her art room ceiling had "collapsed" on students.
Since then, it's been a constant worry within their family, with overlapping concerns about their daughter's safety and her preparedness for college.
"We're worried about the school closing," said Lawrence, citing COVID-era virtual learning, "but the safety of the teachers, the staff, and everyone who supports the school, that comes first… Is it better to be in a dangerous environment than it is to be in your basement on a Zoom?"
Union, district disagree on asbestos
Jerry Roseman, director of environmental science and occupational safety for the Philadelphia Federation of Teachers, remains concerned about the debris that he says has been found lying on top of ceiling tiles.
"There are many questions about the asbestos conditions in this school, as there are in many other schools, that need to be answered," said Roseman on Thursday.
While the district says there is no "known damaged asbestos," Roseman disagrees.
"There is asbestos material throughout the school, some of it is damaged," said Roseman," and some of it is above those aforementioned ceiling tiles.
Roseman also said it is possible that the construction in Masterman could impact asbestos materials and impact appropriate ventilation that is needed for COVID-19 safety.
The Masterman community has three demands:
One, allow Roseman and the district's investigator to jointly conduct an "on site evaluation inspection" on the area with debris.
Two, "Identify problems and communicate findings publicly, and remediate the most severe problems immediately."
And three, "complete an open data sharing on all environmental issues in schools going forward."
The Masterman community made sure to emphasize that they are just one of many schools within the district that have asbestos issues.
"We're intending to work on all of that, together," said Roseman.
Councilmember and Masterman parent Helen Gym also spoke at Thursday's protest.
"This is about the life of our city of Philadelphia," said Gym, "Parents are asking themselves each and every day, will I stay? Can I stay in the Philadelphia School District? That answer must be yes. That answer must be yes."
Get more Pennsylvania stories that matter
WHYY is your source for fact-based, in-depth journalism and information. As a nonprofit organization, we rely on financial support from readers like you. Please give today.