Look Up: A Modernist trove in Northeast Philly
Nov. 9
By Alan Jaffe
For PlanPhilly
"Look Up" is a new feature of PlanPhilly that encourages appreciation of our architectural and historical environment. Each week, the photo essay will focus on a different Philadelphia area neighborhood and its distinctive building styles and details, all of which make up the physical fabric of the city.
The architectural treasures of Philadelphia are sometimes hidden from view. A ride north on Roosevelt Boulevard, then east on Holme Avenue, leads up to Longford Street, which ends in a cul-de-sac in the midst of Pennypack Park. On either side of the street are 18 single-family homes described in the community's application for historic district status as "one of the most important collections of Modernist buildings in Philadelphia."
Greenbelt Knoll was planned by Morris Milgram, a leader of the open housing movement, as the first integrated suburban development in the city and one of the first in the nation. The bucolic, horizontal structures were designed by Montgomery and Bishop, in consultation with Louis Kahn. Architect Harry Duncan and landscape architect Margaret Lancaster Duncan also worked on the beautiful series of homes, characterized by overhanging eaves, high-placed windows, floor-to-ceiling glass doors, distinctive chimneys, and decks or patios. Original residents included Milgram himself; Robert N.C. Nix, the first African American to represent Pennsylvania in the Congress; playwright Charles Fuller; and the Rev. Leon Sullivan, the civil rights activist. Greenbelt Knoll was listed on the Philadelphia Register of Historic Places in 2006.
"The fact that there were some substantial landscape architects involved is evident in the whole character of the development," explained John Gallery, executive director of the Preservation Alliance for Greater Philadelphia. "These buildings were integrated into the landscape so as to make minimal intrusions."

The historical marker, erected in 2006 when the Greenbelt Knoll was listed on the Philadelphia Register, is the only clue that the small subdivision is hidden down Longford Street in the Northeast.

The Modernist houses are carefully set and landscaped in Pennypack Park.

The architecture of the homes follows the slope of the topography.

Trees that preceded the construction were incorporated into the design of a breezeway from this home to its garage.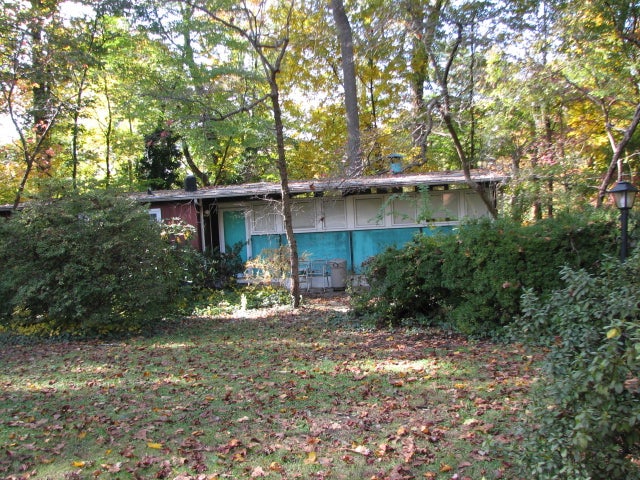 Several houses are painted in bold colors that remain complementary to the landscape.

Many of the houses have distinctive chimneys and fireplaces with triangular brick walls.

Overhanging eaves and long, thin windows fit blend into the woodsy setting.

Many of the homes have a lower half-floor.