Lessons for neighborhoods in the State of Center City report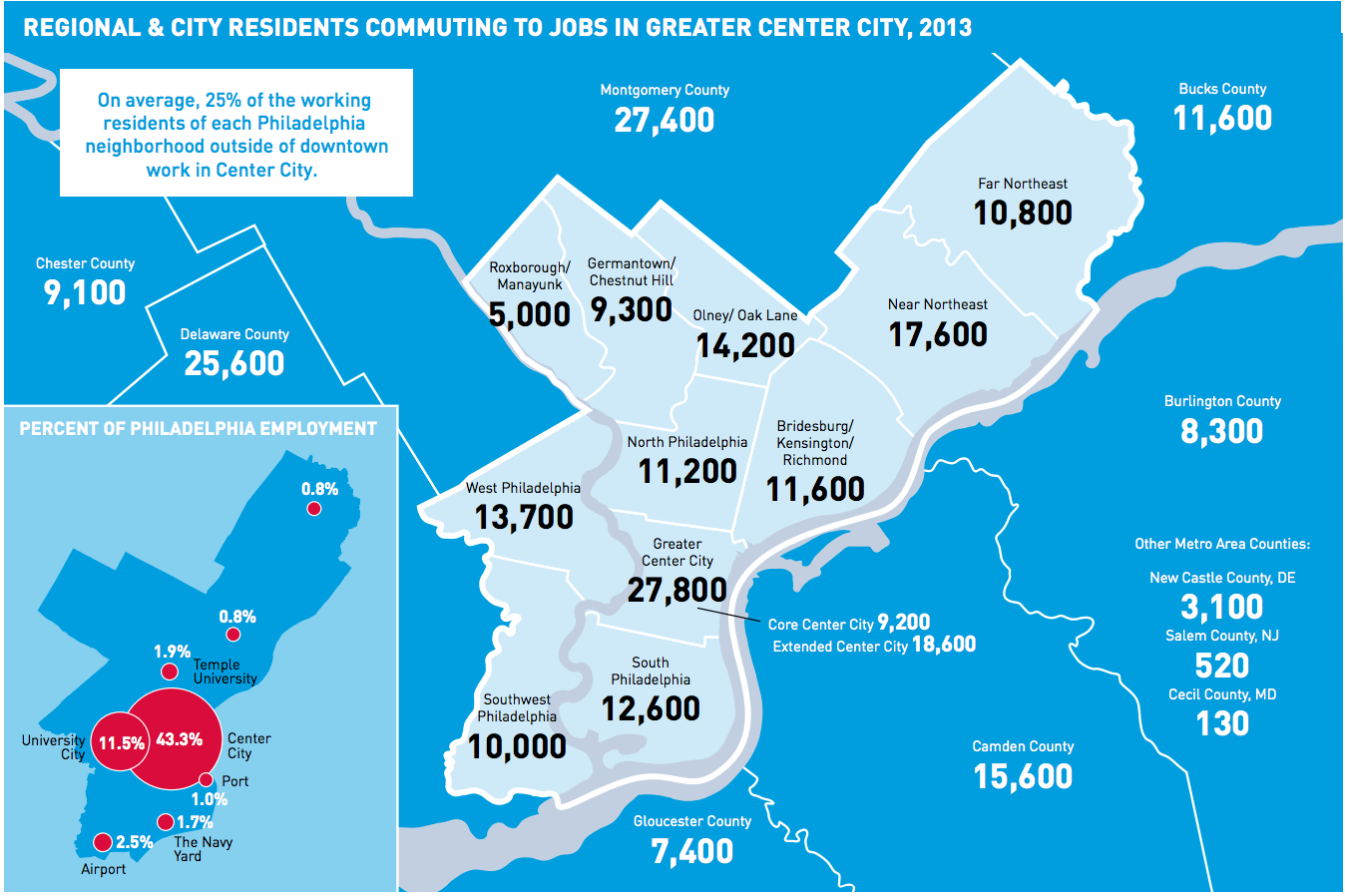 You probably read the headline statistic from last week's State of Center City report that Center City has the second largest downtown population in the country, after midtown Manhattan.
That's exciting stuff, and luckily for us as a niche online publication for people who like city planning, there are about 76 more pages of facts, analysis, and infographics that are of interest to people in our little corner of the Internet, especially on the topics of sustainability and transportation access.
This campaign season, we've heard a lot of people and groups drawing a contrast betwen policies that are good for neighborhoods and policies that are good for Center City, so I read the report with this theme in mind, and pulled out some points of interest that hopefully can help guide that discussion in a more productive direction.
Center city growth isn't negative-sum for neighborhoods
While it's true that 36% of Philadelphians work somewhere outside city limits, that still means 64% of Philadelphia residents work in the city, and of the jobs within city limits, 54.9% of those jobs are in the greater Center City area.
So despite the perception that this is an either/or thing, policies that are good for Center City's continued growth really do help a lot of Philadelphians, even though it represents a relatively tiny land area. What's more, as CCD boss Paul Levy likes to point out, Center City's economy supports a wide range of jobs requiring varied levels of education: 30.1% require no more than a high school diploma; 29.8% need no more than an associate's degree, and 40.1% require at least a bachelor's degree.
Higher density supports a more varied service economy
This graphic drives home the point that there are a lot of commercial services one might want to have in the neighborhood besides restaurants, and it's worth taking the neighborhood service economies more seriously as a piece of the city economy overall because person-to-person services are some of the fastest-growing employment categories. It's not just restaurants.
This isn't a phenomenon unique to Center City, and you don't need skyscrapers to achieve a good retail mix. In my neighborhood in Bella Vista, I could probably get about 90% of the goods and services I'd need in a typical week within a three block radius of my house, and it's no coincidence that I do in fact walk to get most of these things.
Part of the difference is that Bella Vista's zoning allows more mixed uses than some neighborhoods with similar market profiles, which have just as large a market for services, but more land zoned for single uses. Zoning has been conspicuously absent from the conversations around directing more job growth to the neighborhoods, but this seems fairly straightforward: one reason Center City has the big cluster of jobs and housing is that it's zoned to receive a bunch of jobs and housing, and most other areas of the city aren't.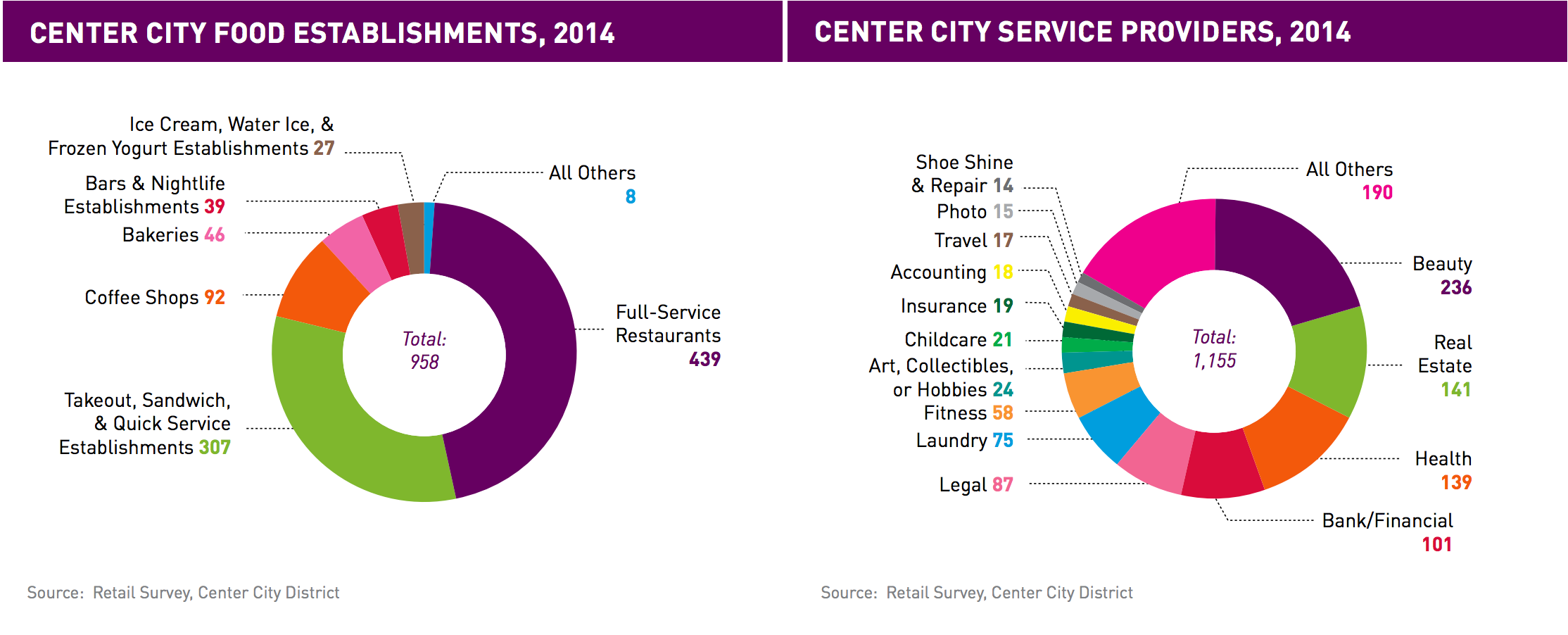 Car commuting is lower in more mixed-use areas
This is where land use patterns, and the zoning rules that form those patterns, start feeding back into transportation choices.
With the number of residents living in the core Center City area growing all the time, there's greater demand to support more neighborhood service businesses. In turn, the greater number of neighborhood services makes it more convenient to live downtown without a car because you can access most of your basic needs near home. That's one reason why so many people are able to commute by walking. To quote the report:
Center City residents repeatedly cite proximity to shopping, dining, arts and culture, and work as a prime factor for choosing to live downtown. While overall, 59% of Philadelphia residents drive to work, only 29% of Center City residents commute to work by car. Instead, 43% walk or bike to work and another 19% use public transit.