Gallery redevelopers paint rosy picture for future of Fashion District Philadelphia and East Market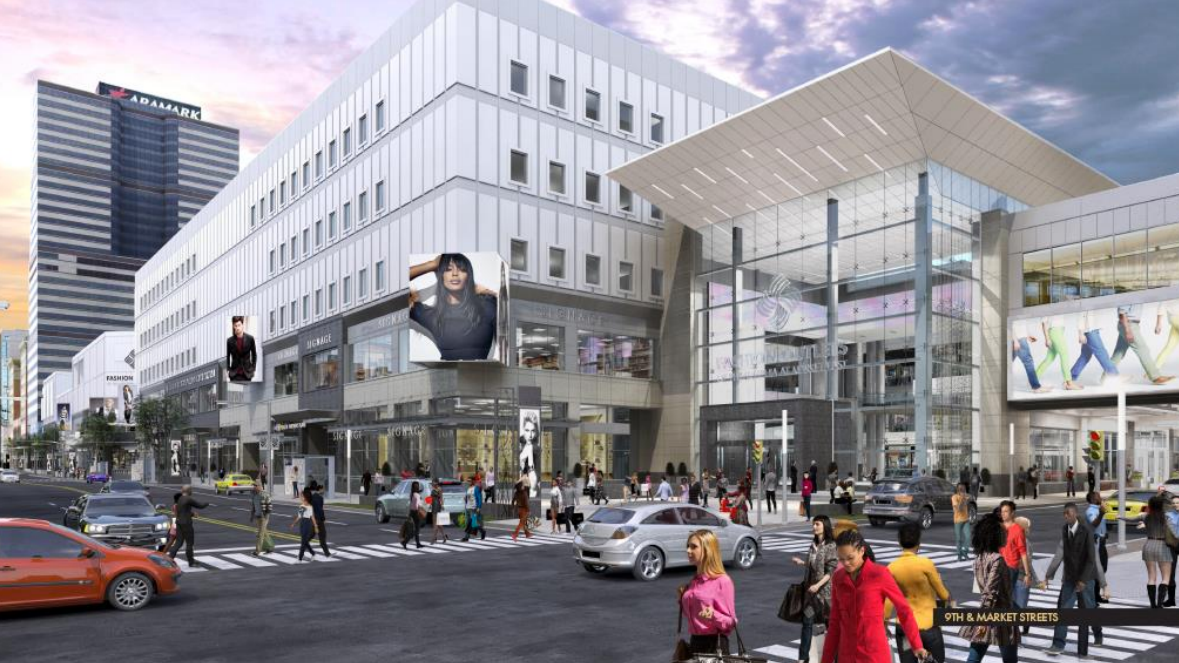 Everyone knows East Market Street is on the rise. This neglected stretch of prime Center City real estate long symbolized the untapped market potential of Philadelphia's downtown, hosting a variety of uses that catered to working class residents along with plenty of vacant storefronts.
But in recent years developers have been pumping hundreds of millions into the corridor, and on Tuesday morning representatives from the three largest projects came to the Union League to update Center City District members on their progress.
The centerpiece of the event was Joseph Coradino's presentation on the urban mall complex formerly known as The Gallery. As president of the Pennsylvania Real Estate Investment Trust (PREIT), Coradino walked the audience through a variety of new offerings the structure — now the Fashion District Philadelphia — will have.
"It's what my architecture professor would call defensible architecture," said Coradino. "It was a property built just like a suburban mall that turned its back to the pedestrian. Now it will be a four-sided project, with retail" fronting on all of the surrounding streets,"not just on Market."
Coradino ticked off the offerings that would exist on Filbert Street, the narrow road behind the Fashion District, which currently offers little but the Greyhound Station, a 7-11 convenience store, and some drab municipal offices. Soon, he said, there would be a bowling alley, a fancy steakhouse, "a well-known diner," and a wine bar that will remain open until 2:00 a.m..
PREIT has been tight-lipped about the Fashion District's retail tenants, but Coradino broke the names of a few of their new offerings. These include Columbia Sportswear, Francesca's boutique, Sketchers, and a Levi Strauss outlet, which Coradino notably described as "the inventor of the ever-popular and evolving blue jean."
A state-of-the-art movie theater will also be included, the first to open in Center City in decades.
'We will embrace the pedestrian, embrace the customer," said Coradino. "The hotels guests, tourists, those working at Jefferson, we'll give them a reason to leave their dollars in Philadelphia."
New restaurants will be on offer as well, but Coradino wouldn't name names. The food-centered corner of the Fashion District will be called "Market Eats," and will have a gourmet burger restaurant, a "European food market" making its American debut, and a sports bar offering cocktails to go.
"Those train rides are never going to be the same again," said Coradino gleefully, perhaps referring to the fact that none of Philadelphia's commuter trains are outfitted with restrooms. Just how far those drinks can go also remains to be seen, given that SEPTA forbids alcohol consumption on its trains.
Coradino did reiterate an oft-circulated critique about Philadelphia's high-end retail options: The city doesn't have any, at least not on the level of Boston's Newbury Street or New York's Fifth Avenue. But Coradino went further than that.
"We are the 6th largest city in America but we don't compare favorably with Kansas City, the 37th largest city in America," said Coradino, in reference to our suboptimal shopping options.
But he believes the essentials are in place for such offerings to blossom. Coradino noted that PREIT's highest performing mall, Cherry Hill, sees 11 million shoppers a year. The Fashion District is in a part of the city that he says hosts 30 million people throughout the year — tourists, commuters, residents. The potential, he evidently believes, is vast.
That optimism flies in the face of larger retail trends, both in Center City and across the nation. Retail rents fell around 10 percent in Center City after years of upward growth, as many large national retailers have shuttered stores amid consumers changing demands from the retail experience. As more Americans shop online, retailers have faced pressures to adapt by offering in-person experiences that cannot be replicated through a website. Toss in a glut of emptying mall retail space in the suburbs, and over-leveraged balance sheets at many retailers bought up by private equity firms during the pre-recession boom, and it has added up to a brutal 2017 for retail real estate.
Yet, all of the other speakers still spoke sanguinely about the future of Market East, including — and especially — Brickstone Realty's Mark Merlini, who witnessed his company's earlier attempts to make this corner of town boom falter. Brickstone has been active on East Market Street since 1988, when they rehabbed many historic icons and opened 14 retail stores. But they quickly had to reduce their offerings and convert some to office space or daycare because of a lack of density in the area. Merlini too believes that now there are enough people living and hanging out in the city to make East Market flourish. New residential offerings, he said, would ensure vitality and sidewalks that don't roll up at 5:00 PM.
That's where Daniel Killinger of National Real Estate Development's presentation comes in. His team is part of the development of the two residential towers going up on 1100 block of Market Street, along with a smattering of mid-market commercial offerings like Iron Hill Brewery and City fitness. Two weeks ago, the MOM's Organic Market opened on 11th and Chestnut. Killinger said they'd been doing well, especially among top end of sales.
"MOM's is a traditional suburban grocer that does most of their sales during the weekend, but here they are crushing it Monday-Thursday night," said Killinger. "Right now, the weekends aren't performing in the top three of their stores like it is during the weeknights. We just need to move in those 1,000 people and I'm sure they'll get there on the weekend as well."
Killinger noted that there are only 50,000 square feet of the 175,000 square feet of office space left to be leased in the first tower,which is nearing completion. New tenants include many exiles from the old "Blue Whale" building that Aramark is renovation on the Schuylkill River, including the Marketplace Design Center, along with Killinger's own National Real Estate Development office.
The three men also discussed East Market's reputation as a district that catered to services and eateries for lower-income people and its large homeless population.
"We've got a homeless problem that continues to get worse, we have an opioid addiction problem that continues to get worse," said Coradino. "That's something we all have to own. Having said that we are in a unique situation because a good deal of our property will be indoors. When we open the doors, it's private property, make no mistake about that, and we will control that environment."
WHYY is your source for fact-based, in-depth journalism and information. As a nonprofit organization, we rely on financial support from readers like you. Please give today.