Center City's housing boom slightly outpaces demand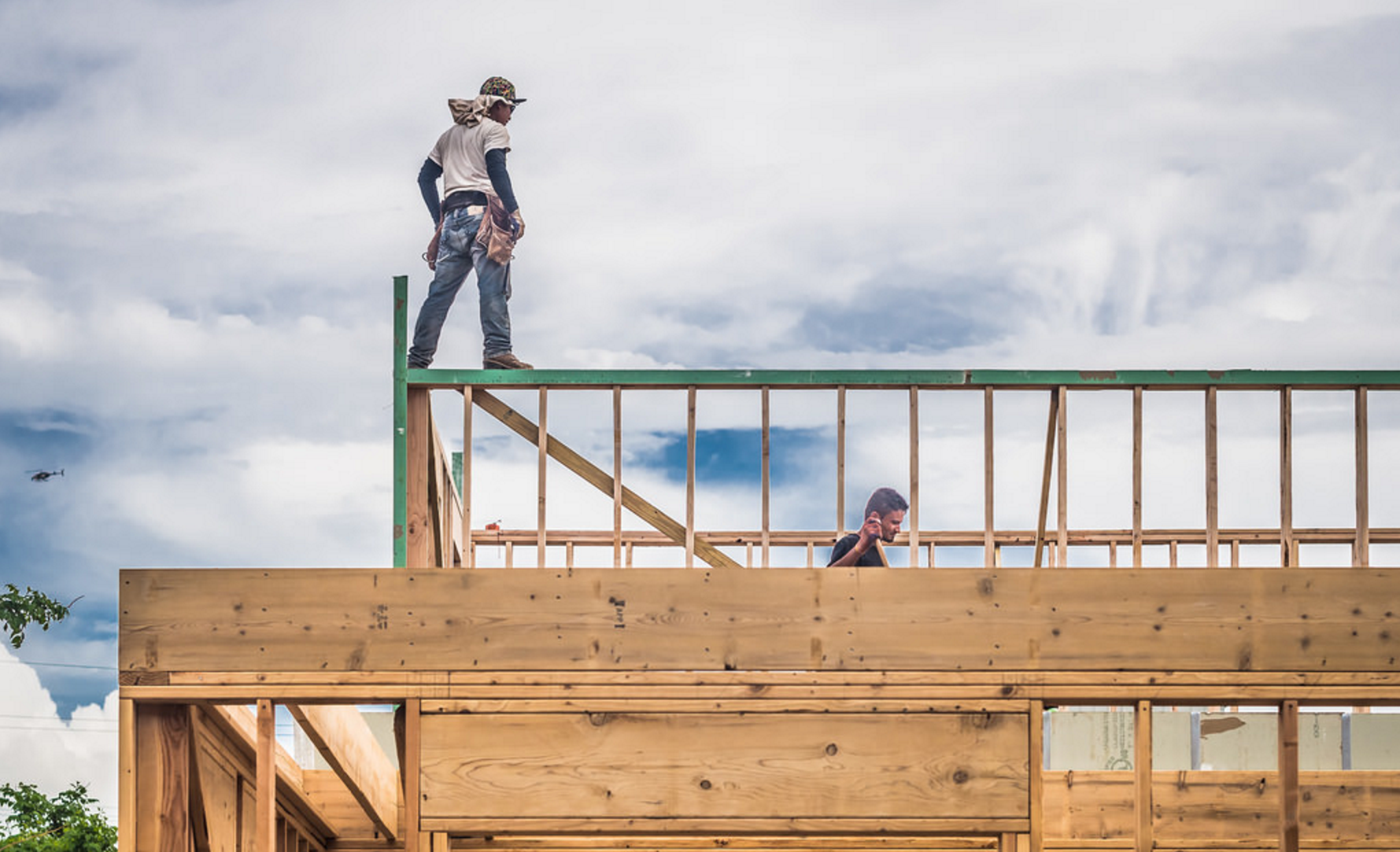 Center City is still booming, the Center City District (CCD) reports.
Housing is the subject of the latest report from Philadelphia's premier business improvement district. The headline number is that 2,506 new dwelling units were completed in Greater Center City—defined as river to river, and Tasker to Girard—which is the largest number since the turn of this century. Since the 2000, a total of 20,705 units have been added.
There's a bunch of new housing under construction too, including 4,167 rental units and 1,212 homeownership units.
"This is a huge surge in supply that's coming and extending into the surrounding neighborhoods," says Paul Levy, president of the Center City District. "We think there is some excess of supply. I would not call it a glut, but a slight overbuilding."
Housing construction picked up in 2013 after a long, recession-induced lull. That year saw the previous highest peak this century until 2016, with 2,168 units added.
Every year since then saw over 1,500 new units added, most are rental apartments. That's in contrast to the previous construction peak before the economic downturn, when condos were the predominant form of new construction.
The majority of new construction in the core of Center City—defined as river to river, Vine to Pine—is now east of Broad Street, in the previously underdeveloped half of downtown. In 2016, 696 new units were added east of Broad Street and 559 to the west. The locus of action will remain around that side of downtown for the foreseeable future, with 1,218 in progress east of Broad compared to 794 to the west.
Much of the new apartment housing is concentrated in six large projects of 100 or more units, which account for 73 percent of new growth in that sector (or 1,331 of 1,833 new apartments).
All this new housing reflects an increased demand for the kind of dense, urban environment Center City offers. Of the new arrivals in Philadelphia 25 percent move to Center City and a further 12 percent move to University City. The two areas represent the two largest job nodes in the city. Both are very dense, walkable, and have great transit access.
"Center City has a ton of competitive advantages," says Levy. "We've never been stronger. That ring [of redevelopment] is going further out. We have what people want."
Here are a few other takeaways from the report as presented to PlanPhilly in CCD's Chestnut Street offices.
(Center City District 2017 Housing Report)

(Center City District 2017 Housing Report)
Philadelphia is where the building is happening
As of 1990, Philadelphia only saw 18 percent of the region's housing permits and 24 percent of the multi-family units. Although single-family housing in the suburbs still makes up the largest percent of new permits in the region that slice of the pie is dramatically smaller than it used to be.
Today the city enjoys 38 percent of new housing permits and 52 percent of the region's multifamily housing units.
"This is a sea change," says Levy.
From 1990 to 2010 a full 82 percent of new housing came in the form of single-family detached units or twins. In recent years that dropped to 66 percent. Single-family housing construction plummeted after the Great Recession and never bounced back to pre-recession levels.
Today more people want to live smaller and they can find those accommodations in Center City.
Household size
There's an easy explanation for that trend: households are smaller than they used to be. Household size shrank from 3 people per household to 2.6 in both the city and the metropolitan region. That means for every hundred people 5 more housing units are needed than would have been the case a few decades ago (according to CCD's calculations). In Center City, it's only 1.6 people per household.
"There are twice as many people living alone today as there were in 1967," says Levy. "In Philadelphia 55 percent of those who live alone rent…we are really positioned to capture that demand within the region."
Levy is referring to Center City's ever increasing numbers of multifamily rentals, which provide housing to both aging Baby Boomers and Millennials who are holding off on having children. Neither group needs suburban-style square footage.
There are no neighborhoods in the core of Center City with a household size of 2 or more. In what CCD calls "extended Center City," households of that size are more common in residential neighborhoods that attract a lot of young families—like Queen Village and Graduate Hospital—or working class neighborhoods like Point Breeze and Pennsport that in Levy's words are still "transitioning."
Public Schools Are Getting Utilized
Center City residents are making use of the public schools. 76 percent of the children who live in Center City are attending a public school, according to CCD.
"It's much better than people think," says Levy. "You have the birth rate rising, school enrolment rising. Contrary to most mythology, families who live in Center City are going to public schools."
The 19 public schools in Center City are all doing quite well, drawing students from their catchment areas. In some high profile areas they are overflowing beyond their catchment areas.
Middle-class dominated "Friends of" groups sometimes counteract the budget cuts that have reduced the numbers of art classes and school nurses. But the larger anxiety that shrouds public education in Philadelphia still takes its toll.
"We've still got 11,000 births and 8,300 kids which implies 24 percent of the kids ran away from home and moved to the suburbs," says Levy.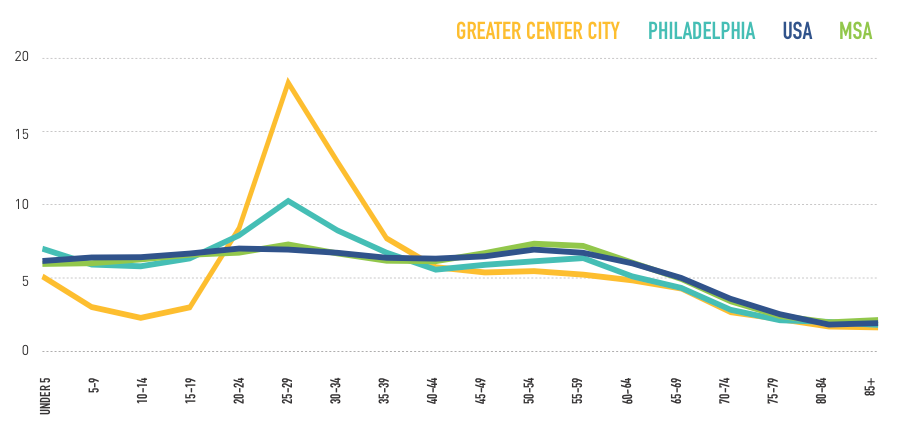 The Millennial Bulge and Jobs
CCD's research shows that Millennials are still doing more than their share of propping up the downtown housing market. While those between the ages of 20 and 34 only make up 20 percent of the region's population, and 26 percent of the city's, they comprise 46 percent of the population in Center City's core.
To sustain this population, Levy warns, Philadelphia needs to encourage job growth. The CCD report provides a sobering graph showing job growth lagging far behind the national average of 2.2 percent and the national urban average of 2.8 percent. Even Detroit boasts 2 percent, while Philadelphia has a mere 1.1 percent.
For years Levy promoted a package of tax reforms to address sclerotic jobs growth. But the CCD's new report shows that the metro region's job growth numbers are exactly as dismal as those of the city.
WHYY is your source for fact-based, in-depth journalism and information. As a nonprofit organization, we rely on financial support from readers like you. Please give today.