In leaving state oversight, Pittsburgh says it's prepared for the risk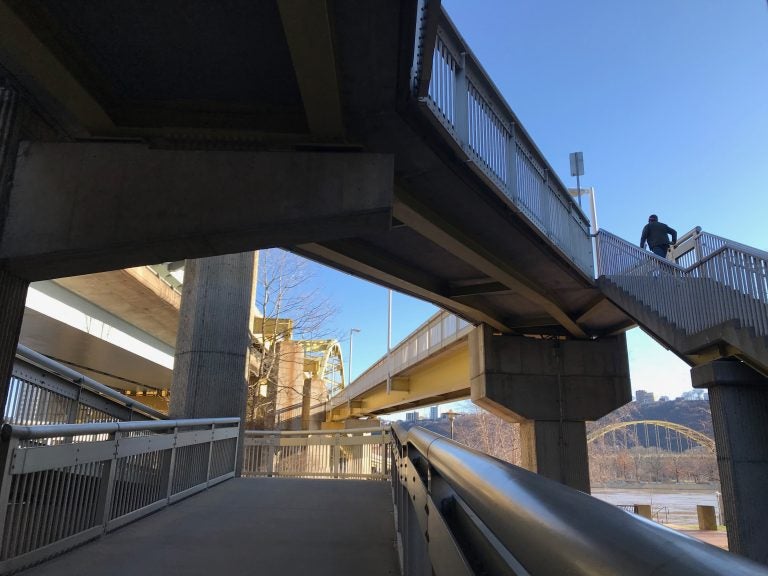 On a Monday morning last month people packed the Pittsburgh mayor's conference room to witness the city's successful transition to financial independence — an event lauded as a turning point for the city's future.
City council members, state officials, business people and union representatives greeted each other and chatted before settling into their seats. Amid the cheerful burble, River, Pittsburgh's canine ambassador, wandered through the open door. He had time to work most of the front row before someone hauled him out again.
Governor Tom Wolf addressed the giddy room.
"We've transformed a rust belt city—you've done this—that was a symbol of economic decline into one of the most dynamic examples of innovation in the new economy, in the world," he said. "And this turnaround hasn't been easy."
Pittsburgh spent 14 years in a special oversight program for financially distressed municipalities, known as Act 47, in which state-appointed coordinators wield significant control over a city's or town's budget. Last month, state officials deemed Pittsburgh ready to leave the program.
After the exit document was signed—one copy for the governor, one for the secretary of the Department of Community and Economic Development and one for Pittsburgh—Mayor Bill Peduto fiddled with the official pen, squared the official document to the table and smiled. "Definitely framing that," he said.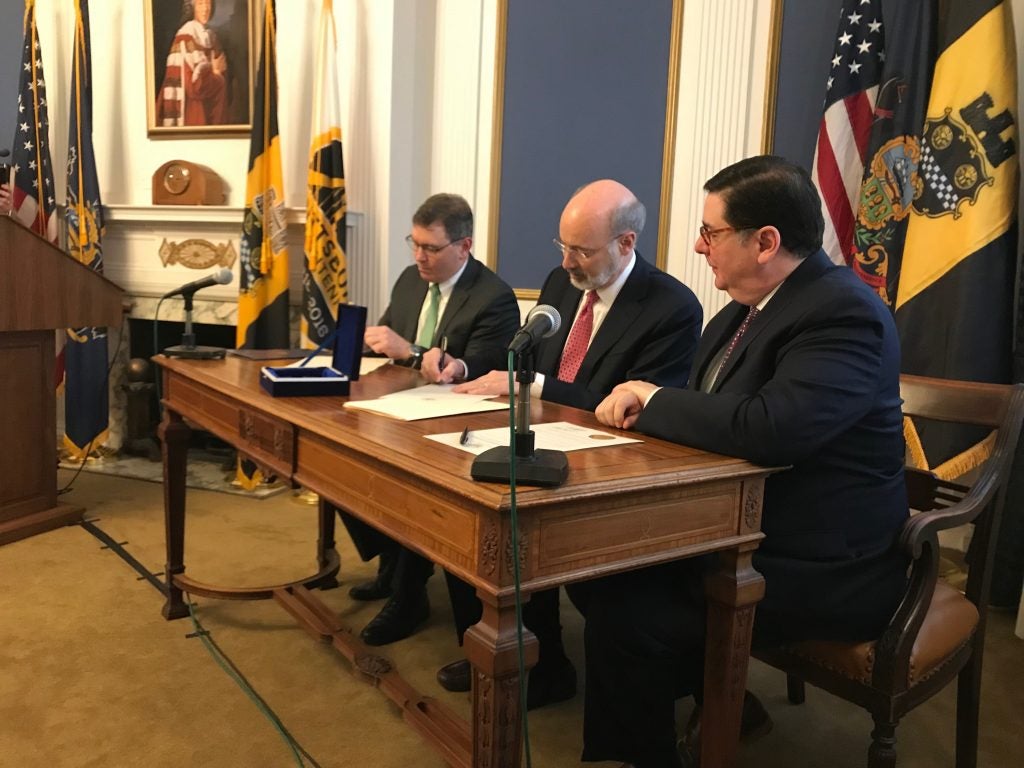 It was a Cinderella moment that many people never expected to see. Under state oversight Pittsburgh moved from debts to surpluses, from decline to growth. And while the city seems positioned for success, its well-being depends on absorbing the risks inherent in fiscal freedom while continuing to bolster its finances.
Ready To Leave The Nest
There's never a perfect time to let go of help, but the city is eager to forge its own path, said Dan Gilman, the mayor's chief of staff.
"It's a strong statement to say: the city has come far with the partnership, that we don't need this protection anymore," he said. "That we are on strong financial footing, that we have a good financial outlook into the future and it removes that stigma that's been attached to being an Act 47 city."
Think of Act 47 as a hospital for cities that are financially unwell. Doctor's orders include restricting costs, such as salaries, and requiring action, such as paying into pension funds. The program was established in 1987. Cities and boroughs have entered and exited at different times, but more than a dozen Pennsylvania municipalities are currently under oversight: Farrell, Aliquippa, Braddock, Franklin, Rankin, Duquesne, Scranton, Johnstown, Chester, Greenville, New Castle, Reading, Harrisburg, Shamokin, Colwyn, Mahanoy City and Hazelton.
The point of the program is to help governments recover enough to achieve their central mission: providing services to residents.
"Cities have a lot of responsibilities," said Brian Jensen, senior director at the Allegheny Conference on Community Development. "There are a lot of obligations that they need to make to their residents and businesses to make a city or any municipality a place that you want to live, work, and play."
For a long time, Pittsburgh was not one of those places. Even a quick glance at one of the city's financial recovery plans makes it clear why: in bar graphs, year over year, the debts dwarfed the revenues. Adding insult to injury, those graphs were laid out in black and yellow.
For Pittsburgh and its sports teams, black and gold—or black and yellow—is synonymous with success. While the color choice could be a coincidence, it feels like a jab, an irrefutable picture of falling short, of losing, as though the city itself were a liability. Which, it was.
Clipped Wings
By the end of 2003, Pittsburgh couldn't support itself: it couldn't pay its employees, couldn't pay its debt; it couldn't function. So City Council voted to request state oversight. The first step to nurse Pittsburgh back to health was slashing costs. That first year Pittsburgh fired 400 people, including police, firefighters and paramedics.
"You almost feel robbed. You know, we felt there was nothing we could do," said Ralph Sicuro, president of the Pittsburgh Firefighters Union Local No. 1. "Ultimately, we licked our wounds and we moved forward, and said 'This is what we have to accept.'"
As the city worked to hold down costs, it closed swimming pools and recreation centers. It limited raises and decreased benefits. Sicuro said city employees are partners to Pittsburgh's economic recovery — taking it on the chin so the city could get on its feet. They were glad to, eventually, said Sicuro.
Under state oversight, municipalities can tell public sector unions they simply can't afford to give them what they want. Now, for Pittsburgh, that protection is gone. One early test of the city's financial position will be the next contract negotiation with firefighters. Sicuro said they'll will be looking to make up lost ground this year.
"If they don't see a willingness to provide adequate wage growth in the next contract, they're going to be extremely disappointed with this administration," he said. "People who don't feel appreciated by their employer are not happy at work. And when you don't have happy employees at work, it's not good for anybody."
Sicuro was quick to add that firefighters will continue to come to work and do an excellent job for their communities, but that they hope to see more investment from the city. Mayor Bill Peduto said the city intends to respect its employees while protecting taxpayers.
"We want to negotiate in good faith with each of those unions and we do realize that the workers have taken a hit," he said. " We don't want to back into the issues that got us into Act 47 in the first place, so we have to be able to negotiate those contracts within our means."
In addition to working through union contracts, legacy costs — such as pensions — remain an ongoing challenge, said Jensen of the Allegheny Conference.
"Pittsburgh's pension plans were severely underfunded and it was a big problem," he said. "Over many, many years, they had not put in enough money into their retirement plan, and they got into a real deficit situation."
Pension payments are not optional; a city must pay its retirees. If a city's pension fund can't cover the costs, that money has to come from somewhere else, said Jensen.
"That is to say, the taxpayer — you and me — has to make up that difference," he said.
Pittsburgh has made tremendous progress in dedicating more money to its pensions and paying off its debt, said Jensen. As long as they remain financially prudent, he believes the future looks bright. But former oversight advisor to the city Michael Danovitz isn't so sure.
"I'm concerned about the pension. The pension is, at least I consider it, significantly underfunded," he said.
When Pittsburgh entered Act 47, the Pennsylvania General Assembly created a second oversight body — beyond the state-appointed coordinators — to review the city's financial decisions. Danovitz was a member of the Intergovernmental Cooperation Authority from 2014 until its dissolution in January in anticipation of Pittsburgh's departure from state oversight.
Danovitz said underfunded pensions are not atypical for a city Pittsburgh's size.
"But we can do better. If we have a downturn in the market, we could see all those gains over the last four, five years evaporate," he said, referencing strong stock market growth in recent years.
It's something Auditor General Eugene DePasquale worries about. He said the last time the market was this strong, it boosted pensions beyond 100 percent funded before decimating them during the recession. Returns are again giving pensions a shot in the arm, but only to sixty or seventy percent funded, and they just don't have the room to lose big, he said.
"I want to implore every single fund to put as much into their pension as possible, limit fees that go to Wall Street managers," he said. "Don't be wildly optimistic. This stock market run will not last forever."
In December, Pittsburgh City Council adopted changes to the city code, among them requirements for pension funding and limits on borrowing. But risk remains; leaving state oversight is fraught with it. But so is staying in.
Life After Oversight
It's a pickle Matt Pacifico knows well. He's the mayor of Altoona, Pennsylvania. The city is 100 miles east of Pittsburgh and six months ahead: Altoona left Act 47 in September of 2017.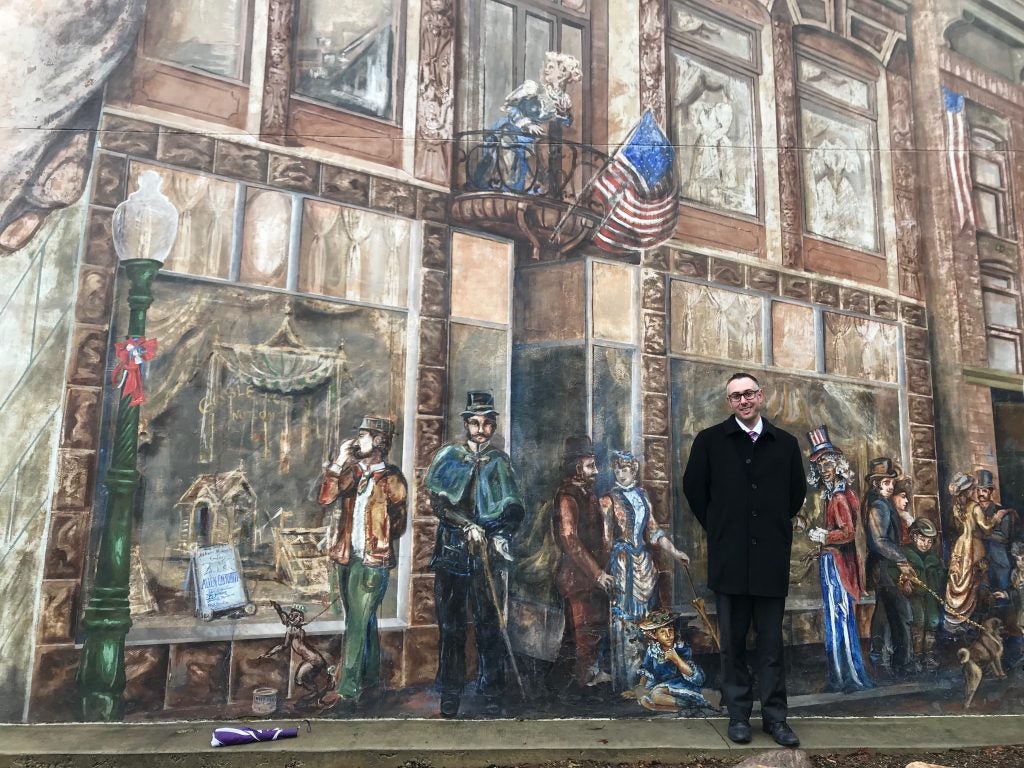 Pacifico's central campaign promise was getting out of state oversight.
"There's really zero flexibility to govern the city the way that you want to govern it when you're under Act 47 control," he said.
Pacifico described it as a black cloud, and talked about the importance of getting out.
"It shows potential businesses who might be looking to move into the state that things are really turning around for the city so I might want to move my business or my company there," he said.
Local flower shop owner Chelsea Kerr is among a handful of entrepreneurs who, in the last year, have taken a chance on downtown Altoona and moved their businesses there.
"The more willing you are to do something in a town that doesn't have much, then other people see that," she said. "I thought that it could be successful, and it would bring more businesses to the area."
Kerr said business has doubled since August. It's a nod to Altoona's cash flow, but it points to another piece of financial recovery; let's call it a positive feedback loop.
"The more a municipality can show that it's doing the right thing, that it's being responsible with the taxpayers' money, making the kind of investments that are needed, the more secure residents and businesses feel about investing back in their communities," said Jensen.
Both Altoona and Pittsburgh officials said they know that's a fragile trust, and they're wary of backsliding. So they pledge to keep costs down and pension funding high.
WHYY is your source for fact-based, in-depth journalism and information. As a nonprofit organization, we rely on financial support from readers like you. Please give today.