I was Krasner's biggest supporter, and I can't wait to protest his office
Each one of the 148,522 people who voted for Krasner can and should take a part in helping him fulfill his campaign promises. One way to do that is public pressure.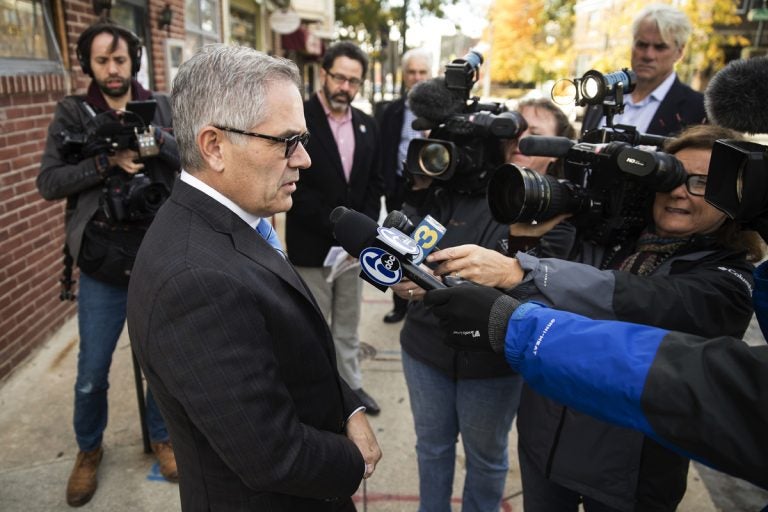 On Tuesday night, Philadelphia gave a strong electoral mandate to District Attorney-elect Larry Krasner and his transformational agenda. The former civil rights attorney not only won the race, but, with 148,522 votes, he earned over 50,000 more than Seth Williams in 2009 and 2013, and Lynne Abraham in 2005. When the Associated Press called the race for Krasner, the room in the campaign's office exploded with joy.
I followed the DA race very closely and I became one of Krasner's biggest supporters. I wrote in support of him, tweeted, volunteered to knock on doors, and pestered my friends to remember to go out and vote.
As we walked to the victory party a few blocks away, all I could think about is how excited I am to protest a Krasner-run district attorney's office.
Krasner has a long history to work against. After all, only a few decades ago, Philadelphia was the city of Frank "The General" Rizzo. The district attorney's office was run by Lynne "Deadliest DA" Abraham. The most recent attempt to move to the left on crime and public safety ended with Seth Williams serving a federal prison sentence.
To truly promote change and to redefine what prosecution should look like, Krasner is going to need a lot of help. He is going to go up against police unions, tough-on-crime politicians, a whole industry that profits from mass incarceration, and people in the DA's office who do not share his vision.
In his victory speech, Krasner told the crowd of supporters, "if you, like us, believe it is time to end the death penalty, if you believe it's time to end mass incarceration … and if you have no intention of helping Trump's immigration agenda, there is a place you can go." Krasner asked members of the audience to go to his transition website and submit their resumes; the page says, "We hope to hear from you!"
Krasner as DA will lead many people who never thought they would work in a prosecutor's office to apply for jobs. That is important because, although there are great people in the district attorney's office currently, a part of cultural change is a changing of the guard.
Not everyone can work for Krasner though. That doesn't mean that we don't all have a role in the years to come.
For me, the wow factor of the Krasner campaign was the coalition that emerged around an unlikely candidate who called himself "completely unelectable." Democrat clubs from Philly universities, the Pennsylvania Student Power Network, Black Lives Matter activists, former Bernie Sanders campaigners, union organizers from Unite Here Philly, organizations such as 215 People's Alliance and Reclaim Philadelphia, and a bunch of individuals came together to elect the most progressive DA in America. They didn't put in their time and effort to promote Krasner's agenda. They put in their time and effort because Krasner was promoting their agenda.
Each one of the 148,522 people who voted for Krasner can and should take a part in helping him fulfill his campaign promises. One way to do that is public pressure.
Crime is not going to disappear after Krasner assumes office. There will be incidents that lead people to say that we must get tougher. Those calls will come in the form of editorials, political speeches, and powerful interest groups knocking on Krasner's door. When they try to pressure him to move back toward the status quo, we'd better be ready to keep him on track.
Far too often, criminal justice policy is created as a reaction to rare events that make headlines and shock us to our core. The more daily injustices in the criminal justice system that Krasner has promised to combat are the ones that don't get headlines.
It will be on us to go out and protest, march, and speak up when the calls to get tougher arise. If an assistant district attorney chooses to impose cash bail on a non-violent offense, it is on us to remind Krasner that we are paying attention.
Two days after the election and this work has already began. On Thursday morning, the Coalition for a Just District Attorney held a rally outside of the DA's office calling for change in the first 100 days.
Getting Larry Krasner elected was the first check on a long to-do list. A real victory would be the decarceration of Philadelphia, and there is plenty of work to be done. Krasner as DA is a strong tool for those working toward criminal justice reform. He is going to need to swim upstream of history, culture, interest groups, and structural racism. If he ever shows signs of tiring of the fight, those who elected him must be there to remind him that giving up is not an option.
I am excited to protest Larry Krasner. I know he will welcome it. He will handle the courts of law; we will take care of the court of public opinion.
WHYY is your source for fact-based, in-depth journalism and information. As a nonprofit organization, we rely on financial support from readers like you. Please give today.