King of Jeans sign heading to Provenance Salvage for display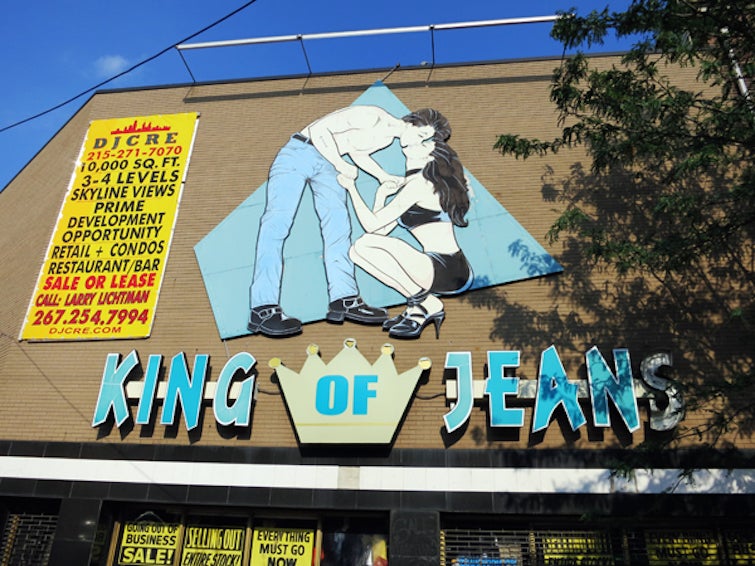 Taylor Farnsworth at Passyunk Post noticed the iconic King of Jeans sign on East Passyunk Ave was being removed earlier today, and now we have a press release from David Goldfarb at East Passyunk Crossing civic revealing the sign's somewhat disappointing future home far outside the neighborhood.
Despite a thorough search for a nearby location for the sign, Rockland Capital and East Passyunk neighbors were unable to find it a home in South Philly, and it will be displayed (on the condition that it not be sold) at Provenance Architecturals architectural salvage shop up at 912 Canal St in Northern Liberties.
Here is the press release from Goldfarb:
Both East Passyunk Crossing Civic Association and I were sad to see that the iconic King of Jeans sign was taken down today. For well over a year, we worked diligently to find a new public place for the sign, ideally in the neighborhood but at any Philadelphia location if need be (chair Joseph F. Marino and owner Andy Kaplan even looked into the Atwater Kent independently).
Unfortunately, although we came close to finding it an ideal home before a difficult party tangential to a deal scuttled the sign's relocation, we were unable to find an appropriate location. We want to thank Andy Kaplan and everyone at Rockland Capital, who not only gave us *every* opportunity in the last year plus to find a new location for the sign at no cost but also looked himself. We regrettably have to agree with him that the best solution at this late time was to find it a new home at Provenance Salvage, whom Andy has reached an agreement with to display the sign under condition that it not be re-sold.
However you viewed the sign–as art, as kitsch, as borderline obscenity–it was undoubtedly part of the neighborhood's fabric, a reminder of an '80s era of East Passyunk that we are lucky to still drawn upon, and a conversation piece that reminded us to keep things weird on East Passyunk. While we look forward to the new building that will replace the windowless shell at 1843 E Passyunk Avenue, that sign will be missed dearly and not forgotten.
Excuse me while I mourn the sign's passing the only way I can think of: listening to Philadelphia's own Pissed Jeans, who named their third album after that weird, wonderful sign.