Kim declares victory in N.J.'s 3rd district; MacArthur not conceding
As of Wednesday, Democratic candidate Andy Kim was up by about 2,500 votes over incumbent U.S. Rep. Tom MacArthur in the state's 3rd District.
Updated: 9 p.m.
—
Democrat Andy Kim is claiming victory in one of this year's closest-watched congressional races in New Jersey, which as of Wednesday afternoon, local election officials said was too close to call.
Kim was up by about 2,500 votes over incumbent Republican U.S. Rep. Tom MacArthur in the state's 3rd District, which stretches across Burlington and Ocean counties.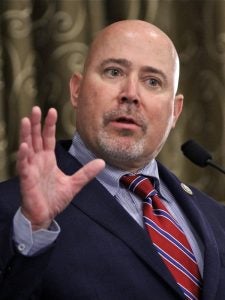 Earlier in the day, MacArthur had held roughly the same-size lead. But when Burlington County announced the tally of its mail-in ballots Wednesday afternoon, the advantage went to Kim.
At 8:30 p.m. Wednesday, Kim called a press conference in Mount Laurel to declare victory.
"With the vast majority of votes now in and counted, and based on the numbers we saw from Burlington County today, we have built a substantial lead. I am proud to announce that we have won … ," Kim said, his words cut off by screaming supporters.
Kim promised he would be part of "a new generation of leaders" making up the new Democratic-controlled House of Representatives come January.
"This is such a critical time for our country, and what we need right now is a new generation of leaders that step up, focus on the American people, focus on what's best for us, our families, our country," he said. "And moving past this partisan gamesmanship and hyper-partisanship, healing these divisions that are out there right now."
Still, voters will likely have to wait until next week for the official results of the race.
"I am positive we will not have a final figure until Tuesday or Wednesday of next week," Joseph Dugan, chairman of the Burlington County Board of Elections said earlier Wednesday.
Election officials in Burlington and Ocean counties must count up any mail-in votes that trickle in by Thursday and also sift through all of the provisional ballots by hand, which could take days.
In a statement Wednesday night, MacArthur did not concede.
"This has been a hard fought campaign and. like Andy Kim, I'm ready to see it come to an end. I have always said that I will be guided by the voters of the district, and there are nearly 7,000 more of them who haven't been heard from yet," he said. "We must ensure that their votes — and all votes — are counted in a transparent way that protects the integrity of this election."
A new state law this year meant that counties had to send mail-in ballots to New Jersey voters who had mailed in their votes in the past. But many voters said they never received mail-in ballots, so they went to their local polling places and cast provisional ballots.
Gov. Phil Murphy, who signed the law earlier this year, defended it Wednesday.
"While it may have brought some confusion," he said, "over 400,000 people voted by mail — a third of them we believe are new voters."
Additionally, six precincts in five Burlington County towns have yet to submit some of their votes to election officials, likely because poll workers failed to send voting machine cartridges to the county office.
Because such a small margin separates the two candidates, those extra votes could mean the difference in the election.
According to a count by WHYY on Wednesday, Kim had 148,580 votes to MacArthur's 145,958.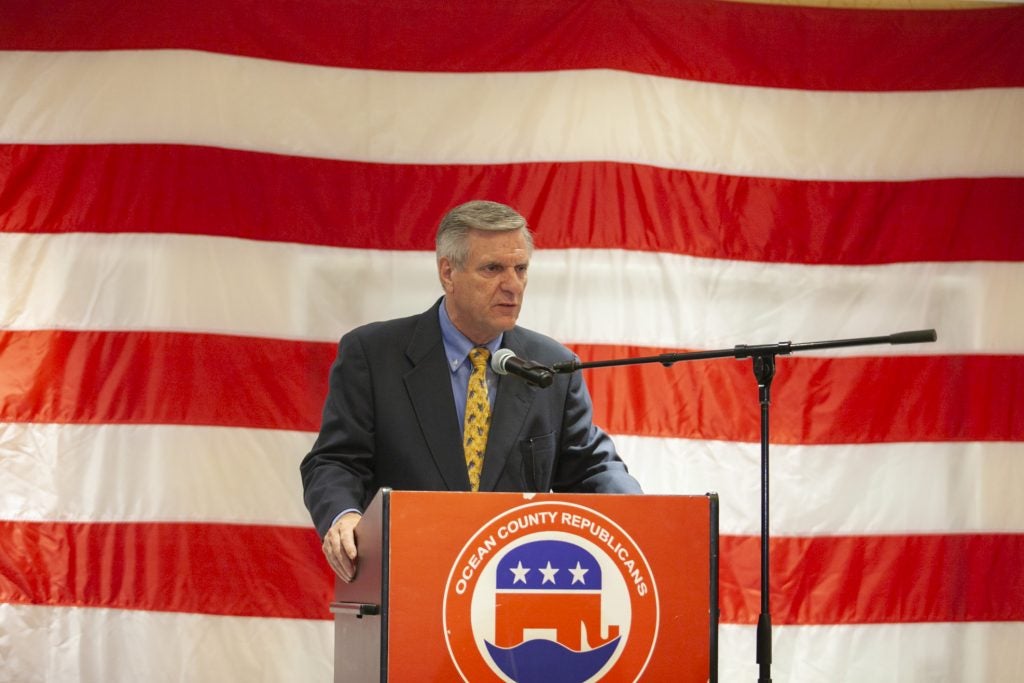 On Tuesday night, the crowd of MacArthur supporters in Toms River was cautiously optimistic, as the election results rendered an unclear picture of who would represent the state's 3rd District. At one point, Ocean County Republican chairman George Gilmore announced that MacArthur would be coming out to address the crowd, but the congressman never appeared.
Across the district in Burlington County, Kim thanked supporters and told them he was "proud" of his campaign. This is the first political bid by the former national security official.
The election in this district has been marked by a flood of attack ads from MacArthur and his supporters, who accused Kim of being a "liar" and a "paid protester." The Republican said Kim was running an anti-Trump campaign short on detailed policy proposals.
For his part, Kim consistently bashed MacArthur for taking the lead on the GOP effort to repeal the Affordable Care Act and for his vote on the Republican tax overhaul.
National Democrats have already secured their majority in the House of Representatives, but this was one of the races they were aiming to flip from red to blue.
WHYY is your source for fact-based, in-depth journalism and information. As a nonprofit organization, we rely on financial support from readers like you. Please give today.