Kenyatta Johnson introduces reform to 'fresh food' zoning bonus that rewarded developers for 'bananas in the window'
The tweak is intended to prevent developers from gaming the system and encourage the creation of better food markets in areas that need them.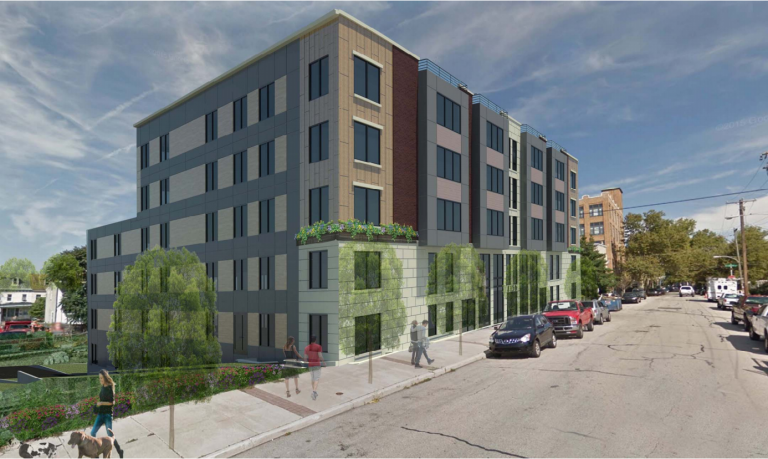 This article originally appeared on PlanPhilly.
—
City Councilman Kenyatta Johnson wants to overhaul a development incentive designed to bring fresh fruit and vegetables into Philadelphia neighborhoods without grocery stores. The zoning bonus for developers who put "fresh food markets" in their buildings in exchange for 15 feet of additional height hasn't worked the way it was supposed to, he argued Thursday in City Council chambers.
"We want to make sure that, when developers are taking advantage of it, it is in areas where it is definitely needed, not just using it to undermine the process," said Johnson.
Only a handful of developers have tried to use the bonus; those who attempt to utilize it often meet with a blizzard of opposition from neighbors who don't want to see bigger buildings in their area.
Meanwhile, the existing law defines "fresh food market" as "an establishment in which the sale of fresh fruits and vegetables to the general public occupies at least 50% of the display area."  The vague definition allows developers to qualify for the zoning exemption with nothing more than a convenience store that puts a few crates of produce or fresh fruit smoothies on display.
One project in Roxborough included a 550-square-foot market — a store the size of a "postage stamp," in the words of a critic— in exchange for an extra 15 feet of height that's more than enough to add another story. The 72-unit residential building is now under construction.
The legislative tweak proposed by Johnson would scrap the law's language about display areas and boost the minimum size of a fresh food market to 5,000 square feet — which means developers can't just throw up a bodega and get the bonus. The new minimum wouldn't necessarily incentivize full-blown grocery stores, however, which are more like 30,000 square feet.
"There is a square footage minimum so you can't just throw a few bananas in the window of a mini market and say, 'hey, we are serving the community,'" said Joshu Harris, Johnson's legislative director. "It now has to be a medium-to-large sized market."
Johnson's proposed legislation would also offer density bonuses for those building in RM-1, a common multi-family row house zoning category or for developers building in neighborhood commercial corridors. Currently, the "fresh food market" bonus only applies to height.
Reform coming in an election year
The "fresh food market" bonus is one of many such incentives created during Mayor Michael Nutter's administration, which offered developers additional height and density incentives in exchange for green roofs, affordable housing or other public goods.
It isn't just those from the NIMBY camp who take issue with the program. At the Civic Design Review meeting about the Roxborough development that included a 550-square-foot "fresh food market," architects and city planners savaged the proposal.
"There is no doubt that the fresh food bonus has been abused," said Leo Addimando, a developer, vice president of the Building Industry Association, and a member of the city's Civic Design Review team.
The bonus is not believed to have contributed much to the recent surge in grocery store development. As PlanPhilly reported last year, 56 grocery stores opened between 2015 and 2018, compared to 55 openings in the prior seven years. Most of them didn't rely on the bonus, however, and very few opened in underserved areas.
Johnson's tweak would not add any new features to incentivize development in food deserts, which see little grocery store development without subsidy.
At Thursday's meeting, Johnson also introduced a zoning remapping bill for a chunk of Center City between South Street and Spruce Street. The bill is largely corrective, changing zoning districts to match what is currently there. It doesn't affect South Street despite some calls for an upzoning there.
The bill echoes proposals made in the Central District plan, released in 2013, and has been waiting in draft form for over a year.
Johnson has recently introduced numerous zoning bills, including a massive piece of legislation covering Point Breeze and Grays Ferry, after not acting on remapping recommendations for years. He is one of the few district Council members to face a competitive primary election this year. His opponent, Lauren Vidas, is a former city official, lobbyist, and lawyer who has made zoning  and development issues a primary plank of her campaign.
—
Correction: A previous version of this article misstated the size of the average grocery store.
WHYY is your source for fact-based, in-depth journalism and information. As a nonprofit organization, we rely on financial support from readers like you. Please give today.