Juneteenth flag raised at Philadelphia City Hall
Juneteenth is two weeks away. The holiday, declared a new national holiday last year, will be officially observed on Monday, June 20.
There will be many events throughout the region, including the Juneteenth Parade and Festival in West Philadelphia all day on Sunday June 19. Simultaneously, on the other side of town at the African American Museum Philadelphia in Old City will be a Juneteenth block party.
The first event to mark this year's holiday in Philadelphia happened today: the official Juneteenth flag was raised at City Hall.
The Philadelphia Juneteenth Family, the organization that was part of a wider effort to have the day declared a holiday at the city, state, and federal levels, invited the designer of the Juneteenth flag to help raise it during a two and a half hour ceremony.
Ben Haith designed the flag 25 years ago as a community organizer in Boston. Before then, he had only heard Juneteenth mentioned in passing as a child, but never knew what it was. Once he rediscovered the holiday as an adult, he said he was divinely driven.
"I believe God told me to develop a symbol that people could recognize as a source of freedom," said Haith at the flag raising ceremony.
The flag has a starburst at the center symbolizing a celestial nova, or a new star. It is placed over a curved line, an arc representing a new horizon.
The flag raising ceremony began by pouring out libations to honor ancestors. Kofi Asante of Philadelphia Juneteenth Family poured drops of liquor in a ceremonial cup while reciting names of "warrior spirits," including Malcolm X, Harriet Tubman, Sojourner Truth, Martin Luther King, Black Civil War soldiers, and those "watery spirits that lost their lives coming to North America."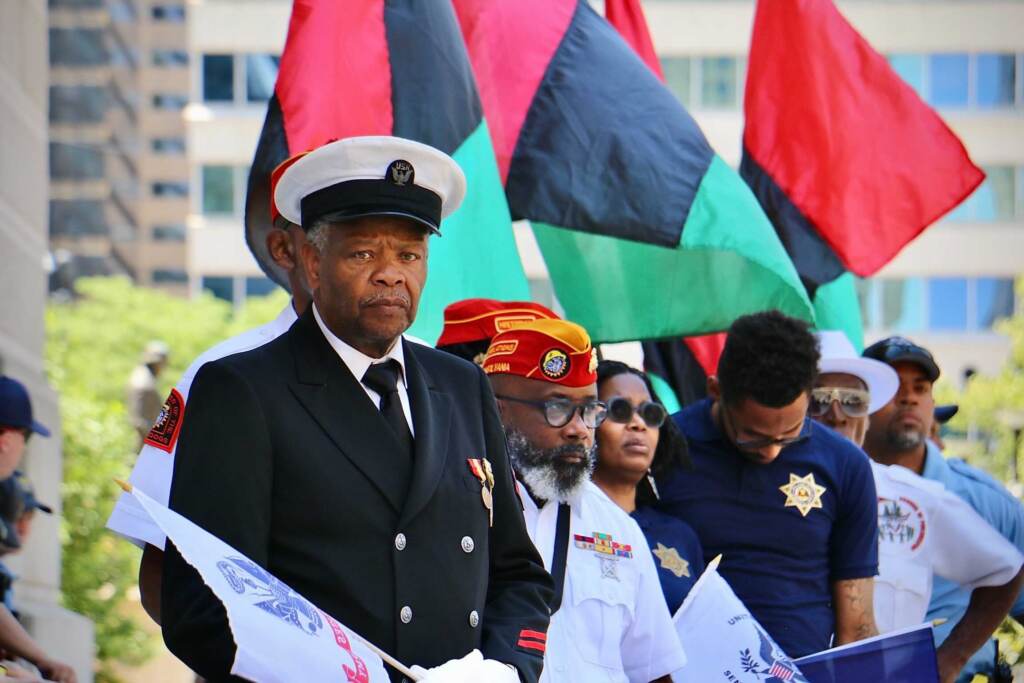 Haith said the holiday does not just mark the historic event when those held in slavery in Galveston, Texas were told they were freed by the Emancipation Declaration, but also has a spiritual component. He said we are not the descendants of our ancestors – we are our ancestors.
"We have to put down the hate and the violence because it's all lies," he said. "This is something that our ancestors would want us to do. We are our ancestors. When we look at each other, we're looking at our ancestors."
At the flag-raising ceremony, Haith was recognized by the city of Philadelphia with an official citation for his work designing the flag, and by the Pennsylvania senate with an official proclamation.