Jan 14: New site, new tools | Historical Commission recap | How Council spreads the wealth | labor tactics | Roosevelt Blvd signage | look into 1943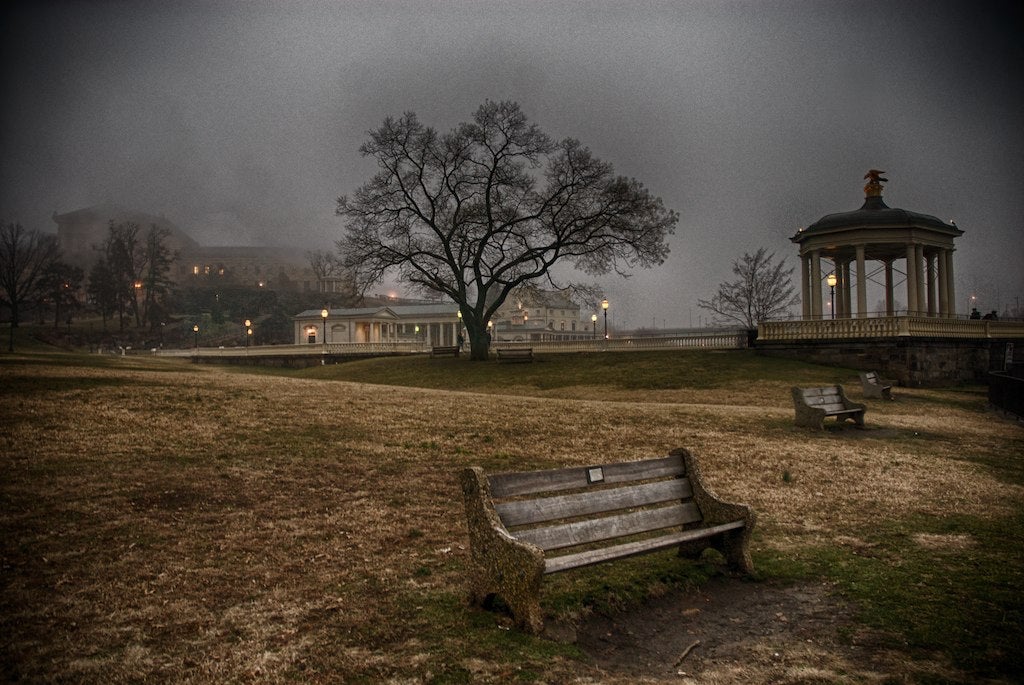 Good morning and happy Monday! Wasn't yesterday's fog wild? If you snapped cool photos of the city shrouded by that thick fog, we'd love to see 'em. Send them along or post them in our Flickr group.
Today, the PlanPhilly family officially welcomes you to our new website, built by the able team at P'unk Avenue. One of the new site's coolest features is our long-anticipated License to Inspect tool, which allows users to search L&I data. The app was built by Azavea, with funding from the William Penn Foundation, and is we think a pretty cool way to build on the city's public property data. Be sure to take License to Inspect for a test drive.
At its meeting Friday, the Philadelphia Historical Commission punted the case of the Church of the Assumption back to the L&I Review Board, reports PlanPhilly's Jared Brey. The Commission reiterated its position that the current demolition permit was legally obtained. PlanPhilly's JoAnn Greco reports that the Commission also debated two alterations to important individual landmarks: new illuminated signage for the Hard Rock Café on the Reading Terminal Headhouse (denied, but expect an alternative to emerge), and a waterproofing system for Memorial Hall's leaky dome. The Commission also endorsed the nomination of Joe Frazier's Gym on North Broad and the John Wilde Mill in Manayunk to the National Register of Historic Places.
Metropolis takes a look at how City Council members are able to spread around funds from the Philadelphia Activities Fund, despite the city's climate of belt-tightening. "The Fund" is processed, but not strictly overseen, by the Department of Parks & Recreation. Grants range from $500-$6,500 and help grease the wheels of "constituent services" and community groups with minimal oversight. "It is a stew of who-you-know politics, with a generous helping of political favoritism, mixed with absent oversight and near-zero accountability," describes Ryan Briggs. Some argue the lax requirements permit the program to be nimble, but it is also up to the whim of individual politicians.
The labor-related damage at the new Chestnut Hill meetinghouse construction site has been repaired, but questions remain about the destructive and intimidating tactics being employed by organized labor. The vandalism prompted the Inquirer to take a look at local incidents of construction-site vandalism, some of which relate to non-union or mixed-crew building sites. While the sabotage in Chestnut Hill and the aggressive standoff at the Goldtex construction site last year are uncommon incidents. Yet Mary Tebeau of the Eastern Pennsylvania chapter of Associated Builders & Contractors says this doesn't happen elsewhere. "It seems there's been a culture of that happening here over the years. It's been accepted for some reason, or expected."
New Roosevelt Boulevard signs are encouraging drivers to slow down, NewsWorks reports. Next to speed limit signs at overpasses near Oxford Circle, Cottman Avenue, and Pennypack Circle are displays showing drivers how fast they're going. The new PennDOT signs are not about catching speeders, but part of an overall effort to make the Boulevard a safer road.
Do you know anyone in this 1943 photograph, or where it was taken in South Philly? Take a closer look.