Intruder punches 12-year-old girl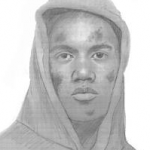 A 12-year-old awoke last night to find a man standing over her in her bedroom. The girl, who shares a room with her younger sister on the 1100-block of Kerper Street, screamed, waking up their mother.
According to reports, the male suspect punched the girl repeatedly before fleeing. Police believe the man lifted a screen to gain entrance to the house.
Authorities have said they believe this incident is connected to a similar one that occurred a month ago on the 1400-block of Levick Street, In that case, a 10-year-old girl also awoke to find a man in her bedroom. The girl's grandmother scared off the attacker by biting him.
In yet another incident, a 22-year-old woman awoke in her living room on the 1400-block of Lardner Street to find a man masturbating in her dining room. The suspect fled when she ran out of the house.
Police are looking for a black man in his teens or 20s. He is 5'8″ to 6′ tall, with bushy eyebrows. He may have facial hair, or some discoloration or acne on his face.