Introducing PlanPhilly's new homepage design
For PlanPhilly to continue to grow its audience, new forms of content and new mechanisms for delivery must be created in a flexible framework.
So, in order to respond to the challenge of providing an ever increasing amount of daily content of varying length, depth and importance to a diverse readership, the PlanPhilly editors and the staff at our internet development partner (www.rockriverstar.com) redesigned the homepage to more intuitively package and compartmentalize articles, breaking news, syndicated streaming stopries, photos and videos.
What the readers will now experience when they open the website will include:
expanded capacity for news headlines and abstracts
expanded capacity to feature high resolution photos and videos with articles or in a stand-alone mode
expanded capacity for short items of news and information
expanded capacity to highlight opinion pieces
expanded capacity for search function and linkage to facebook and twitter
expanded and enhanced neighborhood coverage, especially around specific points of interest
A more detailed description of the improvements follows:
Feature Layouts
Our video feature layout allows us to share our video news reporting. Five stories will cycle automatically and you can view a story's video directly from the home page or click to read the full article.
Our "read more" layout allows us to currate articles related to our major story and also automatically showcase stories from related topics and coverage areas.

Our "main feature" layout allows us to promote a story because it's the biggest story of the day. Or hour.
Our dual feature layout lets us promote two stories because there's often so much news in a day we can't showcase only one story.
Highlighted Stories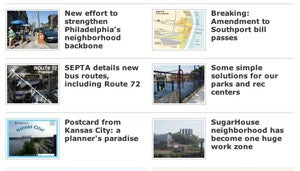 Our highlighted stories are located just below the Feature Layout section, giving us the opportunity to share with you our top stories of the week.
Latest Headlines
Latest Headlines pulls from all the content we publish on our site, from our main articles, to our short notebook items, our most important currated events and our streaming news feed. It's the place to look for the most up-to-date planning, design and development news in Philadelphia. The headlines are also sortable, so if you're looking specifically for sustainability news or development news, you can automatically sort the headlines.
New Header


Our new title header includes an easy-access search bar to quickly find articles you're seeking on PlanPhilly. And our new "Interact" section, on the top right, let's you quickly connect to our Twitter and Facebook accounts, browse our video library, subscribe to our RSS feed or sign-up for our weekly newsletter, also recently redesigned.
We hope you enjoy the redesign. Let us know any thoughts or concerns by contacting info@planphilly.com.