Interior nomination for St. Laurentius withdrawn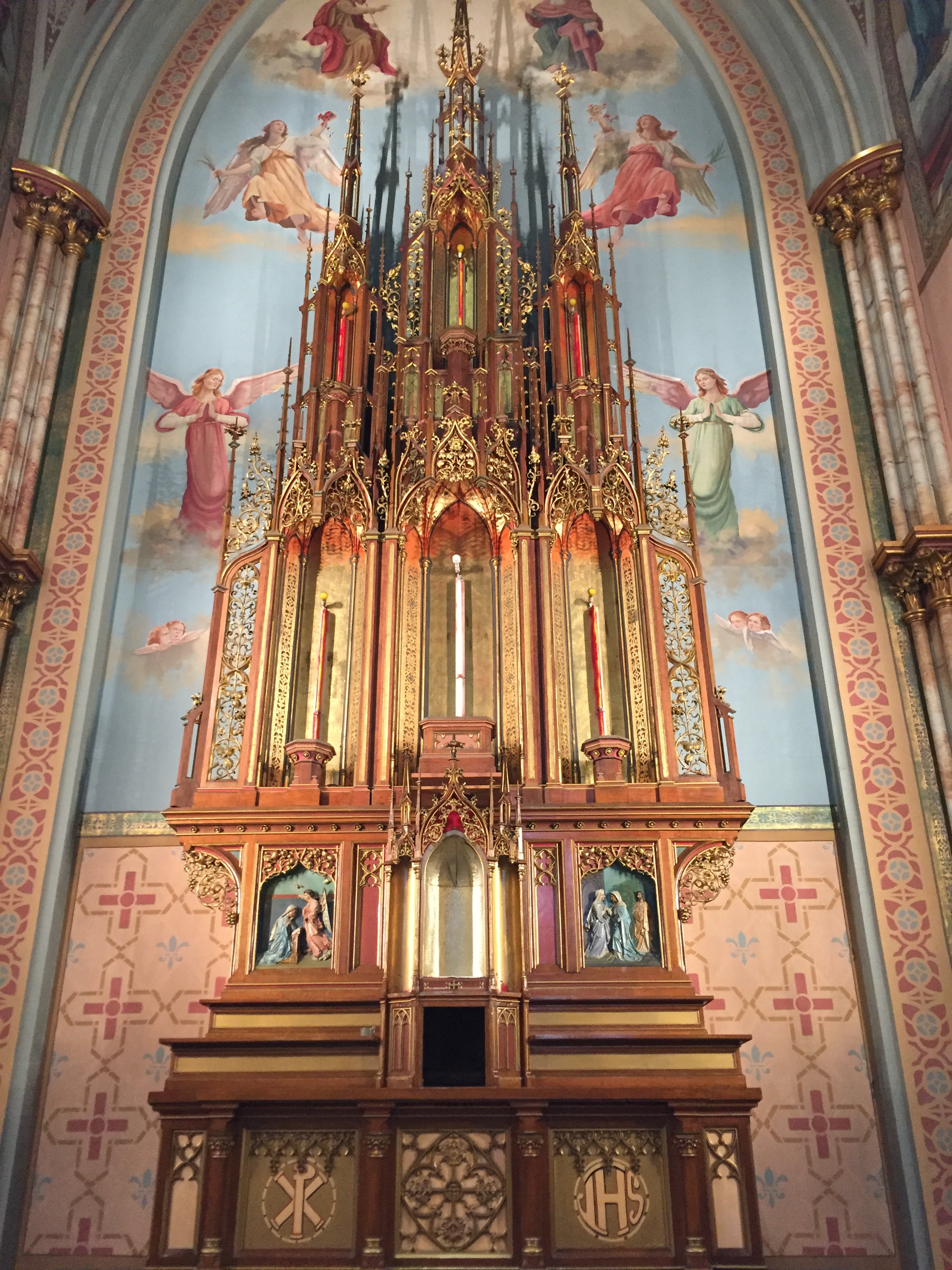 Friday's meeting of the Philadelphia Historical Commission added the latest complication to the ongoing saga of St. Laurentius church. The Fishtown site took up an hour of debate and ended with John Wisniewski withdrawing his nomination to designate the interior of the church as historic, to a chorus of protest from the assembled crowd.
The Archdiocese of Philadelphia deconsecrated 1880s-era church in 2014 and then slated it for demolition, leading to a storm of outrage from the neighborhood. The Historical Commission designated the exterior as historically significant in 2015 and then local developer Leo Voloshin stepped up with a plan to preserve the building by converting it into apartments.
This plan too led to outrage from neighbors, partially over concerns over parking, and a group calling themselves the Faithful Laurentians feel that residential conversion for this neighborhood icon would be essentially privatized under Voloshin's proposal.
At the December meeting of the commission's committee on historic designation — which offers an advisory recommendation for pending nominations to the full Historical Commission — Faithful Laurentians argued passionately for the importance of St. Laurentius' interior to the history of Philadelphia's storied Polish community. The committee on historic designation found that the interior had historic merit and should be considered by the full commission.
Although the exterior of the building is already on the local historic register, if the interior is also designated the changes that Voloshin needs to make to build housing units would not be permitted.
The historic designation committee ruled that there is an indeed a strong case to made for the interior's addition to the historic register. But last Sunday Wisniewski sent an email saying that he wanted to modify his nomination, shifting focus from the entire interior of St. Laurentius to just 19 objects: 16 oil on canvas paintings and three carved wooden reredos.
Friday's consideration of St. Laurentius thus began in confusion, with Jon Farnham stating that Wisniewski had withdrawn his nomination.
The zoning lawyer Michael Phillips, who represented the Archdiocese and the Holy Name of Jesus Parish, argued that it should be withdrawn because the two nominations would be materially different. But Wisniewski denied that characterization, insisting that his email simply amounted to a revision. If he'd made a mistake, which could just be chalked up to the fact that he's a novice to the historic preservation process and certainly should not be considered a withdrawal.
While a property is being considered for designation it falls under the jurisdiction of the Historical Commission, creating what is effectively a temporary condition of designation for the resource in question.
As the possibility of a continued interior nomination loomed, Phillips warned of the consequences of such action.
"We are on fragile ground when the only interested party in preserving the exterior, who is under contract to redevelop this and save the exterior, is indicating that if further roadblocks are put in his way then he's going to walk," said Phillips.
But he went on to say that the Archdiocese had no objection to dealing with Wisniewski personally and helping to find a home for the artifacts he was trying to protect. Phillips said that the Archdiocese would be pleased to consider a third party who would accept these as donations and had a plan for removing them safely.
At that point, Venise Whitaker of the Faithful Laurentians stood up and asked that the nomination be tabled. Her group is leading the charge for the preservation of the church as a communal space and is thus opposed to Voloshin's plan.
Whitaker testimony brought up questions of ownership and appeals made to the Vatican. The Historical Commission deemed these beyond their purview, given that they were only considering the nomination currently before them. The chair of the commission, Bob Thomas, sought a compromise and asked Phillips if he could guarantee that the objects would come to no harm if the current nomination were withdrawn.
"These are 15-foot-tall murals at the top of an arch of a 50-foot building, nothing is happening to these objects right now," said Phillips. "You can have on the record our commitment to continually engage in discussion and dialogue to find a home for them and not do anything to adversely affect these objects in the interim."
Thomas and other members of the commission urged Wisniewski to work with Phillips to come up with a plan to protect the paintings and altars in the church. If they were to be removed, perhaps to another church in the region, an object designation might not even be necessary.
"It sounds as though your intent is to secure these objects," said Thomas, which prompted Wisniewski to agree. "In an ideal world, we'd have another 300,000 Polish immigrants like my grandparents come over here again and decide they think Kensington looks really great. But given the realities… keeping this interior is endangering the whole project."
Thomas asked Wisniewski if he would work with Phillips and withdraw his current nomination.
"I'll work with Michael and pursue an object nomination," said Wisniewski. "I do understand the risks, but you don't understand the inherent mistrust I have of the Archdiocese—Michael is very nice, nothing against him."
This brought a chorus of dissent from the assembled neighborhood residents and former parishioners. They seemed to want the interior nomination to remain in play as a foil to Voloshin's apartment plans.
When Phillips again stated that the Archdiocese had no intention of swooping in and removing all the artifacts, the commission pressed Wisniewski on whether he was withdrawing his interior nomination or not. He eventually said that he was doing that, which prompted another wave of cries from the audience.
Asked whether all this apparent displeasure would lead to an interior nomination from people other than Wisniewski, Whittaker said her group just might do that.
"We are actively considering it," she told PlanPhilly afterwards. "†There is a lot to consider after today's results. We need to discuss it further with our advisors."
(Philadelphia Historical Commission)

(Philadelphia Historical Commission)
WHYY is your source for fact-based, in-depth journalism and information. As a nonprofit organization, we rely on financial support from readers like you. Please give today.