Interactive map: Who actually attends public high schools in Northeast Philadelphia?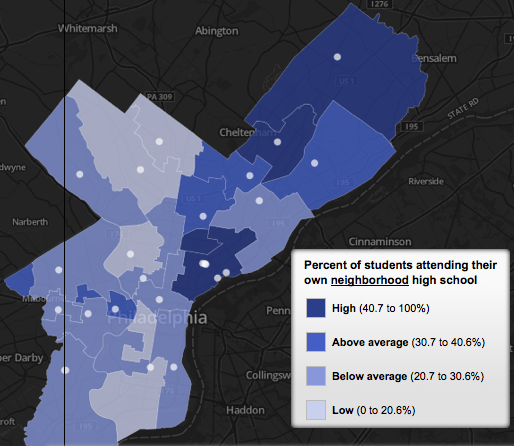 Northeast Philadelphia has five public high schools — Fels, Frankford, Lincoln, Northeast and Washington — but many students choose charter or magnet schools instead when it comes time to select non-private education.
A new map from our partners at NewsWorks outlines who in the catchment area of those five neighborhood schools actually attends them, and compares those numbers with citywide stats and charter and magnet attendance.
The interactive map, available here, outlines the following the number of students who live in the schools' attendance zones compared with where they attend. A quick review:
3,555 students live in Fels' attendance zone, and 32.7 percent of them attend Fels.
3,941 students live in Frankford's attendance zone, and 30.4 percent of them attend Frankford.
3,848 students live in Lincoln's attendance zone, and 39.5 percent of them attend Lincoln.
3,807 students live in Northeast's attendance zone, and 59.2 percent of them attend Northeast.
3,183 students live in Washington's attendance zone, and 43.8 percent of them attend Washington.
The numbers are broken down further to show where the rest of the students choose to go to high school. The figures are part of a larger report on Philadelphia public school closings and how statistics do or don't factor into which schools will have to close their doors. None of the Northeast's public high schools are part of the School District of Philadelphia's current school-closings plan.