Indego popular for university commuters and joyriders, mixed results for low-income outreach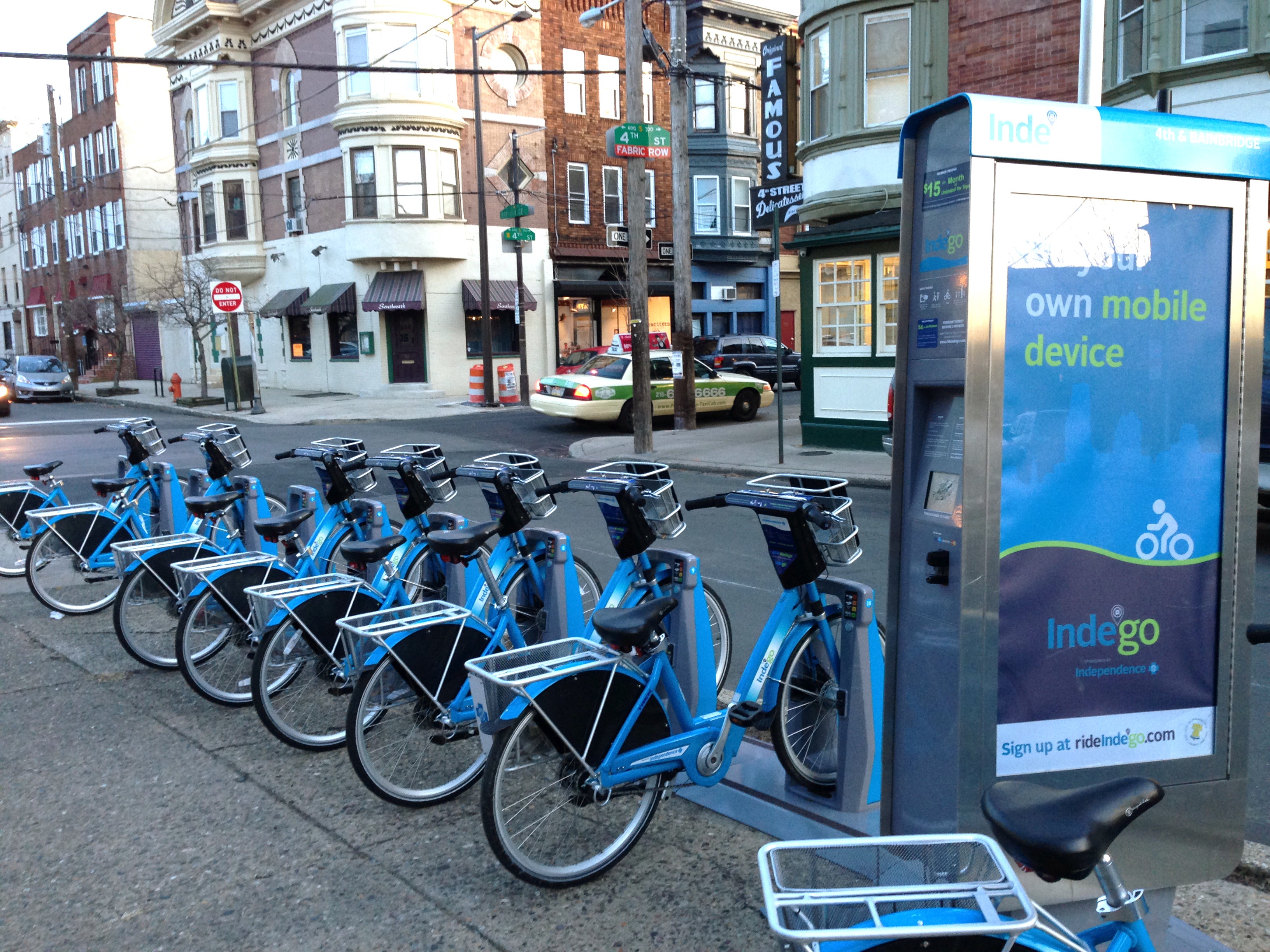 Unique among bike share programs, Philadelphia's Indego attempts to serve lower income communities as an affordable, healthy, and green commuting option.
Indego strives to be a model for other cities, a "Better Bike Share" that tries to remove barriers to entry for underserved communities. Of the more than 70 Indego stations, 20 are in low-income neighborhoods and matched with an outreach effort in these neighborhoods to encourage ridership. It is the one of two American systems that has a cash payment option for members who don't have credit cards.* The Better Bike Share Partnership, led by the Mayor's Office of Transportation and Utilities (MOTU), has also launched an advertising campaign that looks like what United Colors of Benetton would make if Benetton was in the bike share business.
Many bike share programs are used heavily on the weekend and see large numbers of round trips, suggesting they're used more for leisure than transportation (that's not the case everywhere: weekdays do better in DC, San Francisco and some other cities, though). The Better Bike Share Partnership hoped Indego would break that trend and be used by all kinds of Philadelphians as a real, day-to-day transportation option.
Have they succeeded?
The results so far have been mixed.
A Temple survey released in September of residents walking past Indego stations in lower income neighborhoods showed that nearly everyone knew about Indego (93 percent) and considered it a form of public transportation (92 percent). And 73 percent said they planned to use Indego at some point. But only 14 percent said they had used it, and a scant three percent said they were currently a member. Only one percent of Indego members use the cash payment option, but they do account for three percent of the system's rides, meaning they are very frequent users.
In November, PlanPhilly asked MOTU for Indego's most popular trips. Aaron Ritz, MOTU's Bicycle and Pedestrian Programs Planner, gave us a top ten list of Point A to Point B trips in October, and our Ashley Hahn made that into a handy map.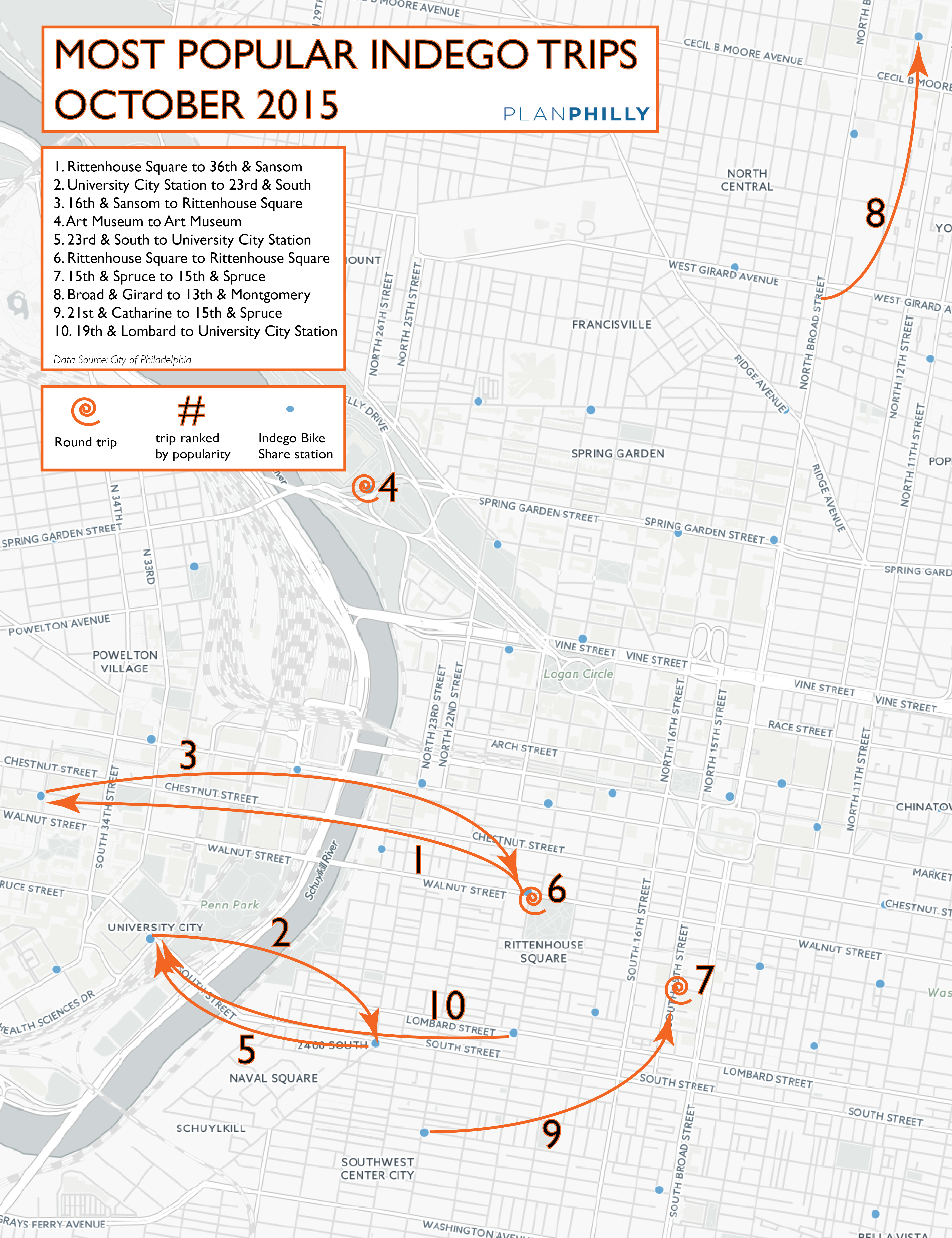 TOP TEN INDEGO TRIPS, OCT. 2015
| | | |
| --- | --- | --- |
| Rank | Pick-Up Location | Drop-Off Location |
| 1. | Rittenhouse Square | 36th & Sansom |
| 2. | University City Station | 23rd & South |
| 3. | 36th & Sansom | Rittenhouse Square |
| 4. | Philadelphia Museum of Art | Philadelphia Museum of Art |
| 5. | 23rd & South | University City Station |
| 6. | Rittenhouse Square | Rittenhouse Square |
| 7. | 15th & Spruce | 15th & Spruce |
| 8. | Broad & Girard | 13th & Montgomery |
| 9. | 21st & Catharine | 15th & Spruce |
| 10. | 19th & Lombard | University City Station |
Indego's most popular trips are a mix of short hops between Center City and University City, and round-trip joy rides. There are no stops east of 13th Street that make the list. We can't tell the exact route the riders took (that would require some sort of GPS tracking), only where riders picked up and dropped off their bikes.
Half of the top trips run between University City and Center City, suggesting members of the Penn and Drexel communities living downtown use bike share as a commuting option.
Still trips number two and number five, between University City Station and 23rd & South, are trips just barely longer than the length of the South Street Bridge. To the extent these were commuting trips, they were straight shots likely taken by grad students or hospital workers going to-and-from Penn and Graduate Hospital. Rides for fun along the Schuylkill River Boardwalk probably boosted the numbers.
Three trips in the top ten are round trips: the Art Museum, Rittenhouse Square, and 15th & Spruce docking stations are clearly being used for leisurely rides.
Only one trip in the top ten travels outside of Center City or University City. That one, from Broad and Girard to 13th and Montgomery, probably completes the trip for many students on their way to Temple. The No. 15 trolley runs along Girard. Rather than switching to the Broad Street Line or walking the half mile to campus, Temple students and employees take Indego.
The popular trips suggest it's commuting college kids (or at least individuals associated with colleges) and people looking to enjoy a nice day on a bicycle that are really taking advantage of Indego.
There's nothing wrong with that, of course. Cities, even those like ours with egregiously high poverty rates, do well by providing amenities that help attract and retain wealthier residents. Judged by the same standards that other cities use for their bike share programs, Indego has been an unmitigated success.
But to the City's credit, Indego strives to be something more. But like the Manayunk Wall, that's a steep hill to climb.
*CORRECTION: This sentence originally said Philadelphia was the only bike share program with a cash payment option for membership. We stand corrected: Two locations in Arlington, Virginia also provide that option as part of DC's Capital Bikeshare program.
WHYY is your source for fact-based, in-depth journalism and information. As a nonprofit organization, we rely on financial support from readers like you. Please give today.