Philadelphia wins U.S. DOT design challenge to reduce impact of Vine Street Expressway on Chinatown/Callowhill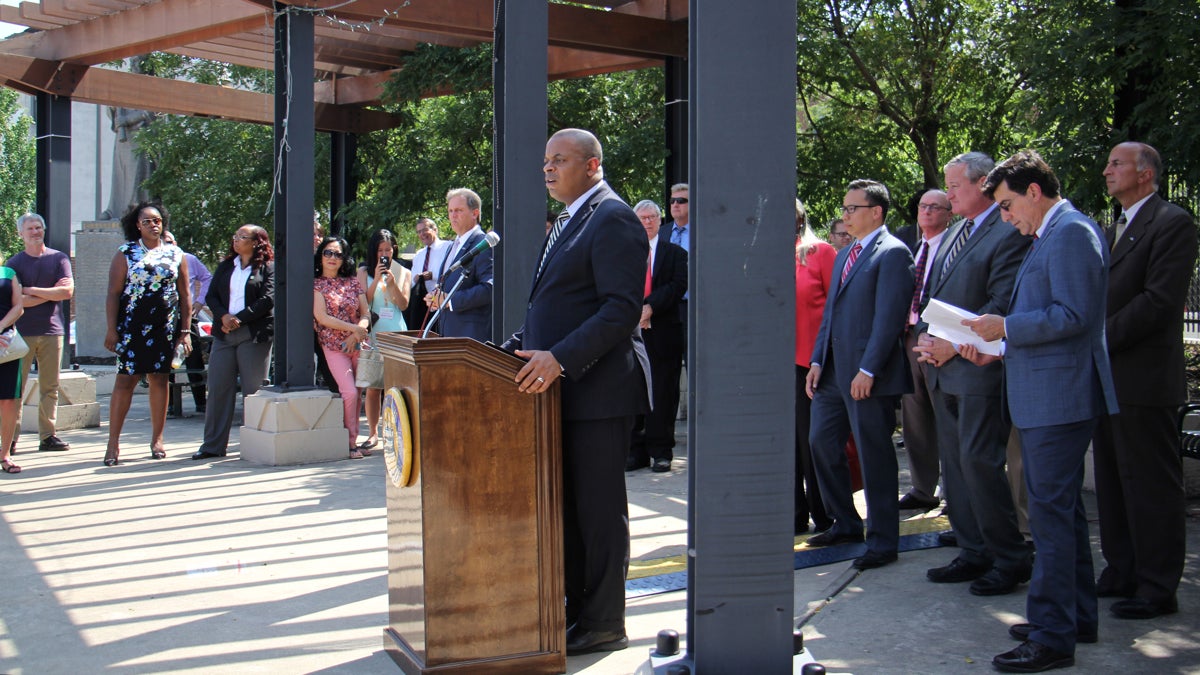 Flanked by local politicians, United States Secretary of Transportation Anthony Foxx announced on Monday that Philadelphia was one of four cities to win his Every Place Counts Challenge.
Philly's prize: a two-day planning session hosted by U.S. DOT to imagine what Chinatown and Callowhill would look like without the Vine Street Expressway's enervating interruption through the neighborhoods.
Winning planning sessions is far from federal funding for the untold millions of dollars it would take to significantly and dramatically improve I-676 by covering it and converting it into a tunnel. But planning would be the first step toward mitigating the decades-long negative impact the Expressway has had on Chinatown and Callowhill.
A cap is what the neighborhood wants, though, according to Philadelphia Chinatown Development Corporation (PCDC) Executive Director John Chin.
"We want to see a capping of the Vine Street Expressway," said Chin. "They did it in Boston and they should do it here."
Boston's not the only city to take the seemingly drastic move of hiding or removing an inner city interstate. Secretary Foxx mentioned Rochester, NY, where the city is removing a highway, and Columbus, OH, which is burying another. In recent years, Dallas, New York City, Milwaukee and other cities have capped or removed highways to lessen their disruptive impact on community fabric.
Foxx said that he created the initiative to inspire more cities to plan creative fixes to disruptive highway designs of the past, "to draw attention to the elements of design that can restore connections between communities." Foxx previously told PlanPhilly that he wants cities to have greater say in highway designs, compared to the past when state and federal officials often placed interstates with little to no community input.
The Vine Street Expressway has long been a thorn in the side of Chinatown. When it was created fifty years ago, PCDC's first major fight was to save the Holy Redeemer Chinese Catholic Church, which was slated for destruction during the highway's construction. PCDC managed to get the highway's planned location moved to save the church, but it still suffered the wound of a severed neighborhood.
Then, and for years after, the Expressway was a fight between the local communities, and transportation planners and traffic engineers, who were more focused on how many cars they could move than the impact on the urban landscape. So it was notable that PennDOT Assistant District Executive Chuck Davies used the language of inclusion in his remarks.
"Interstate highways have impacts and effects that we can all see and hear and feel," said Davies. "In urban places, the consequences are especially challenging, but they're all the more urgent for being so. We look forward to listening to near neighbors and… offering resources we have to find best solutions for this highway and the Chinatown neighborhood."
The planning comes too late for the western end of the Expressway, which is currently under construction as PennDOT replaces some of the bridges crossing it. Online petitions were created to encourage PennDOT to cap the areas in front of the Free Library and the old Family Court, but those came in too late. When construction bids came in at $55 million—$42 million below the original $98 million estimate—the project was unable to expand to use those savings to cover more of the below-grade highway because the necessary design work had never been done.
Following this planning session, there will still need to be engineering and design work done before Philly will even know how much capping the eastern end of I-676 might cost. But planning for doing it is a necessary first step.
The Office of Transportation and Infrastructure Systems successfully submitted the proposal on behalf of the city. Mayor Jim Kenney welcomed Secretary Foxx and expressed support for the planning session. Councilman Mark Squilla, who represents Chinatown, said he was already prepared to start implementing the still-unformed plan.
Foxx also announced the other three winning cities: Spokane, WA; Ramsey County, MN; and Nashville, TN. Thirty-three cities in total submitted bids, Foxx said at the press conference Monday.
U.S. Transportation Secretary Anthony Foxx (center)  listens to John Chin, director of the Philadelphia Chinatown Development Corporation, during a roundtable discussion at Holy Redeemer Chinese Catholic School. (Emma Lee/WHYY) (Emma Lee /WHYY)

Chinatown residents express their concerns about the Vine Street Expressway during a roundtable discussion led by U.S. Transportation Secretary Anthony Foxx. (Emma Lee/WHYY) (Emma Lee /WHYY)

Standing at the 10th Street Plaza above the Vine Street Expressway, U.S. Transportation Secretary Anthony Foxx announces that Philadelphia is one of four cities to win his department's "Every Place Counts" design challenge. (Emma Lee/WHYY) (Emma Lee /WHYY)

(Jim Saksa/PlanPhilly)
WHYY is your source for fact-based, in-depth journalism and information. As a nonprofit organization, we rely on financial support from readers like you. Please give today.