DVRPC awards $7.6 million for protected bike lanes, pedestrian safety, trails and lights on Manayunk Bridge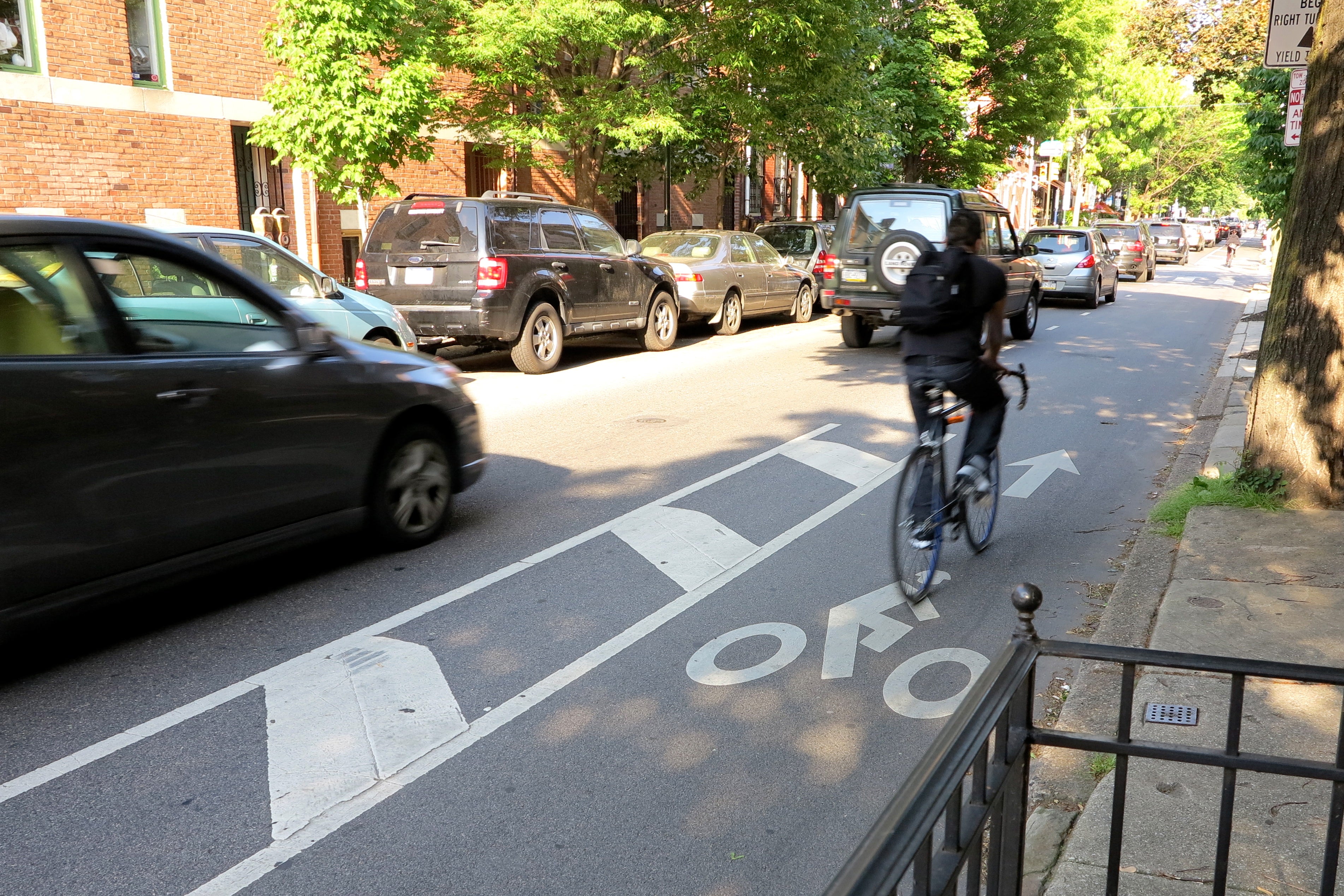 The Delaware Valley Regional Planning Commission (DVRPC) awarded $7.6 million in federal Transportation Alternative Program (TAP) funds to 11 multimodal projects across the region on Thursday.
The money will fund lighting for the Manayunk Bridge trail, new trail segment construction, pedestrian safety programs aimed at school children, and bicycle infrastructure improvements.
The DVRPC allocated $300,000 for a Philadelphia project entitled: "Safe Space of Cyclists: Building a Protected Bicycle Network." The project description includes "flexible delineator posts, signage, and pavement markings, for cyclists at designated locations throughout the City of Philadelphia." Delineator posts would be used for protected bike lanes, where the bike lane is separated from automobile traffic by the posts.
It's about time Philly saw some more protected bike lanes, said Bicycle Coalition of Greater Philadelphia spokesman Randy LoBasso.
"Philly is behind many cities in the country as it pertains to physically-protected bike lanes, and we hope the $300,000 for facilities can supplement the plans the city and state already have in place for protected, safer infrastructure," said LoBasso.
Details for the project will be released next week, Jeannette Brugger, pedestrian and bicycle program coordinator at Philadelphia's Office of Transportation and Infrastructure Systems (OTIS), told PlanPhilly in an email. When PlanPhilly responded, asking whether OTIS planned any changes to the projects included in their application for TAP funds, OTIS did not respond. Application documents obtained by PlanPhilly show OTIS requesting around $589,000 to pay for 15 bike lane projects totalling 27 miles. Projects would include upgrading the existing bike lanes on Spruce and Pine Streets to protected bike lanes, adding protected bike lanes to 13th and 10th Streets in Center City north of Lombard, building a protected bike lane on Walnut Street throughout West Philly, and protecting the bike lanes on Delaware Avenue.
Whether the application's proposed lanes are those that OTIS actually builds with the TAP funds remains to be seen. Protected bike lanes are likely to raise the ire of weekend drivers, who frequently park in bike lanes on Saturdays and Sundays without ticketing. It's a practice blessed when the bike lanes on Pine and Spruce were first painted, part of a handshake agreement with nearby churches and synagogues to allow worshippers to park in bike lanes when they attend services. Installing delineator posts would make it difficult, if not impossible, to park in the bike lanes.
THE WHEELS ON THE BIKE GO ROUND AND ROUND…
The DVRPC awarded two grants aimed at making children's commutes to school in Philly a bit safer. The city's Safe Routes to School project is getting $450,000 to plan and implement activities to encourage walking and biking to school. The funds will support hiring a Safe Routes to School manager, safety lessons, traffic education and enforcement near schools with high accident rates. Safe Routes to School is a federal program aimed at encouraging children to walk and bike to school safely.
The DVRPC also awarded $950,000 to improve sidewalks and intersections along designated walking routes to two elementary schools in Philadelphia. DVRPC representatives declined to say which schools will see the safety improvements, and a request for comment from OTIS, which will oversee the project, was not returned. However, TAP application documents obtained by PlanPhilly list the Southwark School and Stephen Girard School, both in South Philadelphia, as the planned recipients.
That application noted that from 2009-2014, 12 children within a quarter mile of Southwark school were hit by drivers, and 14 children near Stephen Girard. Over a similar time period, 47 other Philadelphia elementary schools had 15 or more children struck by drivers within a quarter mile — more than 900 total during that period. (A list of those schools can be downloaded at the end of this article.)
LET THERE BE LIGHT
The Manayunk Bridge reopened last September as a trail linking its eponymous neighborhood to Cynwyd Heritage trail in Lower Merion Township. Converting the old rail bridge into a trail for walkers, runners, and bicyclists cost $5.76 million and plans for lighting the bridge at night were scrapped due to a lack of additional funds. The DVRPC approved $600,000 for 20 light fixtures along the bridge, which currently closes from 6 p.m. to 8 a.m. due to darkness.
Knowing that they would want to light the bridge eventually, the conversion's engineers and planners built electrical conduits into the initial construction, which should mean a relatively quick and easy install. Clarena Tolson, deputy managing director of OTIS, said that her office hopes to have a contractor signed by the end of this year, with work beginning soon after.
The Manayunk Bridge wasn't the only trail in the region to get a boost from the DVRPC on Thursday. Including the bridge, the Circuit—Greater Philadelphia's proposed 750-mile network of trails that currently stands at over 300 miles—got funds for five projects totalling $4.425 million.
In Bucks County, the Neshaminy Greenway Trail received $1.225 million to build a sidepath and off-road facility from Lenape Lane in Chalfont Borough through New Britain Township along the Neshaminy Creek, where it'll connect to the Neshaminy Greenway Trail at Upper State Road in Doylestown. At the DVRPC meeting, three New Britain residents whose properties will abut the trail spoke in opposition to its location. DVRPC Executive Director Barry Seymour noted that, during the project's public comment period, it received seven comments in favor, and just three in opposition, coming from the three opponents at Thursday's meeting.
In Montgomery County, the final segment of the Cross County Trail in Fort Washington will get $750,000. As that trail chapter ends, so begins another: Phase 1 of an off-road, multi-use trail, dubbed the "Powerline Trail Connection" will get $850,000 to connect the existing 202 Parkway Trail to the intersection of Stump and Horsham Roads.
Trail supporters applauded the news, saying that the funds would create "an added push to create better facilities for all sorts of cyclists," said LoBasso, the Bicycle Coalition spokesman.
The money come from the federal Transportation Alternatives Program, which provides funds biennially for project grants to both regional planning organizations like the DVRPC, and also to state transportation departments. The DVRPC received $7.6 million directly this year, and is also requesting $10.1 million out of PennDOT's $26 million federal allocation for 15 projects across southeastern Pennsylvania, a list of which is available here. During the last TAP round in 2014, DVRPC requested state TAP funds for 16 projects, 13 of which were funded.
WHYY is your source for fact-based, in-depth journalism and information. As a nonprofit organization, we rely on financial support from readers like you. Please give today.