Mayor Kenney kicks off latest round of Roosevelt Boulevard planning. Will it be the last?
Jim Kenney invited the press to the Mayor's Reception Room Wednesday afternoon to announce the launch of a 3 year, $5 million "Route for Change" study to make Roosevelt Boulevard a safer, less traffic-choked street.
Roosevelt Boulevard is inarguably broken, having witnessed 3,000 car crashes resulting in over 50 deaths over the last five years. Fixing Roosevelt Boulevard has been the subject of no less than major six studies since 2000, including one released just last year. What, pray tell, makes this study any different from all the rest?
"I wasn't the mayor then," said Kenney.
Maybe that's the kind of chutzpah needed to overcome the century of inertia holding Roosevelt Boulevard back from an overhaul: A subway or elevated line down the Boulevard was first proposed back in 1913, a year before construction finished on the 14-mile ersatz highway that back then cut through farmland and forest, not rowhomes and retail centers.
Following the Boulevard's construction came new neighborhoods, built for new immigrants—first Irish, Italian, and Polish; then Russian and Ukrainian; now Mexican, Chinese, Korean, and Vietnamese. Today, more than 430,000 reside near this stretch of US-1; around 150,000 use it daily. The city grew around the Boulevard, forcing a 12-lane, 300-foot wide highway to double as an urban street. It does neither well.
And so there have been countless proposals, plans, and studies for improving Roosevelt Boulevard over the decades, almost all now collecting dust. So, seriously, what makes this study so different?
It'll create an progressive, multi-step plan, Kenney said after his swaggering remark. Earlier studies largely generated one-off proposals, like building a subway, that came with incredible price tags, like $3 – 4.6 billion. This study aims to develop a plan that'll start small—think improved bus services—and end big, like maybe a subway line sometime around 2040.
Already, SEPTA is working on bringing an Enhanced Bus Service (EBS) to the Boulevard; it could begin operations as early as 2018, a full year before this study is set to finish. EBS is considered a lite version of Bus Rapid Transit (BRT), which uses bus-only lanes, traffic signal prioritization, train station-esque stops, and even unique branding to make buses operate essentially like a light rail system without installing down train tracks.
The EBS was recommended by a 2015 study by the Delaware Valley Regional Planning Commission (DVRPC) that examined mass transit alternatives for the Boulevard. The DVRPC estimated that EBS on the Boulevard would attract 17,500 daily riders and cost just $10 million in upfront capital expenses. The next cheapest transit option: $500 million for full BRT, was projected to draw 26,000 daily riders.
(DVRPC)

(OTIS)
The $490 million difference in price tags partially explains why SEPTA decided to go with EBS first. The cheaper—and thus easier to pull off quickly—option will demonstrate to the public what good mass transit on the Boulevard looks like, which makes imagining what more expensive, but even better, mass transit could do for the Northeast.
An EBS line can be easily upgraded into a BRT and that can happen over a period of time. From there, future rail lines could be built to utilize the BRT stations—if things are planned properly.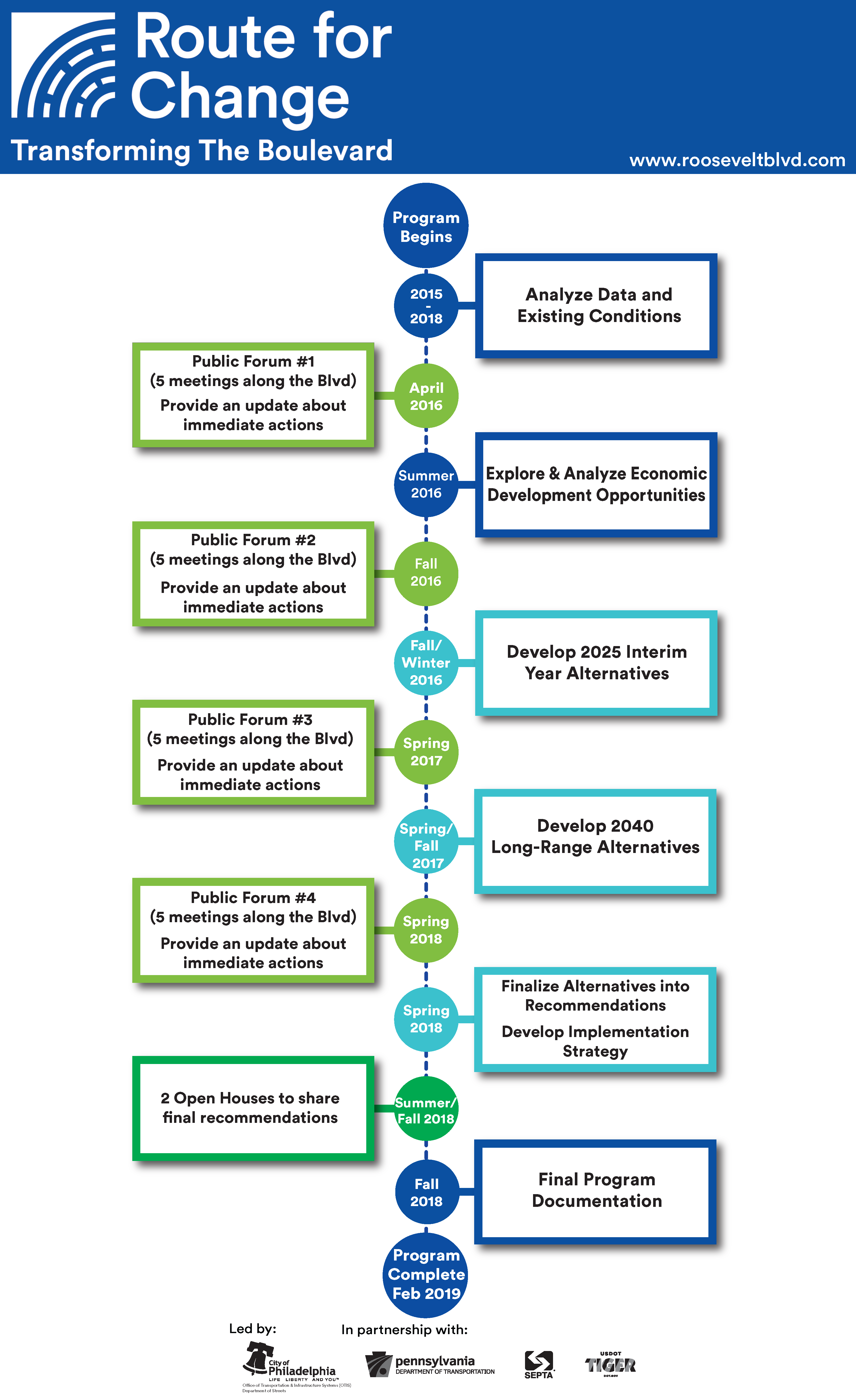 That's where the newly launched, multiyear Route for Change study comes in: Once completed, it should provide a roadmap for incremental improvements that build upon one another, rather than creating the sort inflexible infrastructure incapable of being repurposed down the line.
This study is also meant to be comprehensive and multimodal, said Denise Goren, director at the city's Office of Transportation and Infrastructure Systems (OTIS). Most of the past plans focused on adding mass transit or somehow separating the Boulevard's highway elements from its more urban surrounding. Route for Change should go further, looking at improved pedestrian crossings, making travel times more consistent, and integrating bicycle facilities.
Does that mean bike lanes along US-1? No, but it might mean bike lanes crossing Roosevelt Boulevard at certain intersections, curb bump-outs, maybe even radar camera speed enforcement, if the state legislature would allow it. Just what the study's suggested pedestrian and bicycle safety improvement would be, city and PennDOT officials were not yet willing to say. First, they want to hear from the public.
Kenney announced five upcoming public forums on transforming Roosevelt Boulevard, offering the opportunity for residents to tell planners what they like about the highway, what they hate about it, and what they'd like to see done.
Following those forums, there will be four more public feedback rounds before the planning program finishes. Along the way, the planning team will develop sets of long-range and interim alternative proposals for the public to consider.
Ultimately, the planners should release an imminently implemented set of instructions for improving the Boulevard, a kind of step-by-step guide for incremental, tangible enhancements. But only time will tell whether the city will actually, finally be able to get with the program when it's released in early 2019, or whether it'll join its predecessors on a shelf somewhere, collecting dust.
Upcoming Forums:
April 14, 2016
Four Points Sheraton, Pennsylvania Suite, 9461 Roosevelt Boulevard, 6:00 – 8:00 pm
SEPTA bus routes 1, 14, and 19
Spanish and Russian interpretation available
April 16, 2016
Globe Dye Works, Main Lobby, 4500 Worth Street, 1:00 – 3:00 pm
SEPTA bus routes 25, 56 & J
Spanish and Chinese interpretation available
April 19, 2016
Lenfest Center, 3890 North 10th Street, 6:00 – 8:00pm
SEPTA Bus Routes 4, 53 and the Broad Street Line Subway
Spanish and Chinese Interpretation Available
April 20, 2016
Radisson Hotel, Ballroom, 2400 Old Lincoln Highway, 6:00 – 8:00pm
SEPTA Bus Routes 1, and 14
Spanish and Russian Interpretation Available
April 21, 2016
Lincoln High School, Cafeteria, 3201 Ryan Avenue, 4:30 – 6:30 pm
SEPTA bus routes 70 and 88
Spanish and Chinese interpretation available
For more information on the planning program, and to sign up for email updates, go to rooseveltblvd.com.
WHYY is your source for fact-based, in-depth journalism and information. As a nonprofit organization, we rely on financial support from readers like you. Please give today.