Indego bike share to expand to Navy Yard and the stadiums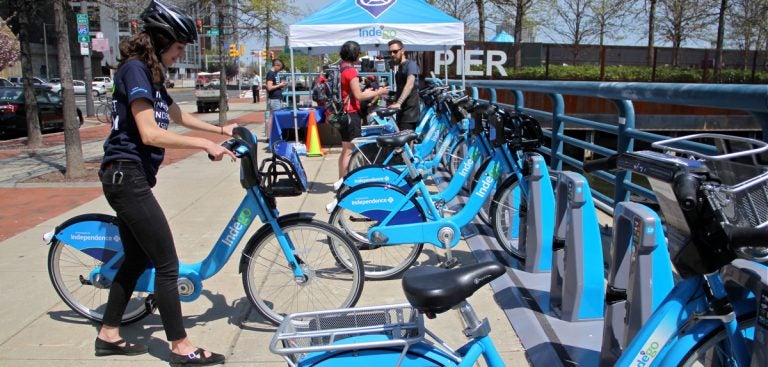 Philadelphia's bike-share program, Indego, will expand in South Philly this summer with the addition of eight new stations, including three in the Navy Yard and two located next to the Broad Street Line's AT&T Station.
"The basic goal is to connect the end of the Broad Street Line with 13,000 jobs at the Navy Yard," said Aaron Ritz, transportation-programs manager at the city's Office of Transportation and Infrastructure Systems.  "We think this is a great way to add mobility options for that growing corporate campus."
"Isn't that awesome?" said Prema Katari Gupta, a senior vice president for planning and operations at the Navy Yard for PIDC.
Two of the new bike-share areas will be installed during the first week of July near SEPTA's AT&T Station, set on both sides of Broad Street. When Indego initially began, city planners hesitated to place docks so close to the stadiums, for fear that they would quickly fill up before games and frustrate riders who arrived later and found nowhere to dock.
Inside the Navy Yard, docks will be placed at Crescent Park, near the entrance, on the Central Green, and next to Urban Outfitters Inc.'s headquarters at 15th Street and Kitty Hawk Avenue. Those stations will be installed next week.
Gupta said Indego's introduction would serve three functions for the Navy Yard: Giving workers coming from the subway another option for traversing the final half-mile to work (PIDC runs a free shuttle through the Navy Yard from AT&T Station); internal circulation within the Navy Yard; and, "It's for people who don't necessarily work here — it's another excuse and way to explore the Navy Yard."
Getting to the Navy Yard by bike can be somewhat harrowing — Broad Street's shoulder disappears as it passes under I-95, forcing cyclists to share a lane with often fast-moving cars — but that will also change soon.
Last month, the Office of Transportation and Infrastructure Systems received a $1 million grant to begin work on improving the South Broad Street side path, part of 11 projects receiving a total of $8 million in state Transportation Alternatives Program funds.
The new side path will separate cyclists from cars along the western side of South Broad between Pattison Avenue and the Navy Yard. The side path will effectively replace and improve on the existing sidewalk there. The city is still working with PennDOT to finalize construction plans, meaning there's no timeline yet for construction. However, the state funds must be spent before August 2020 or else they will be forfeited.
Indego's South Philly expansion will bring the system to 130 docking stations and 1,300 bikes. Independence Blue Cross recently renewed its sponsorship of the bike-share system, providing $2 million a year over the next two years to keep it up and running.