How to go around the Northeast Corridor shutdown after the Frankford Junction derailment
As a public service, Sic Transit Philadelphia blogger Michael Noda has agreed to let us cross-post his explainer on how to get around the Northeast Corridor shutdown.
In the wake of the derailment of Amtrak train 188 Tuesday evening, Amtrak's Northeast Corridor is shut down indefinitely while investigators pore over the crash site at Frankford Junction. In addition to the disruption to Amtrak service, SEPTA and NJ Transit services that run on Amtrak's tracks through the accident area have been suspended indefinitely. This is going to create a lot of hardship for riders for the foreseeable future, and while SEPTA has some alternate service suggestions for every Regional Rail station in the system, they tend to be rather slow, and unattractive to suburban riders who own cars and want a time-competitive trip into Philadelphia. And driving in is not really an option; not ever, and certainly not while I-95 construction is ongoing. So while SEPTA's instructions are valid and fine as far as they go, I want to take some time to point out some of the other options available.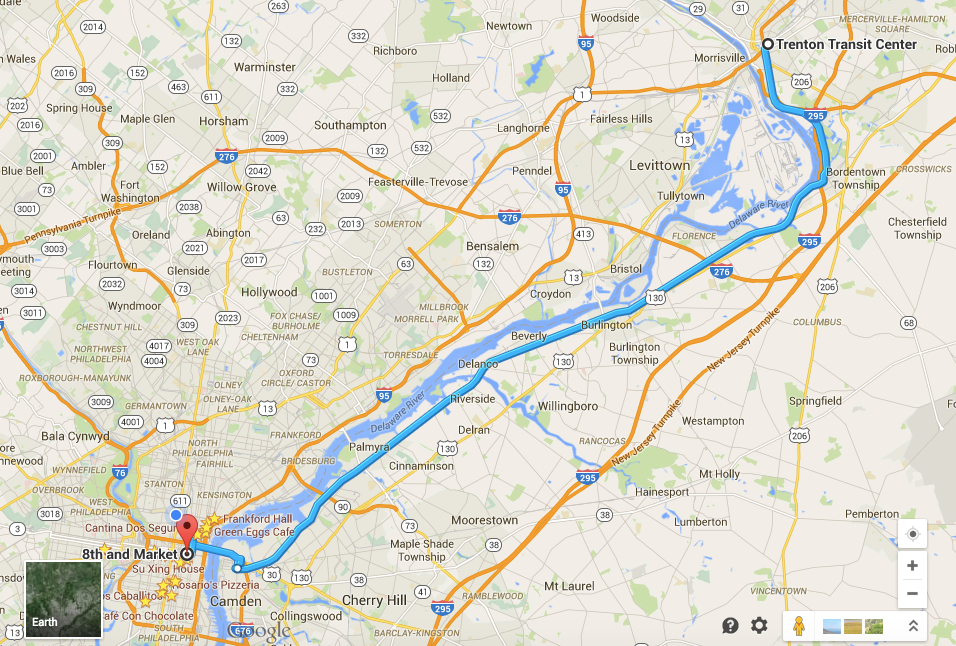 This will be the easiest and fastest way for people coming from Trenton, including connecting passengers from New York: From Trenton Transit Center, go outside and across Clinton Avenue to the Trenton River Line station.
From the Bristol/Croydon area, go over the Burlington-Bristol Bridge (toll $2.00 westbound only, no pedestrian access), and turn right onto Broad Street for the Burlington South station. As an alternate route, take the Turnpike Bridge to US 130 south, for Florence station.
From River Wards and Tacony going to New York, take the Tacony-Palmyra Bridge (toll $2.00 westbound only). Drivers have a straightforward path down River Road to Route 73/Pennsauken station, while the few hardy cyclists and pedestrians who try this and who don't enjoy the prospect of being squished by New Jersey's finest stroad engineering can use Temple Boulevard and Cinnaminson Ave to Palmyra station.
South Jersey's DLRT line takes an extra half hour or so compared to SEPTA, but is quite inexpensive: a flat $1.50 all the way from Trenton to Camden. From Walter Rand Transportation Center, connect to PATCO or a NJT bus to Center City Philadelphia. BE AWARE that the River Line has a late start and an early last run, to maintain temporal separation from freight traffic on the line. (It also takes the River Line a while to run end-to-end, so starting up and shutting down take time.)
SEPTA West Trenton Line
For many others, especially those with destinations in West or North Philadelphia, the SEPTA West Trenton Line will be the next best option. There is an NJT bus that connects West Trenton station with Trenton Transit Center, but it runs peak hours only, so use that at your own risk. Passengers connecting to and from NJT may want to co-ordinate and share cabs. Since station parking lots will be oversubscribed all along the line, park-and-ride customers should probably consider backup parking locations, especially Oxford Valley and Neshaminy Malls. Both malls have an mediocre but serviceable bus connection to the West Trenton Line: Oxford Valley to Langhorne via the 14, and Neshaminy to Neshaminy Falls via the 58. Neshaminy Mall to Neshaminy Falls station should be walking distance, but Bristol Road is narrow and fast and has no sidewalks, so I can't recommend it in good conscience.
As of 8:52 Wednesday morning, SEPTA has announced that it is adding cars to trains and running unscheduled extra trains on the West Trenton Line to deal with the crowded conditions.
SEPTA Local transit
If you're coming into the city from Torresdale, Holmesburg, Tacony, or Bridesburg, then congratulations, your local bus service doesn't entirely suck. Busing to Frankford Terminal and picking up the El is not the most fun thing in the world, but it will have to do for now.
SEPTA Chestnut Hill Lines
Chestnut Hill West service is operating as of Wednesday morning.
South Jersey
Atlantic City Line passengers, who have been blissfully immune to the vagaries of PATCO's frequently-altered schedules, should prepare to connect at Lindenwold. Have nextpat.cobookmarked to keep track of the mess. Pennsauken riders should take the River Line to WRTC and connect via bus or PATCO.
Systemwide cascade
Riders not on the suspended lines who have a marginal decision between two transit options should be aware of how their commutes may be affected by crowding and associated delays. Park-and-ride customers who live roughly halfway in between the West Trenton and Warminster Lines may want to ride Warminster this week. Not many LaSalle University students take the Chestnut Hill East line at Wister, but for those who do, the 18 bus to Olney Terminal may be particularly attractive for the rest of the week, and so forth. SEPTA probably doesn't have much in the way of rolling stock trapped on the Trenton Line, but checking that hasn't been anybody's priority yet.
Cross-honoring
As of 7:30am Wednesday, NJT is cross-honoring Amtrak tickets on the Northeast Corridor Line between New York and Trenton, and on the River Line between Trenton and Camden. After a communications delay, PATCO is cross-honoring NJT Atlantic City Line and Amtrak tickets. So Amtrak ticket holders who don't mind taking quite a long time to get where they're going can get completely around the suspension with their existing tickets.