How a powerful commission quietly stewards Philadelphia's visual legacy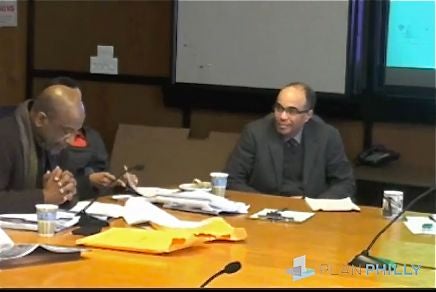 It maintains no web site, and although its meetings are open to the public, notice of just what will be covered in upcoming meetings is elusive. After a meeting, its minutes can be hard to get a hold of. The same goes for information on its rules of operation.
But, says William Burke, director of the Art Commission of Philadelphia, all you have to do is ask. "Those who need to know about it, do," he says.
This year, the Art Commission celebrates its 100th anniversary, and, promises Burke, it will "soon get itself into the 21st century. We're working on making basic information available online, but we have no absolute deadline," he says. "Like many other things, it's a question of finding the money to make it happen."
As PlanPhilly begins regular coverage of Commission meetings, Burke was gracious enough to spend some time bringing us up to speed on how this powerful organization works. Trained as an architect, Burke enjoyed a planning career with the City before assuming the staff position at the Commission twenty years ago. He is the Commission's sole staff member and, as such, is responsible for approval of most routine proposals, such as those regarding store signs that meet Zoning Code provisions.
The Commission is currently administered through the Philadelphia City Planning Department. (As outlined in the City's Home Rule Charter, it was originally part of the Department of Public Property. Then, under the Rendell administration, it was moved to the Commerce Department. Its latest shift is, says Burke, a function of PCPC's design review responsibilities.)
The charter includes among its list of the Commission's responsibilities:
— approval of any work of art to be acquired by the City;
— approval of the design and proposed location of any City-funded building, bridge and its approaches, arch, gate, fence, or other structure or fixture;
— approval of any structure or fixture [notably, signs or awnings] to be erected by any person upon or to extend over any highway, stream, lake, square, park or other public place within the City; and — approval of the removal, relocation or alteration of any existing work of art in the possession of the City.
The Commission's wide-ranging mission and multi-tentacled influence can lead to confusion, Burke acknowledges. "Most people can figure out what something like, say, the Historical Commission does because of its name," he says. "But although we have 'Art' in our name, what we're actually about is design review. That does include public art — but it covers a lot more, as well."
The Commission, like similar boards in other large cities, was established on the heels of the Chicago Exposition and the resulting City Beautiful movement. Although originally created to keep tabs on public art and sculpture, its mission soon encompassed a broader arena of public works projects, according to Burke. That path in turn led to the notion of overseeing anything built on or over public land, which includes sidewalks and streets.
The City Charter mandates that the Commission be made up of the ex-officio Commissioner of Public Property. plus eight appointees of the Mayor, who serve until that Mayor or the next reappoints someone else in their stead. There are no set terms.
Two years ago, Mayor Nutter announced his appointments. They are: José Alminana, Moe Brooker, Sean Buffington, Karen Davis, Emmanuel Kelly, Robert Roesch, Patricia Alexander Sanford, and Robert Nix. Nix, the former president of the Fairmount Park Commission, has since been replaced by a member of the newly-formed Parks and Recreation Commissioner, Debra Wolf Goldstein. She is an attorney specializing in land conservation matters.
Alminana, principal at Andropogon Associates, Ltd., occupies the Commission's landscape architect seat. Brooker, the required painter and current Commission chair, is professor and chair of the Basics Department at Moore College of Art and Design. Buffington, president of the University of the Arts, along with, Sanford, president of design firm Alexander Perry Inc. and a lecturer at University of the Arts, fill the two required seats from faculty or board members at a teaching institution.
Davis, president and CEO of the Arts & Business Council of Greater Philadelphia, serves as the Commission's representative from the business community. Kelly, principal at Kelly/Maiello Architects and Planners, meets the architect requirement (and by dint of his position on the Zoning Code Commission serves as a liaison with that Commission). Roesch, chair of the Department of Sculpture at the Pennsylvania Academy of the Fine Arts, is the Commission's mandatory sculptor.
The current Commissioner of Public Property is Joan Schlotterbeck; she is usually represented at Art Commission meetings by her deputy, John Herzins.
The Commission meets on the first Wednesday of each month, at 9:30 a.m. It also holds regularly scheduled meetings of its Art and Architecture Committees (made up of the Commission as a whole) and Signs Committee (on which Roesch and Sanford sit, along with Burke and David Schaaf of PCPC). Audio digital recordings are taken at the meeting, and then minutes are produced from there. Anyone can contact Burke for them, he says, though they don't become public until the next meeting.
In general, says Burke, the Art Commission prefers to be the last stop for bigger projects, after they have already appeared before the Planning Commission and other agencies, where appropriate, such as the Historical Commission, Zoning Board of Adjustments, or Fairmount Park Art Association.
Signs — their size, placement, and location — are a major responsibility of the Commission. "Many architects, lawyers, expediters, and sign people who are 'regulars' just come directly to us when they know a proposal is likely to need our approval," says Burke. Sign proposals brought to License & Inspections are referred first to the Commission. Burke reviews applications, determines which ones he can handle himself, then refers others to the Commission.
"Most projecting sign applications are just subject to quick staff approval," he says, "and so don't go before the Commission." On average, he says, he receives about 20 such applications a month.
Provisions governing projecting signs citywide are set out in the current Zoning Code and must be reviewed by the Commission. In Center City, all proposals for signs — both flat and projecting — are subject to Commission approval, as are skyline signs (at or near the tops of buildings). These are sent to the Commission's Sign Committee, which makes recommendations to the Commission.
Burke observes that "most signs you see haven't even been submitted for L&I permits. Enforcement is low on the department's priority list, compared to other life and safety issues." The Zoning Code prohibits projecting real estate signs on the Center City blocks of Pine, Spruce, and Locust, for example, but any walk through Washington Square West or Rittenhouse Square will see that that provision is rigorously ignored.
Of course, as outlined in the City Charter, the Commission's scope goes way beyond signs, big and small. From a discussion concerning how well-covered an air conditioning unit at Philly Live! might be to a look at a proposed design for an I-95 underpass to routine administrative approvals for new lighting at six rec centers, the most recent three-hour-plus meeting touched upon a wide range of factors governing the city's built environment.
Generally, as with other Commissions, there's a two stage review process. The first time around, Commissioners either disapprove or conceptually approve a proposal, by a simple majority vote. "Concept review should happen early enough in the design process to allow the Commission to have real input into the end result," says Burke. "The question of how to require applicants to submit early enough in the design process" is a continual conundrum, he adds.
Upon receiving a disapproval, applicants can choose to return with another design or presentation. A concept approval means the application is well on its way, but that the Commission would like to see a few concerns addressed, and to have more details furnished.
Upon final approval, applicants receive written correspondence and/or Burke's signature on their L&I forms.
Whether it's a substantially reworked plaza outside of City Hall, the relocation of a sculpture from that plaza, or merely a sign proclaiming a new deli across the street from it, the face of Center City is largely under the stewardship of this Commission. Moving ahead with anything that affects the visuals of this city can be burdensome and confusing, and, observes Burke, this Commission — like others — is often accused of "holding up" projects.
"Some applicants may feel that we're the opponent," he comments. "But that's not the way we think of it."
Contact the reporter at jgreco@planphilly.com
WHYY is your source for fact-based, in-depth journalism and information. As a nonprofit organization, we rely on financial support from readers like you. Please give today.