Floods disrupt college classes in Texas, delay some students coming to Philly region
Listen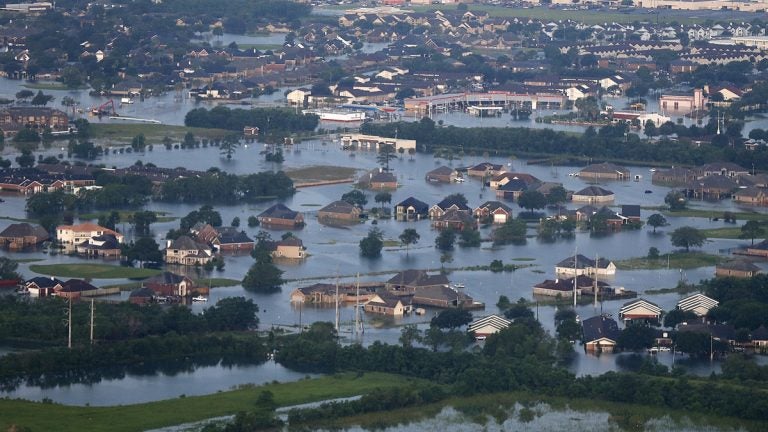 Tropical Storm Harvey's devastation in southeastern Texas included massive floods on college campuses.
Warren Bigelow of Philadelphia had just started his freshman year at Rice University in Houston when the hurricane arrived.
Bigelow has been in his Rice University dorm since Harvey landed on Friday.
Part of the university grounds were flooded, submerging cars, but Bigelow's dorm is at the high point of campus.
His dorm did not lose power and it has a dining hall, so he didn't have to leave the building — but he did encounter other threats.
"Sunday morning there were a couple tornadoes on campus," he said. "So we had to, like, get out of our rooms into an interior shelter. That was the most immediate danger that I felt."
Since the dining hall has had to ration food, students have been eating just two meals a day.
The 18-year-old from Chestnut Hill chose Rice for its academic reputation … and other reasons.
"Well, it feels funny now, but the weather. I was tired of the cold," Bigelow said.
This should be his second week of class, but instead he's been off with little to do except work on assignments, watch movies and play board games.
Warren Bigelow, (far right), playing a game, with other Rice students. (Provided)
The silver lining is that he's gotten to know everyone, Bigelow said.
He first learned of the potential storm when his mom sent him an article.
"I imagined it would be like a one- to two-day event, like a lot of rain and we might have one day of class off, and then sort of everything would revert to normal," he said. "It didn't seem like it was going to be that big of a deal."
The Germantown Friends School alumnus figured Houston had dealt with tropical storms before.
"I even heard some people saying on Saturday morning like, 'Where's the real hurricane, right? Which sort of seems in hindsight kind of crazy," Bigelow said. "Boy, but by Saturday night into Sunday, I mean we just got drenched and it wasn't until [Wednesday] it's actually sunny out. It wasn't until late [Tuesday] that it really stopped raining."
On Saturday night, the Mayweather vs. McGregor boxing match was playing only 100 feet away in another building, but Bigelow and his friends needed to go outside to cross the short distance.
"A bunch of us wanted to go, but it seemed unsafe because of the conditions out there. It was raining so hard at that time, so we didn't end up watching it because of how dangerous it was."
Bigelow's mom, Suzanne Cole, said the school's preparations and communication with parents helped dispel concerns.
"I have to say the university has done an amazing job of being tremendously well-prepared, and, from the very beginning, they made sure that the students really understood exactly what was expected of them and what they could expect from the university," she said.
And it eliminated any thoughts of evacuating her son.
"That, to be honest, never crossed my mind," she said. "First of all, I guess it always seemed like he was really most safe where he is."
Secondly, by the time they realized how bad the storm was, it wouldn't have been safe to try to move him, she added.
Cole said she's been lucky to have constant contact with the university and other Rice parents through a parents forum.
"As a parent, it certainly was kind of very shocking of course just to read the reports and see that this was going to be happening," Cole said. "It really has made it easier to feel like he's safe and that we don't need to be anxious for his welfare."
And keeping in touch her son who plans to double major in computer science and linguistics has helped too.
"I've been trying to talk to my parents more regularly than I imagined myself doing on a normal day, especially since there isn't much to do," Bigelow said.
Ripple effects in Philadelphia region
As the flooding from Harvey continue affecting Texas, it's also causing ripples at some universities in the Philadelphia region. Many are working to support students from Texas affected by the tropical storm.
Tom Dunne, deputy dean of undergraduate students at Princeton University, said the school has more than 50 undergraduates from affected areas in Texas, including 15 incoming freshmen from Houston.
The university has reached out to all affected students for the past several days, but since first-year students and their families already worry the most about transitioning to college, he said, they are university's main focus.
"They're already sort of anxious about sending their students all the way to New Jersey from Texas and moving into college for the first time," he said. "And to have this additional struggle and stress on families, I think is something we want to be very cognizant of and be proactive."
Princeton doesn't want students and families to feel they have to navigate all of the planning and logistics by themselves.
Dunne said the university is working with all affected students about their travel since many airports are still closed or flights have been pushed back.
The first day of classes for students isn't until Sept. 13, but first-year students start a weeklong orientation on Saturday. Dunne said they expect students to be late to orientation, which includes small group-bonding activities in the Poconos.
The dean also pointed out officials want to make sure students who will miss some of the bonding experience feel connected and receive all the information everyone else did.
Dunne mentioned a new student who was planning to arrive early with her family to sight-see before orientation, but her family home flooded. Her parents are now unable to travel and need to stay with her siblings at home. The student is traveling alone and arriving ahead of the scheduled move-in date. Dunne said she will be able to move in immediately.
The university is working to address additional costs that low-income students may face because of the tropical storm, he said.
Graduate students have already started to arrive, including a new student from the affected area who made it to campus — without his luggage.
"There's obviously no way for him to really call and try to track down his belongings with other more pressing things happening. So the university is working with him to get some startup stuff so that he could move into his room and transition to school," Dunne said.
The University of Pennsylvania has more than 600 students who are residents of the areas affected by the storm, and officials expect the number to grow as the storm's path widens. The school has been reaching out directly to those students and coordinating resources through their Student Intervention Services.
Penn State officials say approximately 280 students at Main Campus are from Texas, and more than 385 students in their online programs are in affected regions.
The institution is working to connect student with resources, including academic accommodations and the university's emergency funding program, and also helping to determine if students need on-campus housing over breaks.
Temple University officials said approximately 100-150 students are from the affected regions, including more than 40 students from the Houston metropolitan area.
Warren Bigelow's mom, Suzanne Cole, in Philadelphia points out how lucky the students at Rice are and "unfortunately a lot of people around them are really struggling."
Cole's brother and his two adult daughters live in Houston, near a dam that was on the brink of overflowing.
"My brother got evacuated yesterday from his house had to leave his house [Tuesday]," she said. "He was able to move in with one of his daughters, and then his other daughter had to leave her house and go to stay with her in-laws. So we're not sure what the fate of their homes are right now but they are themselves safe."
She said she'd been following the weather forecast before Harvey landed.
"At some point, I said to Warren, 'You know this might be like a snow day in August. Maybe you'll be in a kind of fun thing,'" Cole said. "I think that early on, it didn't seem like he was going to be that hard hit."
Students had organized on-campus volunteer efforts to help give back and keep students busy, but Bigelow plans to volunteer off-campus now that the campus is drying up.
Cole is planning to visit her son in October for Familes Weekend.
"It's definitely, you know, not exactly how we anticipated his start to college would be, but under the circumstances I think he's fine. He really is OK."