Philly synagogue leans into sci-fi building, celebrating Hanukkah with laser light show
The Beth Sholom synagogue in Elkins Park, designed by Frank Lloyd Wright, is an unusual building even among the famed architect's unique built works. Some have described it as a spaceship that landed from an alien planet.
Even Leonard Nimoy, of Star Trek fame, once quipped during a visit to the synagogue that it resembled a Klingon Bird-of-Prey fighter.
For Hanukkah, the congregation is leaning into science fiction by filling the interior with lasers to mark the Festival of Light. On Saturday night, on the eve of the start of Hanukkah, the synagogue will resemble a kosher rock laser show, with pounding Hanukkah-themed pop songs.
"It is very new-agey. It's very blingy," said Julie Atchick, the congregation's Director of Program. "Not only do they have the laser lights, but they play a lot of very loud music."
Tickets to the Miracle of Lights Hanukkah Show are free, but advanced registration is required and the room of about 1,000 seats sold out weeks ago. Atchick stopped promoting the event because demand became overwhelming: there are 400 on a waitlist.
Normally Beth Sholom celebrates Hanukkah the way many congregations do. Last year it featured a magician entertaining kids. This year, once Hanukkah begins on Sunday, there will be a week of events like an hors d'oeuvre party for adults, a drum circle for teens, and other family programming.
Beth Sholom had presented the Miracle of Lights laser show a few years ago, which proved popular but too expensive to sustain. This year the congregation is partnering with the Jewish Federation of Greater Philadelphia.
"It is unusual and it's eye-catching, and that's what we aim to do," said Max Moline, director of community development for the Jewish Federation. "There are certain things that people come to expect from their Jewish involvement. We do a lot of that. Sometimes you've got to think outside the box and do something that's going to attract more than just people who are used to coming out for the Jewish community."
The show is created by Ken Fink, a Philadelphia-based science entertainer who runs Wondergy. Hanukkah is a busy season for him: Fink essentially goes on an eight-day tour of synagogues in the Long Island and New York region with a van full of laser equipment.
Most of his laser shows happen in darkened rooms that tend to be box-shaped, where Fink fills the air with fog and lets the laser light play in the resulting cloud. In the Beth Sholom worship space, which Wright designed with an array of triangular planes converging to an apex like a pyramid, the soaring architecture provides a canvas like no other.
"Usually we tell people, 'Ignore the ceiling and just look at what's in the air,'" Fink said. "Here we're, like, 'No, no, no. Everywhere!' It's like a planetarium but more interesting."
The laser show is driven by a soundtrack that includes a menacing version of the Dreidel Song by the novelty group Da Vinci's Notebook, and "Candlelight," a version of Taio Cruz's "Dynamite" re-written by the Maccabeats to tell the story of Hanukkah.
Fink said he was first awed by laser shows when he saw a Pink Floyd show in a planetarium as a kid. He aims to bring that level of excitement with a healthy dose of education. Fink's presentation includes a narration explaining how lasers work and how they are an apt metaphor for Hanukkah.
"The picture you're seeing on the ceiling here is just one dot," he says, as his laser machine sends a point of light to the ceiling of Beth Sholom.
As the light moves faster than your eye can track, the point becomes a line, then a shape, then an animation.
"You start with something that sounds like it's way too little to do anything impressive: a small guerilla army ousts a major occupying force. One jar of oil lasts eight nights," Fink said. "A tiny resource can really do amazing things."
Moline said the Jewish Federation plans to keep the laser show in rotation for its annual Hanukkah programming.
"We try to offer a mix of opportunities. Some people like a huge event with a thousand people. Others prefer something a little smaller where you can have more conversations and feel a little more intimate with the people who are there," said Moline. "This is a little bit of a different thing than what we tend to do, which makes it that much more exciting."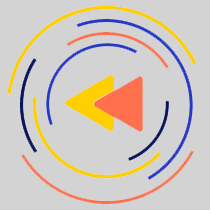 Saturdays just got more interesting.
WHYY is your source for fact-based, in-depth journalism and information. As a nonprofit organization, we rely on financial support from readers like you. Please give today.