Grewal joins other AGs in battle over relaxing payday-loan rules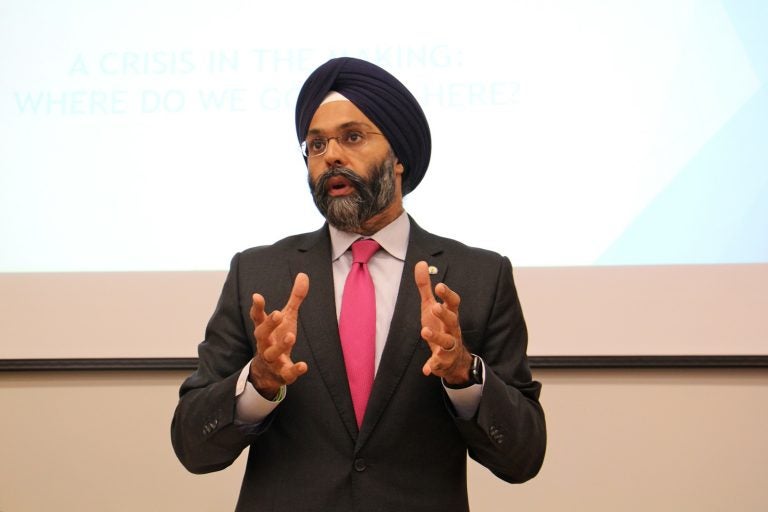 New Jersey's attorney general is stepping into the ring again with the Trump administration, this time trying to prevent a federal consumer-watchdog agency from rescinding its rule designed to safeguard people from payday and other high-risk loans.
Earlier this year, the Consumer Financial Protection Bureau proposed repealing parts of the rule, which requires lenders to evaluate a borrower's ability to repay most payday, vehicle-title and similar loans before extending credit.
As part of a five-year process undertaken largely during the Obama administration that included a review of more than a million comments, the CFPB investigated these loans and in 2017 said it had determined lenders used "unfair and abusive practices" that kept borrowers stuck in a cycle of debt, never able to fully repay loans due to exorbitant interest rates — as high as 300 percent a year for payday loans.
New leadership at the CFPB has proposed repealing parts of the rule, which is supposed to take effect in August, contending there was not enough evidence to support the agency's earlier findings that the lending practices are unfair and abusive. The bureau also proposed delaying the rule's effective date until November 2020 while it considers repealing it.
New Jersey Attorney General Gurbir Grewal and his counterpart in the District of Columbia, Karl Racine, are leading an effort by 25 attorneys general to stop the CFPB from defanging the rule. In a letter submitted to the bureau as part of its public-comment process on the rule change, the attorneys general called the bureau's change of heart "deeply flawed as a matter of law and policy." They also wrote that it "neglects the experiences of States that have successfully curbed abuses associated with payday and vehicle title lending without hurting consumers, and fails to appreciate how the Bureau's action may impair States' ability to protect their residents."
Short terms, high rates
New Jersey has placed a 30-percent cap on the annual interest-rate payday lenders are allowed to charge. According to New Jersey Citizen Action, it saves residents almost $350 million a year in fees.
Payday loans are typically for small-dollar amounts and are due in full by the borrower's next paycheck, usually two or four weeks later. As a condition of the loan, the borrower writes a post-dated check for the full balance, including fees, or allows the lender to electronically debit funds from their checking account. The bureau found in 2017 that many borrowers cannot repay these short-term, high-interest loans when they come due and end up re-borrowing, often multiple times,and getting further into debt each time.
"We are calling on the CFPB to reconsider repealing these standards, which were intended to help prevent millions of people from becoming mired in the cycle of debt each year," said Paul R. Rodríguez, acting director of the state's Division of Consumer Affairs. "There is no adequate reason, factual or legal, for this change."
The rule also impacts single-payment car-title loans, which have expensive charges and terms usually of 30 days or less. For these loans, borrowers are required to put up their vehicle title as collateral.
Some lenders offer longer-term loans of more than 45 days, through which the borrower makes a series of smaller payments before the remaining balance comes due. Often referred to as balloon-payment loans, these typically require access to the borrower's bank account or auto title.
'Caught in a debt trap'
"The CFPB is proposing to eliminate common sense rules that would protect hard-working New Jersey families from getting caught in a debt trap," Grewal said in a statement announcing the attorneys' letter. "New Jersey has strong laws on the books to shield our residents from some of the worst abuses among payday loan and vehicle-title loan companies. But repealing the federal standards would make it harder for us to protect our residents' pocketbooks — especially from bad conduct by out-of-state lenders."
According to the letter, the original CFPB rule gives states additional ways to protect their residents and, by creating national minimum standards, closes loopholes that allowed lenders to get around state laws. If the payday-lending standards are rolled back, the comments contend, lenders will have greater opportunity to escape state regulation.
Consumer advocates and many members of Congress have decried a number of actions taken by the CFPB since the change in administrations in Washington in 2017. Congress created the bureau in 2010 as part of the Dodd-Frank Wall Street Reform legislation to serve as the consumers' advocate in bank, credit and financial dealings. Critics charge it is now abandoning that mission.
The attorneys general made a similar criticism in their letter. They say the bureau's proposal to reinterpret the definition of unfair and abusive practices "will leave consumers exposed" to the same kind of policies that led to the financial crisis a decade ago.
"The 2017 Rule was a well-reasoned, painstakingly researched, and measured approach to regulating payday and vehicle title loans," the letter states. "The Bureau's current proposal, by contrast, conflicts with the history, text, and purpose of the Dodd-Frank Act and undercuts our ability as state law enforcement officers to protect consumers from exploitative lending practices."
This letter is Grewal's latest action opposing actions taken by the Trump administration. He has also signed on to multi-state suits seeking to stop the deportation of young undocumented immigrants known as Dreamers, prevent the inclusion of a citizenship question on next year's census and demand the Department of Justice release community policing funds to the state and localities,among other actions.