Got at least $40k? You could bid on historic copy of Ben Franklin's 'Join, or Die' cartoon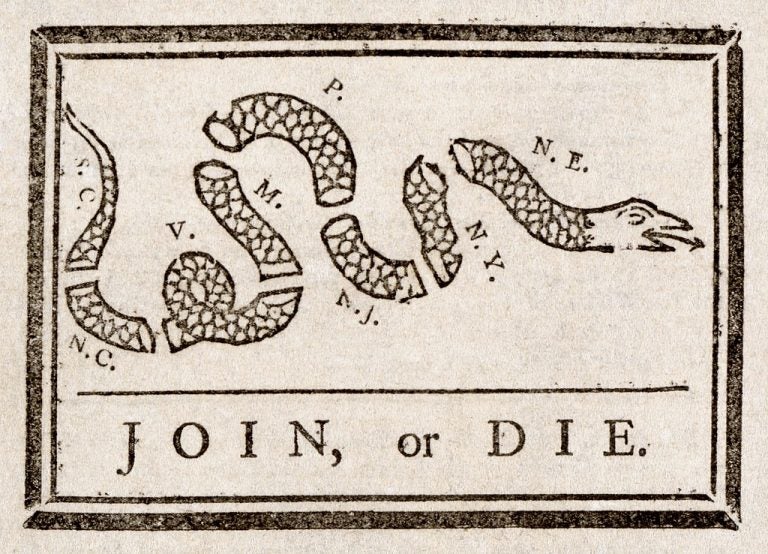 A rare piece of newspaper history connected to Benjamin Franklin is up for auction this week.
"Join, or Die" is a political cartoon showing a snake broken into eight pieces, which is attributed to Franklin and was first seen in his Pennsylvania Gazette newspaper in 1754. One of two known copies of the cartoon is up for auction on Thursday, and Laura Kirk of Nate D. Sanders Auctions says they have had plenty of interest.
Each segment of the snake represents the British Colonies — South Carolina, North Carolina, Virginia, Maryland, Pennsylvania, New Jersey, New York, and New England (which included Massachusetts, Connecticut, Rhode Island, and New Hampshire). The cartoon was a call to those colonies to unite against the French and their Native Americans allies during the Seven Years' War.
"Franklin didn't know what an amazing impact it would have on the Revolutionary War 20 years later," Kirk said, "And that's often the case with collectables — a lot of copies aren't saved and the copies that do survive are very valuable."
Kirk says the newspaper is in good condition, considering its age.
"It's trimmed at the top a little bit and there's a little bit of restoration to the snake, but other than that there's no tears," she said. "There's toning that you would expect, browning of the paper which is age consistent."
The bidding starts at $40,000 at the Los Angeles-based auction house. For those who can't afford to buy their own copy, one is held at the Library of Congress.