From hosiery factory to school to apartments, a building is reborn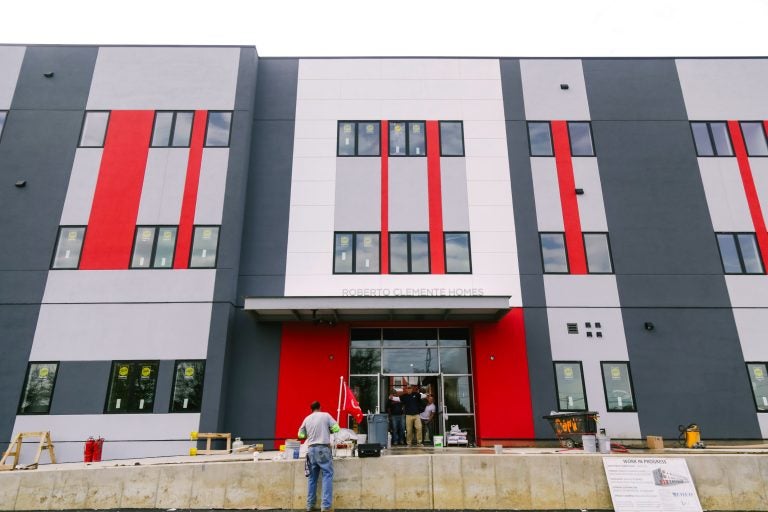 This article originally appeared on PlanPhilly.
—
In the life cycle of a building, a few years' time can mean the difference between being at the center of a community and falling into disrepair and blight.
That was the case with the towering former pantyhose factory that housed Roberto Clemente Middle School in Hunting Park. In 1994, the public school closed. In 2007, following a short-lived transformation into a book bank run by a local businessman, the Philadelphia School District shuttered the seven-story building for good.
Devoid of purpose, the building at the corner 5th and Luzerne streets became a locus for scrappers, dumpers, and other illegal activities.
That chapter officially ended this week, and a new one began, as a ribbon was cut on the seven-story building, now known as Roberto Clemente Homes. The $17 million adaptive reuse of the former school aims to restore its anchoring presence within the neighborhood by providing 38 units of affordable housing and 5,000 square feet of commercial space.
The residential remake marks the culmination of a transformation long desired by neighbors. In 2012, the building was singled out as key to the neighborhood's rejuvenation in The Hunting Park Neighborhood Strategic Plan 2020 — a planning vision later adopted by the City Planning Commission. It also marks a multiyear effort led by community nonprofit Esperanza, which acquired the building from the Philadelphia School District in 2016. Esperanza worked with multiple partners on the project, including the Philadelphia Housing Authority and the city's Office of Homeless Services, which will use four units for housing its clients.
"It will now once again become a community asset, providing quality, affordable housing to Hunting Park residents," said David Ortiz, Esperanza's vice president of housing and economic development.
Redeveloping an empty school is not a simple prospect. In cities like Philadelphia with underfunded educational systems, these large institutional buildings are often poorly maintained and need a massive amount of work before they can go back into circulation. Aside from the enormous construction costs, reinvention can also become politically fraught, especially in places where neighbors carry deep memories of going to school in the building, taking children there or even just knowing it as a place for the neighborhood.
That dynamic played out recently when a developer purchased the mothballed Edward W. Bok Technical High School in South Philadelphia from the school district. Transforming the empty classrooms into leasable spaces for artists and creative businesses ignited a backlash from neighbors concerned about gentrification.
After selling off more than a dozen school buildings since 2013, the Philadelphia School District now has four shuttered properties up for sale and 10 other closed schools that are not listed.
Instead of being financed by a single developer, the transformation of Roberto Clemente was underwritten by a number of state and local funders. All of the tenants will receive rental subsidies from the Philadelphia Housing Authority for years, adding up about $5 million in spending by the agency. There's already a waiting list of more than 400 families, although the first tenants have been selected and are expected to move in by the end of the year.
The building will feature two- and three-bedroom apartments; some will include large walk-in closets, tall ceilings, and ample kitchen appliances. The conversion was designed by PZS Architects, the firm behind The Ayer condos, Temple University's Morgan Hall, and Esperanza College.
Roberto Clemente Homes represent yet another stake in the ground for Esperanza, which operates multiple schools and a legal clinic in the area. The nonprofit's leaders hope the new residential development will help them meet goals to strengthen the neighborhood in a holistic way that leads to better long-term educational and economic outcomes for residents.
That's also an idea that Philadelphia Housing Authority and other partners on the project have rallied behind. PHA has taken a similar approach in its neighborhood transformation plan in Sharswood, purchasing a former high school building that'd been dormant for years and renovating it for new use.
"The opening of this home and the work that went into it — with the help of community organizations — is really transforming this part of the city," said PHA president Kelvin Jeremiah.
City Councilwoman Maria Quiñones-Sánchez, who attended Roberto Clemente Middle School as a child, said the redevelopment represents progress. She remembers playing during recess in a caged area on the building's roof.
"I tell young people about going to a school that was an old factory with a cage on the roof … having a recess area called 'the cage' and how offensive that was," she said. "I tell young people that because we can do better than that. This is a perfect example of when you're going to repurpose and reuse, you provide people with a lot of dignity."
WHYY is your source for fact-based, in-depth journalism and information. As a nonprofit organization, we rely on financial support from readers like you. Please give today.