From Above: Refining along the Lower Schuylkill, 1926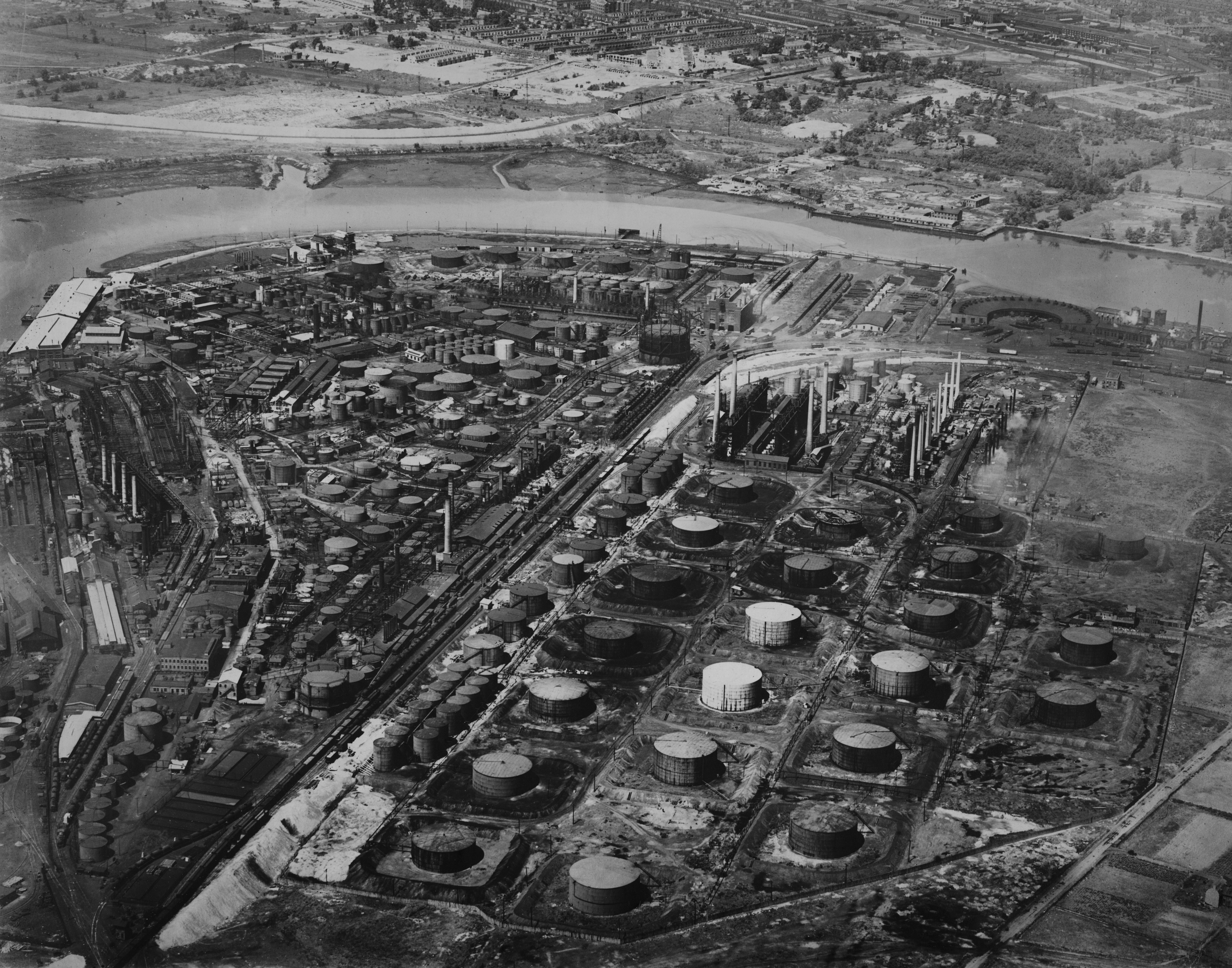 In honor of the Lower Schuylkill Master Plan's [pdf] release earlier this month, we head back into the past to look at a section of the Lower Schuylkill from above.
Energy industries are a huge part of the Lower Schuylkill's economic and environmental legacy. Energy production began along the Lower Schuylkill in the 1860s. In particular, Atlantic Oil's massive refining operations has been active in this area since 1866. It has since been operated as part of Standard Oil, ARCO, Sunoco, and now Philadelphia Energy Solutions. And as Atlantic grew as a company (and merged, and reoganized due to anti-trust rulings), Philadelphia remained a hub of refining and management. Beyond the refining operations, the Atlantic Building built at Broad and Spruce (purchased last year by Post Brothers) is a reminder of the company's power.
It looked for a moment last year that the days of fossil fuel refining on the Lower Schuylkill would come to an end when Sunoco announced it would be closing its South Philadelphia refinery. But Carlyle Group stepped in and Philadelphia Energy Solutions was born. And now it appears that Philadelphia is at the beginning of a new age of refining on the Lower Schuylkill, facilitated by North Dakota oil arriving by rail and soon piped-in Marcellus shale gas from Pennsylvania.
Back in June of 1926, when the aerial photographs below were taken, Atlantic Refining's Philadelphia operations were already 60 years old.
In the view above, the camera is facing east. The Passyunk Avenue bridge skirts the lower left corner of the image, and occupying the center of the frame is what is now Philadelphia Energy Solutions' main Philadelphia facility. Just beyond the huge field of oil tanks and rail lines, note the agricultural patchwork (center right). And to the northeast, lies the newly developed Girard Estates neighborhood – note the leafy rectangle of Girard Park near the top right corner.
The view below faces southwest, looking over Atlantic Refining's operations on the eastern banks of the Schuylkill River. (The Passyunk Avenue Bridge is just beyond the frame on the left side of the image). Here again you can see the scale of this incredible landscape of production that profoundly shaped this part of the city. It's also worth noting that PGW's Point Breeze Gas Works are also part of this view, along the rail tracks running at left. And if you look across the river from the roundhouse building on the near riverbank and you'll see the edge of what was then "Bartram Park."
NOTE: The aerial image above is part of the Free Library's Print and Picture Collection, and is used by PlanPhilly/Eyes on the Street with the express permission of Aerial Viewpoint, which owns these aerial images. For reproductions contact Aerial Viewpoint.
To learn more background about these aerial photographs, head over here.