Review: Running past the Fringe Festival, 'King John' rules in the park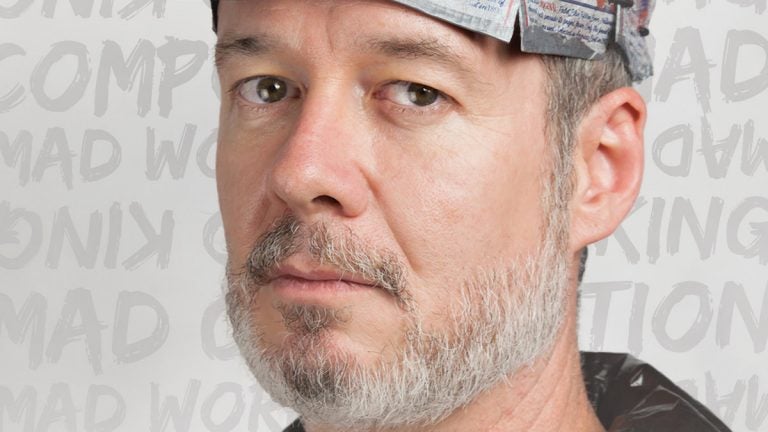 Shakespeare is a persistent guy. The Philly Fringe Festival ended last weekend, but one show hangs on – his "King John," a character-heavy plot about a fight between France and England, with the Catholic Church as a hard-nosed referee. There's King John of England – the French want him to renounce his kingship. There's Philip the Bastard, who has his own renouncing to do, plus war and other mayhem.
"King John" is produced by Revolution Shakespeare – the company's third foray into the Fringe Festival and into South Philly's Hawthorne Park, at Catharine between 12th and 13th Streets in the middle of a residential neighborhood. Even a familiar play is difficult to bring off in a park. This one is harder because it's not well known, so you need to follow closely while planes fly overhead, girls sing loudly on the street a block away, a kid cries for a full half-minute near the open window of a house across the street and folks play basketball somewhere nearby.
None of this is anything Revolution Shakespeare can control – you can't stop the city from happening. Still, the city is why a production in the park is so special – it doesn't need to be a night of super-polished theater to work (although that's a big help) because it's not just a play but a community event. And a communal one for Revolution Shakespeare and the two other stage companies that stage Shakespeare in metropolitan Philadelphia parks, always for free. People bring blankets and lawn chairs and picnics and kids. Sometimes they bring texts of the play.
Despite the distractions to the audience and surely the actors, "King John" was a crowd pleaser the night I saw it. Someone – I assume the director, veteran theater artist and teacher Dan Kern – edited it down and mostly well; at one point toward the end, I missed some dialogue that would have revealed motivation, but that was minor. Some of the acting was very good – Kevin Bergen as King John, Carlo Campbell as Philip the Bastard, and in main roles of Ladies, Cathy Simpson and Adrienne Hertler. They all play roles with lots of meat on them, all the better for performing in the open where you have to play big to make it work.
This particular "King John" is supposed to be set after the world and its social conventions somehow cave in, a conceit that appeared to be dropped or not followed through. Another twist does work: Several of the cast members take roles and also play in a band that offers between-scenes commentary, both verbal and musical. (Christopher Colucci wrote the original music.) "We're in a bloody mess – don't you just hate politics?" asks vocalist Merci Lyons-Cox, who also plays a number of roles including Prince Henry. She could be talking about this campaign year, although she refers to another campaign that Shakespeare writes about.
Because "King John" is complicated with various allegiances that form and switch, you may want to juice up your smart phone and check, from time to time, with a plot summary during the show. You couldn't do that in a regular theater, but it's okay in an open park that serves as a temporary theater. Just make sure the screen isn't shining toward the actors, or you'll be an added distraction in a play that, for South Philly, is an added attraction.
__"King John," produced by Revolution Shakespeare as part of the Philly Fringe Festival, runs through Oct. 1 at Hawthorne Park, 12th and Catharine Streets. The show is free. revolutionshakespeare.org. NOTE: The final performance Oct. 1 is moved to the Painter Bride Arts Center, 230 Vine St., beginning at 7:30 p.m.