Freedom Theater's venerable home struggles to rebound from a very wet season
This sprawling 1850s-mansion in North Philadelphia has served as a vibrant hub for African-American artists, but the building is struggling in the face of extreme weather.
This story originally appeared on PlanPhilly.
—
Freedom Theater is having a tough year. For decades, this sprawling 1850s-mansion in North Philadelphia served as a vibrant hub for African-American artists, but the building — and the historic institution it houses — is struggling in the face of 2018's extreme weather.
In early January, sound technician Jarious Parker Sr. got a phone call at 5 a.m. that sent him rushing to Freedom Theater's old brownstone townhouse on North Broad Street. When he opened the front door, he saw water gushing from the ceiling "like Niagara Falls" and found a foot-deep flood in the basement.
It wasn't hard to find the cause. Freedom Theater's heating-ventilation-air conditioning system only ever worked fitfully, and the heat hadn't been functioning in the attic. Pipes up there froze in the brutal cold snap of early January and then exploded, sending water cascading down the front and back rooms of the building.
"The HVAC system never really worked properly, and this year it just gave up the ghost," Sandra Haughton, executive director of Freedom Theater, said wistfully as she contemplated the peeling plaster that still mars the front lobby.
As a result, for most of this year Freedom Theater has been closed for business. Theatrical productions and dance troupes that planned to make use of the space have scattered to other venues.
In the rear of the building, Freedom's smaller black-box theater, which can seat 100 people, saw the most serious damage. The floors, which had just been redone, are now warped and bulging. Plaster peels from the walls, and the ceiling is tattooed with water damage.
"During the flood [in January], the whole room was flooded out and frozen with ice for most of the winter," said Parker. "Now, it's drying up. There were puddles in here most of the winter and spring."
A lot of work is needed. Repairing damage from the flood, and the costs of a new HVAC system, is unresolved. Electricity was only restored in June.
From Broad Street, Freedom Theater looks deceptively small, but the 65,000-square-foot property stretches back along Master Street for an entire city block. It contains two theaters, dance studios, office space, and generously sized artist apartments on the top level — currently crammed with racks of costumes and boxes full of tribal masks.
Erected in 1853 as a dwelling for a beer magnate, the mansion later went at sheriff's sale to Shakespearean actor Edwin Forrest. It cycled through a variety of educational and artistic uses, including the initial iteration of the school that would become Moore College of Art and Design. Freedom Theater took over the building in the 1981.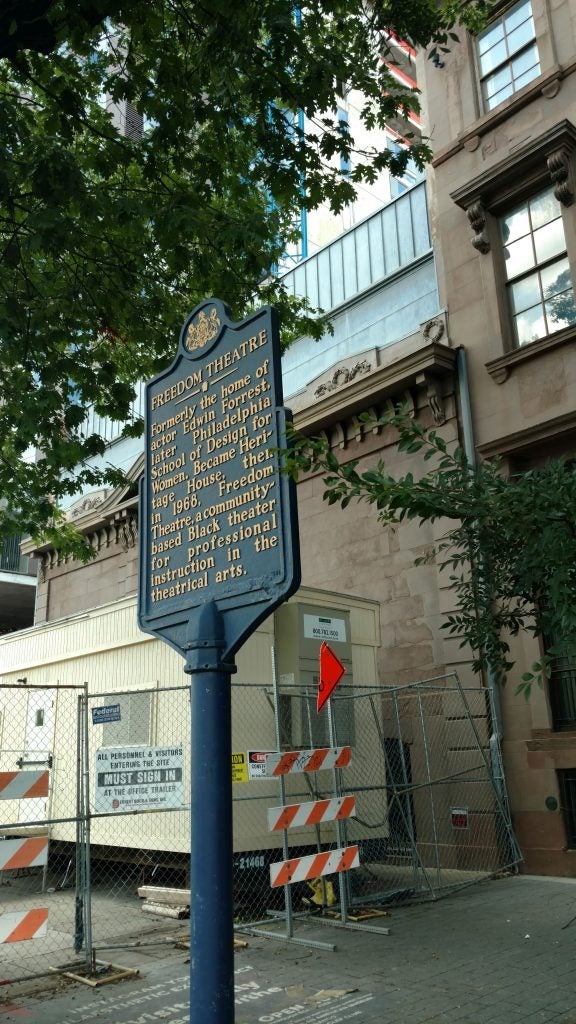 Today, the structure is one of the few remaining brownstone mansions on North Broad Street. The rest have been felled by disinvestment, neglect, and demolition. And now, new pressures are pushing on the remnants of the avenue's Gilded Age glory.
In the middle of the block, sandwiched between Freedom Theater and the former boxing venue at the Blue Horizon, a 17-story apartment tower is rising. All around, "Templetown" is expanding, and students from the university are now living in the surrounding neighborhood, once the heart of black Philadelphia.
Freedom Theater isn't the only historic African-American institution seeking investment to help it ensure a future on North Broad Street. Almost a mile to the north, the Uptown Theater has struggled for years to secure the funding needed to bring it back to its former glory.
"We are also in a situation where gentrification is taking place, so there's a challenge to keeping up a building that's going to serve the community and not just New Yorkers or the new folks who are arriving," said Linda Richardson, president of Uptown Entertainment & Development Corp. "We want the Uptown to help folks who stuck it out, paid their taxes, and made it possible for Philadelphia to be a place that people want to come to."
The Uptown is far larger than Freedom Theater and needs to raise $10 million. So far, Richardson said, she's managed to secure $3 million.
Freedom Theater's capital needs are not so vast, but still prove substantial. Even prior to January's calamity, Haughton wanted to sell off some of the building's space — what are now unused storage rooms, offices, and apartments on the second and third floors — to nonprofits, developers, or other business interests. At that point, Haughton simply hoped to retire a little less than $1 million in debt from prior repairs and provide a little rainy-day money for future uses.
Now, with that debt still needing to be taken care of, about $1 million more is required for the flood repairs. But before work can begin on the black-box theater, the attic, or the entryway, Freedom Theater must raise $1.3 million for a new HVAC system. (There was no flood insurance.) The theater secured $500,000 from a state grant, for which it is seeking a match. The National Trust for Historic Preservation also has provided a small grant, to allow the theater to assess the damage properly.
In total, $2.5 million is needed in addition to the state funds. Haughton said she's been applying for grants and contacting sponsors. She imagines a wealthy patron with a fondness for old buildings or Philadelphia's African-American history.
"It's really important for cities with a rich historic aspect to really preserve and maintain their historic footprint," Haughton said.  "Because once it's gone, it's gone."
WHYY is your source for fact-based, in-depth journalism and information. As a nonprofit organization, we rely on financial support from readers like you. Please give today.