Fox Chase artist puts creative spin on bowling pins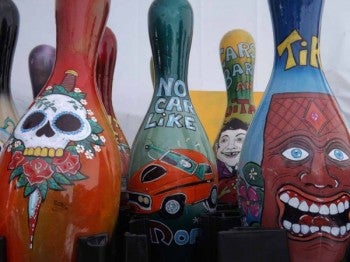 In 2007, artist Michael "Smitty" Smith was striking out.
His canvas artwork just wasn't selling at local car shows but he wasn't willing to give up on his artistic talents.
"I was at a flea market and I saw this old bowling pin. I just thought it would be cool to paint it," said Smith, a Germantown native.
After salvaging a few cases of used bowling pins in 2009, "Smitty's Custom Bowling Pin Art" was born.
NewsWorks caught up with Smith at the recent "Hotrod Hoedown," an antique car show and rockabilly festival in Bucks County. Smith travels to events like this twice a month to sell his pins, which feature images of pop-culture characters and classic cars.
Smith, who lives in Fox Chase and works in Roxborough, drives a copper-colored 1957 Chevy. He's a fan of Ed Roth, artist and custom car designer, and enjoys the music of Elvis and Johnny Cash.
"There's a whole culture behind this stuff," said Smith. "At a traditional car show, it's a bunch of people sitting in lawn chairs next to their cars. This is different – it's a throwback. Philly's pretty big in the rockabilly and hot rod scene."
Read the rest of this story and see more photos from our partners at NewsWorks.